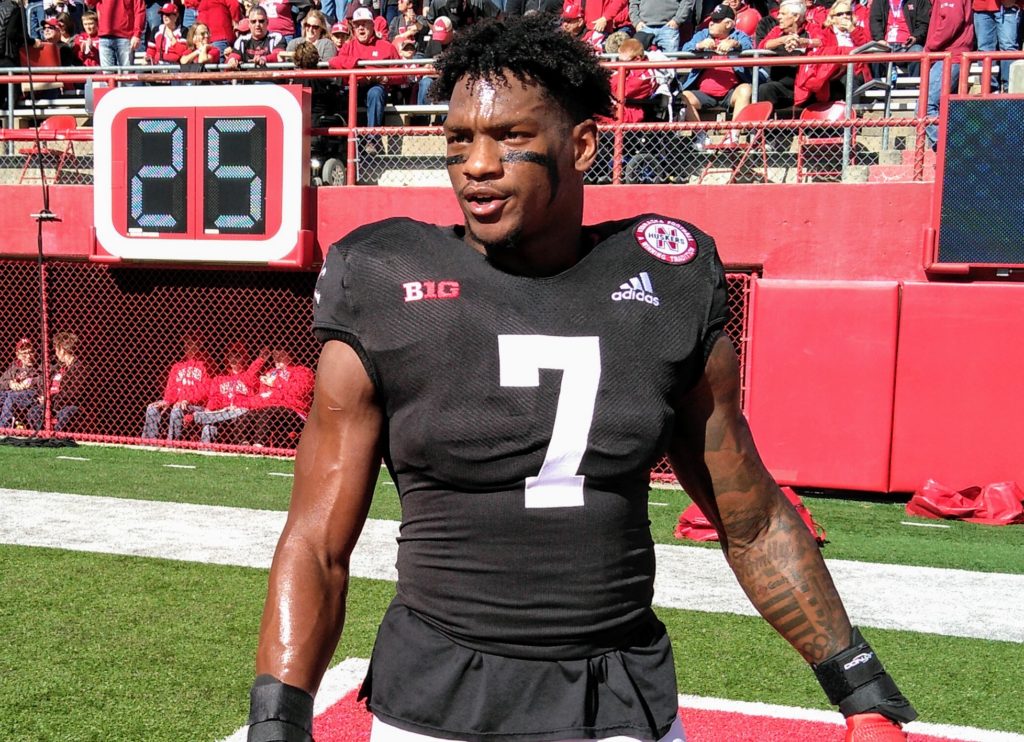 LINCOLN — It's no secret that Nebraska's defense has been the weakest link in the teams' four losses this season.
Allowing 34 points to Colorado, 48 to Ohio State, 34 to Minnesota and 38 to Indiana has been hard to stomach for Husker fans. Mohamed Barry has been frustrated by the play of the Blackshirts and demands more out of his teammates.
The units' recent performance has disgusted the senior captain and he knows it's not the Blackshirt standard by any means. The loss to Indiana was a perfect example of the defense not holding up their side of the bargain. The Huskers couldn't stop Indian's offense in the clutch and had to watch Peyton Ramsey take the victory kneel.
Wearing the black jerseys didn't fare out well for the unit either. Barry wants the Blackshirts to take a different approach in practice this week. He doesn't want guys messing around, trying to get loose. Instead he wants everyone focused leading up to the road game against Purdue.
"We're not going to divide off of this, but the leaders got to lead better and that's what we're going to do," Barry said. "What coach was talking about, the small things that shouldn't even be a question by now we should've eliminated."
Nebraska has experienced seniors at every level of the defense. Carlos and Khalil Davis anchors the big boys up front, Barry holds down the middle and Lamar Jackson is the veteran in the secondary. They'll all have to hunker down and step up their play if Nebraska hopes to salvage its' season.
There has only been one game that the Blackshirts put on a solid performance this season. It was against Northwestern and Jackson had a key interception to seal the game. However, the Wildcats' offense had been abysmal all season long and played the Huskers without their starting quarterback.
Still, Barry doesn't feel the Blackshirts have underachieved. In fact he believes the unit has yet to reach their full potential. Barry wants to check each Husker defender to see if their hearts are all in the same place. He needs them all to have solid preparation approaching this Saturday.
"It's not caring about people's feelings, it's all about how you approach the work week, the details and everything you do," he said. "You have to look at yourself first and then look at the people around you."
The Georgia native downplays the Huskers' mental toughness being fractured after the Indiana loss. Barry still has faith in his teammates and believes they'll rise to the occasion.
"I think my teammates are tough," Barry said. "If you let a game like that, a game you could've won make you a loser forever, I think that's stupid."
He understands that every indiviual has a different way of getting prepared before games. Barry pointed out NFL star wide receiver Odell Beckham dances before games and how Hall of Fame linebacker Ray Lewis stayed focused and generated energy through his teammates.
Barry wants to provide that same mentality for the Blackshirts for the remaining four games. He knows the defense must play better on third downs and get off the field to stay fresh. In order to accomplish that, Barry thinks the Blackshirts must have their best coverage and come with their best blitz packages on third downs.
Regardless of the matter Barry has been through two-straight losing seasons and doesn't want to endure another to end his collegiate career. There's still a lot of football left to be played. Which is why Barry is trying to rally his team and do everything he can to help Nebraska win again.