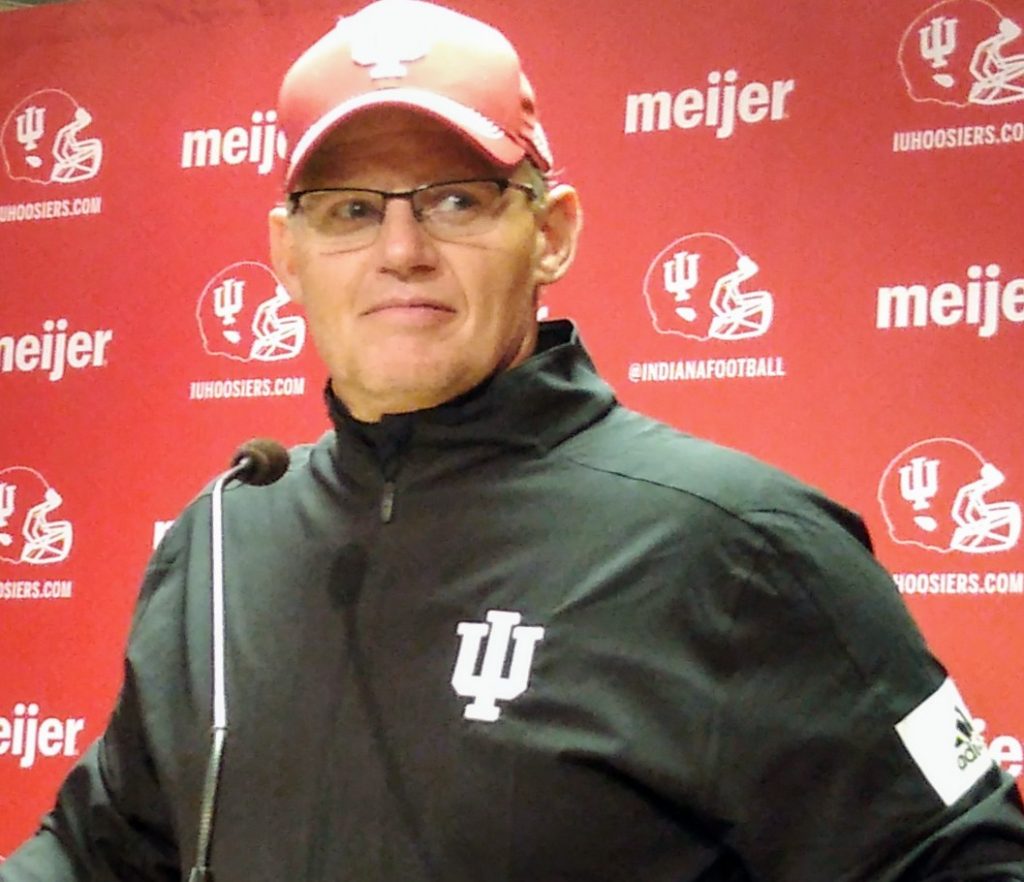 LINCOLN — Tom Allen has coached 32 regular season games with Indiana, winning 16, but after a 38-31 road victory at Nebraska Saturday,  it's crystal clear that he has the program on the rise.
Not only did the Hoosiers become bowl eligible with their sixth win of the season, but they've also won three-straight conference games for the first time since 2002. After back-to-back 5-7 campaigns under Allen year three is starting to pay dividends for Indiana.
No longer is Indiana just perceived as a basketball school. While the Big Ten East has become arguably one of the best divisions in the Power Five, the Hoosiers have held their own with powerhouses Michigan, Ohio State and Penn State.
The team is playing with extreme confidence, everyone is having fun and Allen is proud of his players and staff. Silencing a crowd of 89,000-plus at Memorial Stadium was huge for the team and Allen believes it was just another accomplishment that showed Indiana has arrived.
"This is awesome, this is big, this means a whole lot to our program, it changes a lot of things with our guys," Allen said. "This team believes, this team has found ways to win and this team has a lot of character."
The Hoosiers have been successful on both sides of the ball throughout the year. The offense is averaging 34 points per game and the defense has shutout two opponents. Ohio State is the only team that has held Indiana from scoring at least 31 points all season long.
Allen has one of the best running backs in the Big Ten in Stevie Scott and he loves his ball security. Scott finished with 109 total yards and a rushing score against Nebraska and took what the Blackshirts gave him. His production helped Indiana rally back and score 22 second half points.
Quarterback Peyton Ramsey also made plays with his legs and kept the chains moving on clutch downs. Allen believes the junior is an absolute stud and admires his toughness and grit. Ramsey took some shots from the Huskers' defense, but kept the offense effective throughout the game. He threw for 351 yards and had three total touchdowns.
Allen was amazed by the atmosphere inside the Sea of Red and knows all about the rich history and the loyal fans of Nebraska.
"This is a pretty awesome place to play, I never been here before, I never been to Lincoln, never coached here, never played here, nothing," he said. "Awesome crowd and they are so stinking loud, but it was a pretty special night."
Allen felt good about answering reporters questions after the huge road win and proud his players kept fighting. He downplays the notion of becoming bowl eligible being the Hoosiers' biggest accomplishment for the season because the players actually had bigger goals.
Still, it was a gutsy performance by the Hoosiers' offense and Allen credits the big boys up front for keeping Ramsey upright, despite shuffling up the unit the morning of the game.
"That group has really been the mainstay of why I think we're doing what we're doing," Allen said. "This week the offense got a chance to close it out and it's a pretty good feeling when you get that last first down knowing all you have to do is start kneeling," he said. "
Although the Hoosiers have a ton of momentum heading into week 10 of the season, Allen doesn't think his team has reached their full potential yet and refuses to settle for complacency. As for now the 49-year old coach just wants to keep teaching, keep his team growing and getting better because he believes their best football is still ahead of them.
Indiana returns back home this Saturday to face a Northwestern team that has lost all six of its' games against Power Five competition this season.