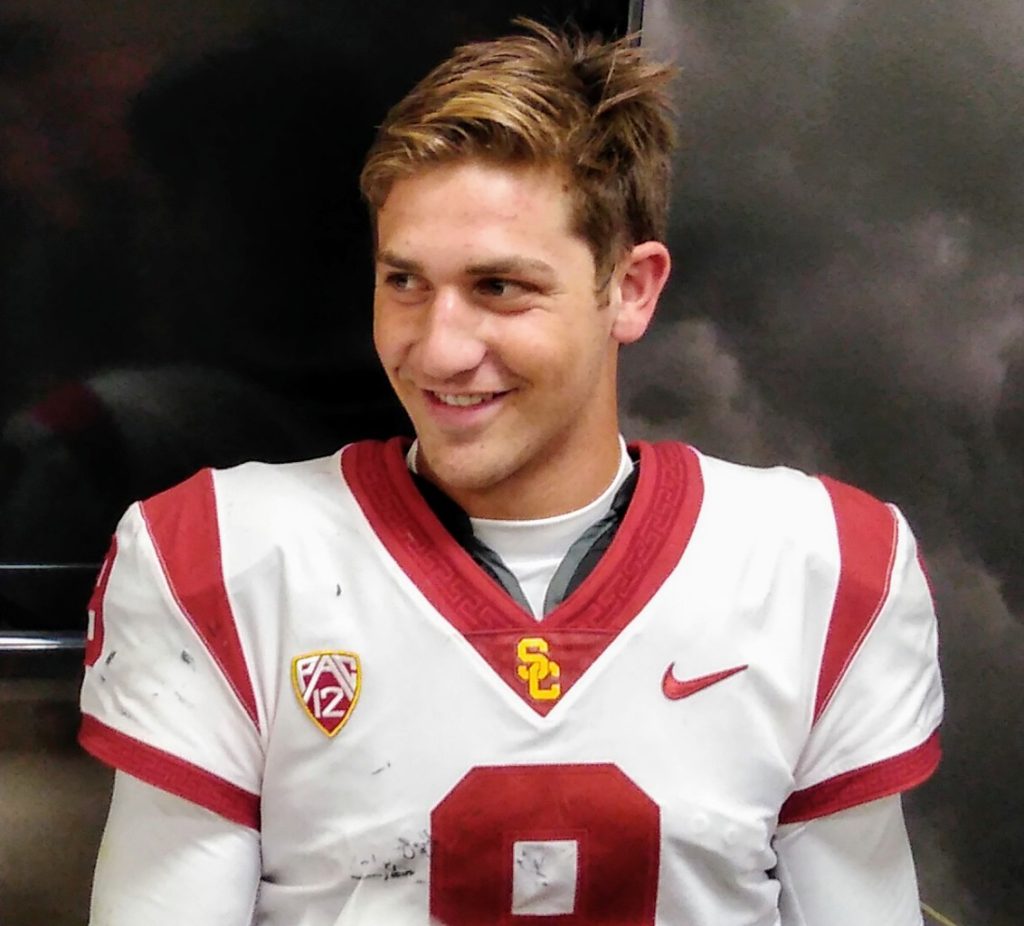 BOULDER, Co. — Unlike several of his predecessors Kedon Slovis wasn't a big time recruit for USC.
For decades the Trojans have gained notoriety for recruiting highly touted, pro-style quarterbacks and molding them into NFL caliber signal-callers. Slovis didn't have all the star ratings behind his name when Clay Helton recruited him. In fact Slovis was a consensus three-star prospect, but he was the only quarterback in USC's 2019 class.
After all, there was no need for Helton to pile up on quarterbacks after J.T. Daniels had a solid freshman campaign in 2018. Not to mention Graham Harrell came on board and brought along with him the Air Raid mentality that's quarterback-friendly.
Right out of the gate Slovis was thrown to the wolves after Daniels suffered a torn ACL in USC's season-opener against Fresno State. For the Trojans' offense it was the next man up and Slovis impressed with 377 yards through the air and three touchdowns in the blowout win over Stanford.
However, Slovis was humbled on the road at BYU and threw three interceptions in the three-point loss. It got worse the following week against Utah when Slovis suffered a concussion and Matt Fink had to fill in.
The true freshman had to miss the game against Washington, but was cleared to start against Notre Dame and Slovis been performing beyond expectations since his return.
Over USC's last three games Slovis has thrown for a jaw-dropping, 893 yards, eight touchdowns and one interception. He's the vital part behind the Trojans' resurgence in the Pac-12 standings. Not to mention he's fresh off a career-high, 406 yard, four-touchdown performance in the 35-31 road win Colorado, which were both career highs for Slovis.
The victory snapped USC's three-game losing streak on the road and put the team completely atop the South division. Now the Trojans control their own destiny for the remainder of the season. Helton couldn't be more proud of his young quarterback's resiliency despite Slovis throwing an interception in the first quarter.
"After a young mistake he came back and played like a dang pro," Helton said.
Slovis showed tremendous poise rallying his team back in a hostile environment. His maturation process has been second to none and he's playing like a seasoned veteran. It does help that he has plethora of speedy wideouts to get the ball to, including Michael Pittman and Tyler Vaughns, who both went over the the century mark in receiving yards in the win over the Buffaloes.
Slovis' road to being one of the hottest young quarterbacks in the Pac-12 has been an incredible journey. He's proud to be in the position he's in with leading USC's offense. He's also relieved that the coaches trust him in the clutch when everything is on the line. Slovis cherishes the close wins and doesn't take anything for granted.
"I think looking back at BYU, having the opportunity to win the game in overtime and losing it, that was more so the redemption," Slovis said.
Even Pittman is in awe by Slovis' big-game performance and tries his best to haul in every pass thrown his way. USC's offense has caught fire as of late and averaging 38.5 points over the last two games.
"I would say for him being so young and making those big plays is huge," Pittman said. "I think Kedon is a great player and has a great future."
Helton will need Slovis performing at a high level again when USC hosts No. 7 Oregon this Saturday at the Coliseum. Still, Helton isn't worried about the pressure falling on Slovis' shoulders. Instead he's confident in the young signal-caller and knows he's going to go out on the field and give it his all.
"That's who he is, I think at the brightest moments when it's time to show immense poise in a situation he's done that," Helton said. "