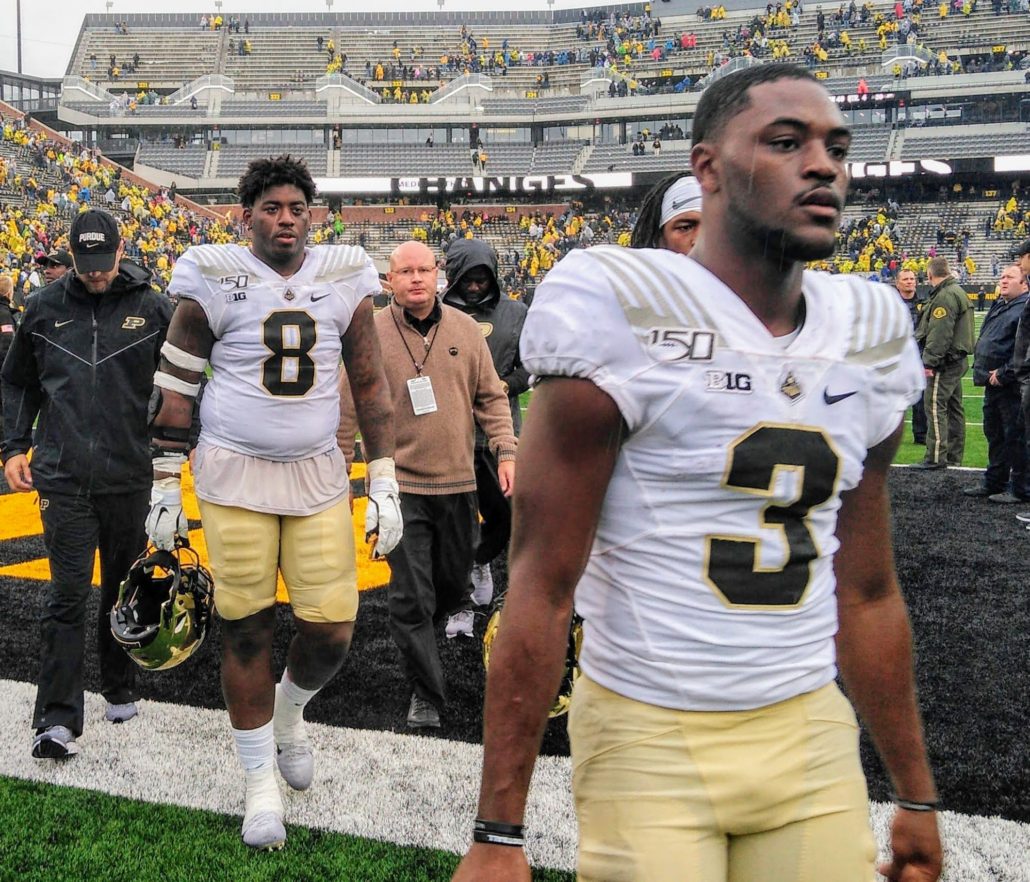 IOWA CITY, Ia. — Purdue hasn't won a road game all season long and came up one drive short at Kinnick Stadium.
The 26-20 loss at Iowa was Purdue's third this year of a touchdown or less. The Boilermakers are now 0-3 away from Ross-Ade Stadium, but will continue striving to become bowl-eligible. The game was closer than the final score indicated and the Boilermakers played inspired on both side of the ball.
Quarterback Jack Plummer put on a gutsy performance, carving up the Hawkeyes' secondary for 327 yards and two touchdowns. Purdue's offense nearly finished the game with the same amount of yards as Iowa's. The Boilermakers' defense played competitive throughout and linebacker Derrick Barnes had a team-high, eight total tackles.
The unit also picked off one of Nate Stanley's throws and allowed no touchdown passes. Not to mention the Boilermakers' defense kept the Hawkeyes' offense out of the endzone in the first half and forced them to settle for three field goals.
"Our game plan was basically to stop the run and when they pass the ball to get to the quarterback," Barnes said. "I know we got to eliminate the big plays, everybody's out there trying to force a three and out and that's our goal every drive."
Purdue's defense was successful early with that plan and held Iowa to just 46 yards on the ground in the first half. However, the Hawkeyes' offense held the ball for 11 minutes longer than the Boilermakers and ran two fewer plays. Plummer wanted more possessions, but had to watch from the sidelines while Iowa played the keep away strategy.
The freshman signal-caller admitted to seeing everything he expected out of the Hawkeyes' defense as far as film study and tendencies. Plummer was also impressed by the unit's adjustment with formations and different coverage in the second half.
"I thought their defense played well, they were kind of the bend, but don't break type of deal," Plummer said. "Kudos to them."
Still, the team knew it was going to be a tall order trying to beat the Hawkeyes on the road in front of a sold out Homecoming crowd. Fortunately for the Boilermakers their next two contests will be back at home where they are averaging 32 points per game this season.
As for now it's back to the drawing board for Jeff Brohm. He has shown a track record of responding to losses by putting together winning streaks. It's definitely a tough task, but Purdue will have to win four of its' final five games to become bowl eligible for a third-straight season under Brohm.