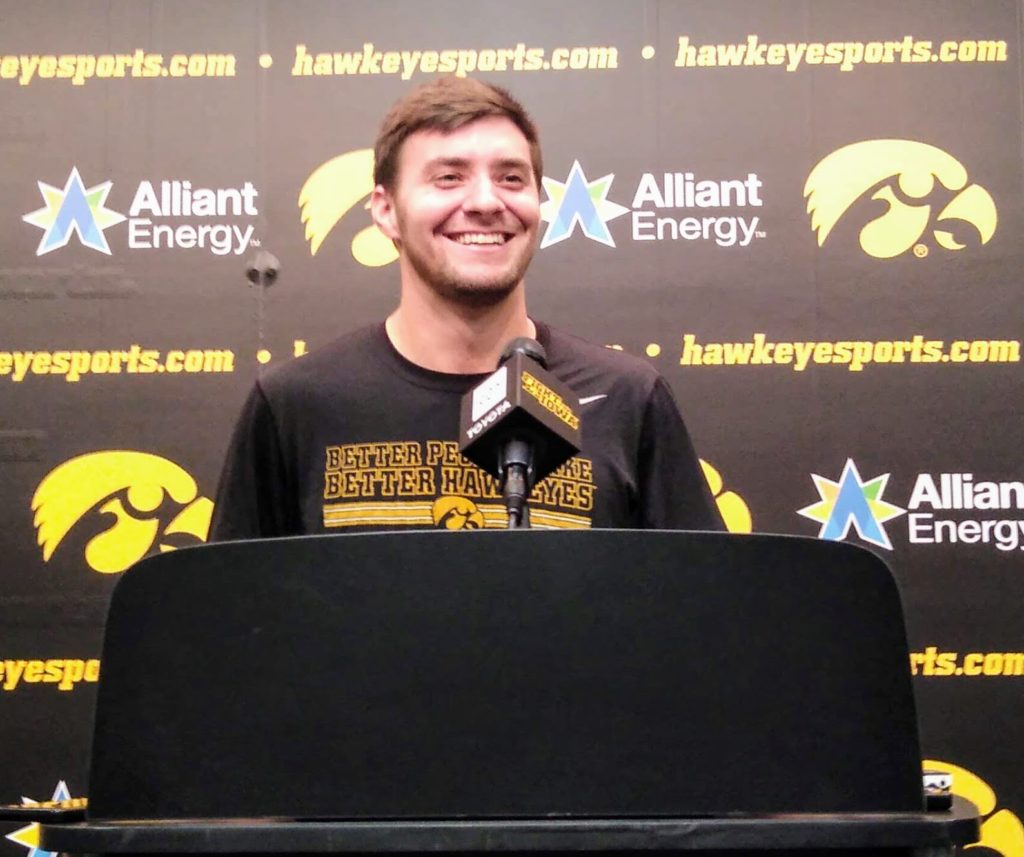 IOWA CITY, Ia. — The junior place kicker leads the nation in made field goals and continues to come up big in the clutch for Iowa.
Keith Duncan converted all four of his field goal attempts in Iowa's 26-20 win over Purdue Saturday afternoon. It didn't even matter that the weather wasn't cooperating. All Duncan had to do was adjust his steps and shorten his approach so he wouldn't slip.
He had to use a similar approach earlier in the season on the road at Iowa State when mother nature complicated the situation.
"It was wet, but it really wasn't going to effect the kick that much," Dunan said. "The balls weren't really wet, but usually when it rains the wind dies down a little bit."
With Iowa's offense struggling to score touchdowns over the last three games, Duncan has been a great commodity. Several Power Five programs from around the country have struggled kicking the ball and Duncan has made Coach Kirk Ferentz proud, knowing he's not a liability.
The North Carolina native is averaging 2.43 field goals per game. Without him the Hawkeyes could've easily lost two more game up to this point. It's safe to say Duncan has been Iowa's most valuable player through seven games. The five-foot-10, 180-pounder continues to have ice water in his veins when he lines up to kick the ball and has missed only two of his 19 attempts.
Duncan plays with confidence and he credits all of his success on the field to Iowa's Strength and Conditioning Coach Chris Doyle. After all, Duncan has displayed a powerful leg throughout the season and has a great range.
"Coach Doyle has done a pretty good job giving me extra strength, putting us through programs that'll increase explosiveness," he said.
Duncan admits that most of it is physical and part of it is mental. He could've transferred to another program, but decided to stick around because Iowa feels like home to him and he loves being on campus. Duncan even has a relationship with Purdue kicker J.D. Dellinger that dates back to their high school days.
He found it amusing going against him again at the Collegiate level and he remembers kicking a game winner against Dellinger's team as a prep athlete. As for now Duncan wants to focus on being there for the Hawkeyes when they need him most, regardless of how many kick they may need him to make.
"I'm going to try to go out there and execute every single rep that I'm given," he said. "I just focus on making the kick and having a one-rep mindset."
Iowa will no doubt need him to keep being accurate as the team approaches the meat grinder of the Big Ten schedule.