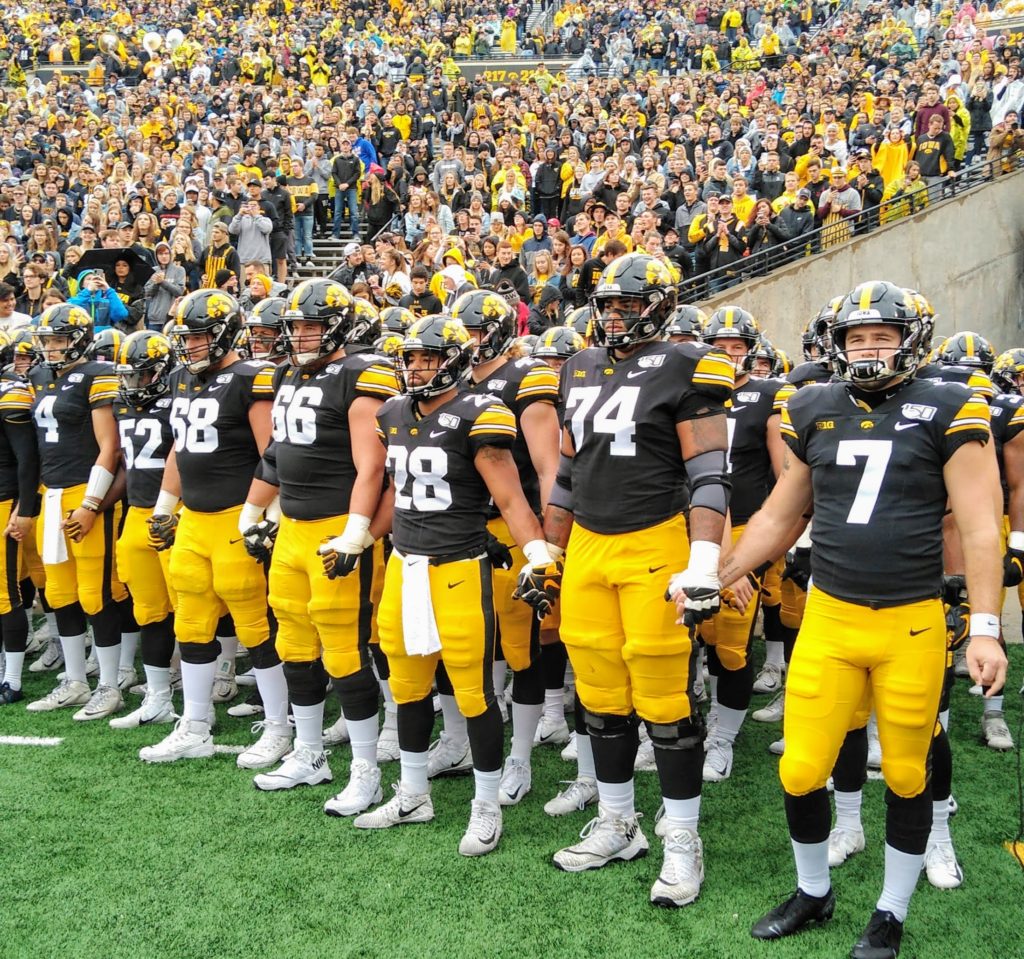 IOWA CITY, Ia. — Iowa's offense has been the team's achilles heel the past two losses against ranked teams.
Not to mention the unit struggled to finish drives in the first half against Purdue and had to settle for three field goals. However, the Hawkeyes were able to put together a couple of touchdown drives in the second half and pulled out a 26-20 win over the Boilermakers.
A sellout Homecoming crowd of 69,250 fans packed Kinnick Stadium and watched their team snap a two-game losing streak to Purdue to climb back in the West Division race. Now the No. 22 Hawkeyes are sitting at 5-2 on the season and have momentum heading into week nine.
Iowa will need to be in all hands on deck mode when the team travels on the road for the next two games against West Division foes. Still, senior quarterback Nate Stanley got his first win over Purdue as a starter, even if the win wasn't pretty.
"Unfortunately we kicked more field goals than we wanted to, but Purdue did a great job at giving our offensive lineman different looks," Stanley said. "As far as fronts and stuff go they did a lot of things that were tough on our offensive line, but I'm really happy the way our line responded in the second half and punched in more touchdowns."
Stanley threw for 260 yards, but it was his third game this season without a touchdown pass. It was great for the Hawkeyes to get back in the win column, but it came at a cost. Junior wide receiver Brandon Smith was having a great game, with nine catches for 106 yards before he suffered an injury in the second half and didn't return.
On defense Iowa put together a solid performance and held its' seventh-straight opponent under 21 points. The Hawkeyes' pass rush could've been more effective and Purdue quarterback Jack Plummer finished the game with 327 yards through the air, two touchdowns and an interception.
Plummer connected with receiver David Bell for a game-high, 13 times for 197 yards and a score. Iowa's secondary struggled to cover Bell early on as he had the hot hand, but contained him in the second half.
"David makes plays and a lot of times he gets singled up in the boundaries," Plummer said. "Iowa played nickel pretty much the whole entire game on third downs, but it was nothing too crazy that we didn't expect."
Purdue suffered its' fourth loss in the last five games and likely won't reach bowl-eligibility for the first time since 2016. The 12th man played a factor in the fourth quarter as Iowa picked up the intensity, something edge rusher A.J. Epenesa appreciates.
"Kinnick is the best, obviously its' the greatest stadium in the country," Epenesa said. "You come in here the fans are going crazy, the atmosphere is on another level on weekends like this."
The Boilermakers did make the game interesting in the second half when they rallied back to pull within six points. The difference-maker in such a close game was Iowa's time of possession and kicker Keith Duncan, who has been clutch all season long.
The Hawkeyes are grateful to have the reliable junior, who finished the game with four field goals, including two from 40-plus yards, despite the rain playing a factor Saturday afternoon.
"I just kind of take what's given to me, I'm going to go out there and try to execute every single rep I'm given," Duncan said. "I'm just focused on making the kick and having a one-rep mind set."
The win over Purdue Saturday will likely catapult Iowa back into the AP top-20 entering week nine, where the team wants to stay.