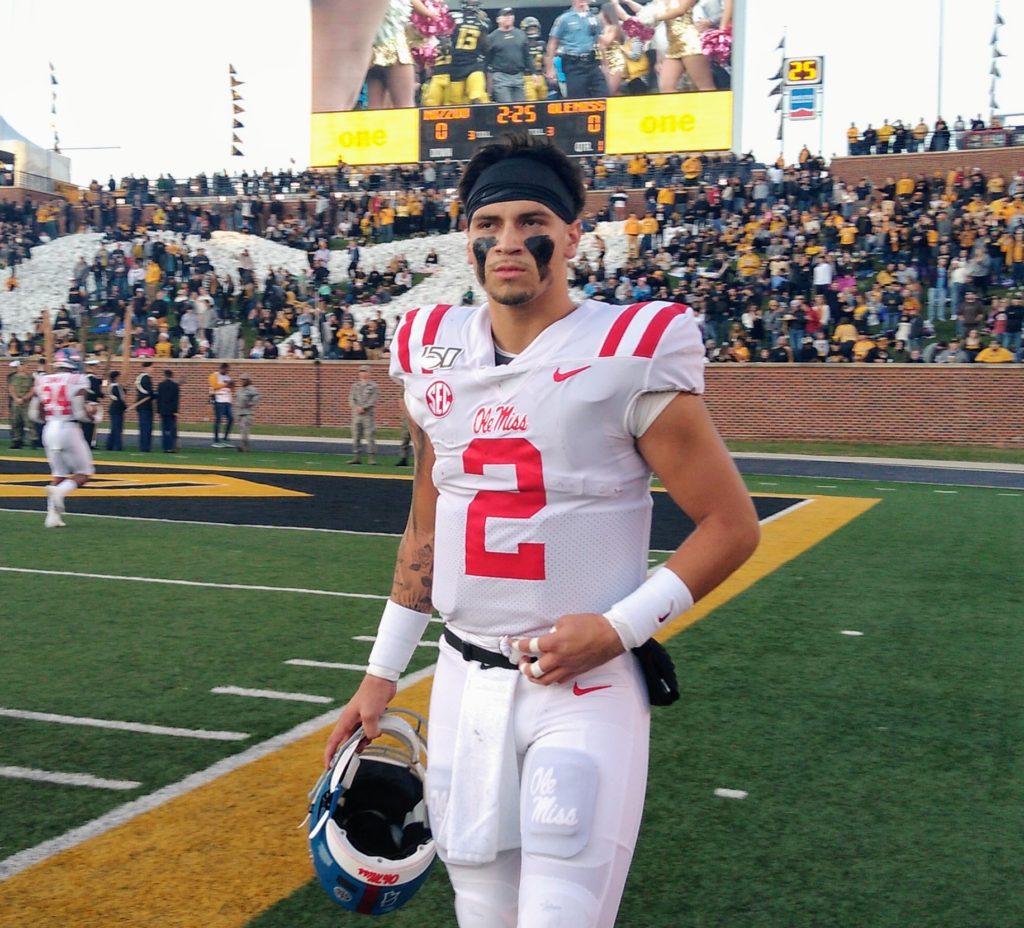 COLUMBIA, Mo. — Although Ole Miss suffered a double-digit loss on the road at Missouri Saturday, Matt Luke was pleased with the performances by his two freshman quarterbacks.
Luke has used both Matt Corral and John Rhys Plumlee throughout this season and the Rebels' offense has averaged 30 points per game in SEC action. Luke decided to go with Corral in the second quarter and he finished the game with 133 yards through the air.
Plumlee had two touchdown passes to go along with two rushing scores. Corral is the better thrower and Plumlee is the better runner. Luke believes both quarterbacks provide the Rebels' offense with different ways to move the ball and put points on the board.
He insists there's no quarterback controversy, that the two play well with each other and the team just wants to find ways to win football games.
"I'm really pleased with those guys for being unselfish, cheering for each other, pulling for each other." Luke said. "Looks like we had a good rhythm going using the both of them and using their strengths."
Ole Miss was able to put together a balanced attack on offense and was effective running and throwing with both quarterbacks. First-year Offensive Coordinator Rich Rodriguez has implemented his spread offense with Ole Miss and it has been very productive in the SEC thus far.
Luke is very proud of the duo and believes the future is bright for the Rebels' offense. With the trendy NCAA transfer option working to a player's advantage it's rare to find two quarterbacks that build off each other. Luke went with Corral in the second quarter and like what he saw.
"He had the hot hand there, he was moving the football," Luke said. "He was ready out there and made a couple of plays with his feet and had a couple of first downs."
Overall Luke is impressed with the way his two quarterbacks played unselfish and competed despite the circumstances. Halfway through the season and Luke will continue utilizing both of their skill sets. Now Ole Miss needs a win to get some momentum going.
Luke is trying to get Ole Miss to bowl eligibility and the program hasn't tasted the post season since 2015. Quarterback depth is a great asset to have and the Rebels' offense can get it done with two. It'll be interesting to see what each individual can build on as the team navigates through the SEC gauntlet.