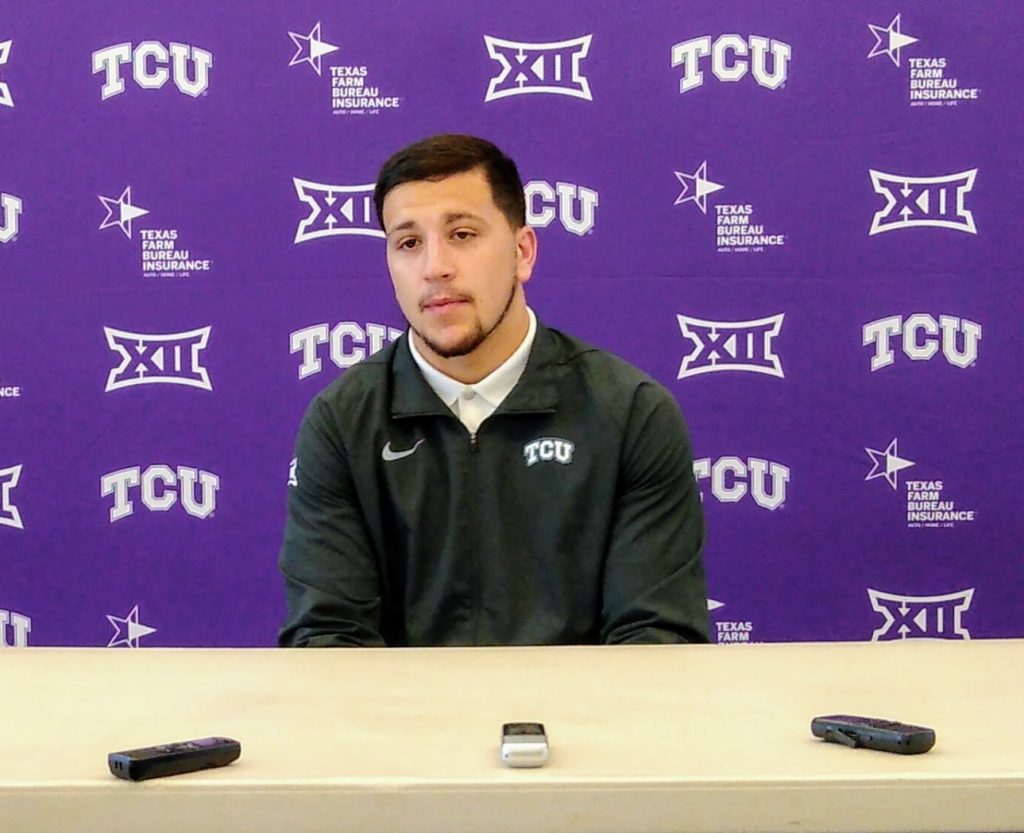 AMES, Ia. — He's one of the top tacklers in the nation and sets the tone every game for TCU's defense.
However, the 25-point loss on the road at Jack Trice Stadium last Saturday was a humbling experience for Garret Wallow and his teammates. It was the second time this season that the Horned Frogs' defense allowed 40 or more points.
That's mind-boggling when you think about a Gary Patterson-coached team because his defense always plays sound and the unit prides itself on physicality and intensity. Wallow was flying from sideline to sideline, with seven total stops against Iowa State, but the rest of TCU's front seven couldn't get into a groove.
The junior linebacker feels it was an uncharacteristic performance by the Horned Frogs and vows to work on all the mistakes. After all TCU didn't force any turnovers against Iowa State, allowed 429 total yards and 28 second half points, both season-highs.
"Nothing never changes my mind about the defense, we're a well-rounded defense and I feel like we didn't show that as much as we needed to," Wallow said. "It's just one of those things where we just have to bounce back."
The Horned Frogs will have a bye-week before resuming Big 12 play and Wallow wants to team get more consistent on both sides of the ball. TCU's not out of the Big 12 race and the junior linebacker knows there's still a lot of football left to be played.
"I feel like this bye-week is definitely going to be a challenge," he said. "But it's going to be good for us to take that next step and really find out how we're going to respond after this game for the next seven ball games."
Wallow's not blaming the team's sluggish start on the weather delay. Instead he wants the defense to play at a higher level. Although he knows the unit is capable of playing much better, he's not taking anything away from the Cyclone's offense.
"Iowa State is a very good football team, I got to give all my credit to them," Wallow said. "They played a really well football game and I applaud them for that."
That's a lot of respect coming from the star defender, considering the Horned Frogs got punched in the mouth from the start by the Cyclones. Now the New Orleans native's leadership responsibility has to come into play. The younger players are going to need some guidance with handling adversity.
Still, Wallow believes TCU's defense is a tight-knit group, that's familiar with each other and will respond with positive results.