Deshaunte Jones becoming an all-time great at Iowa State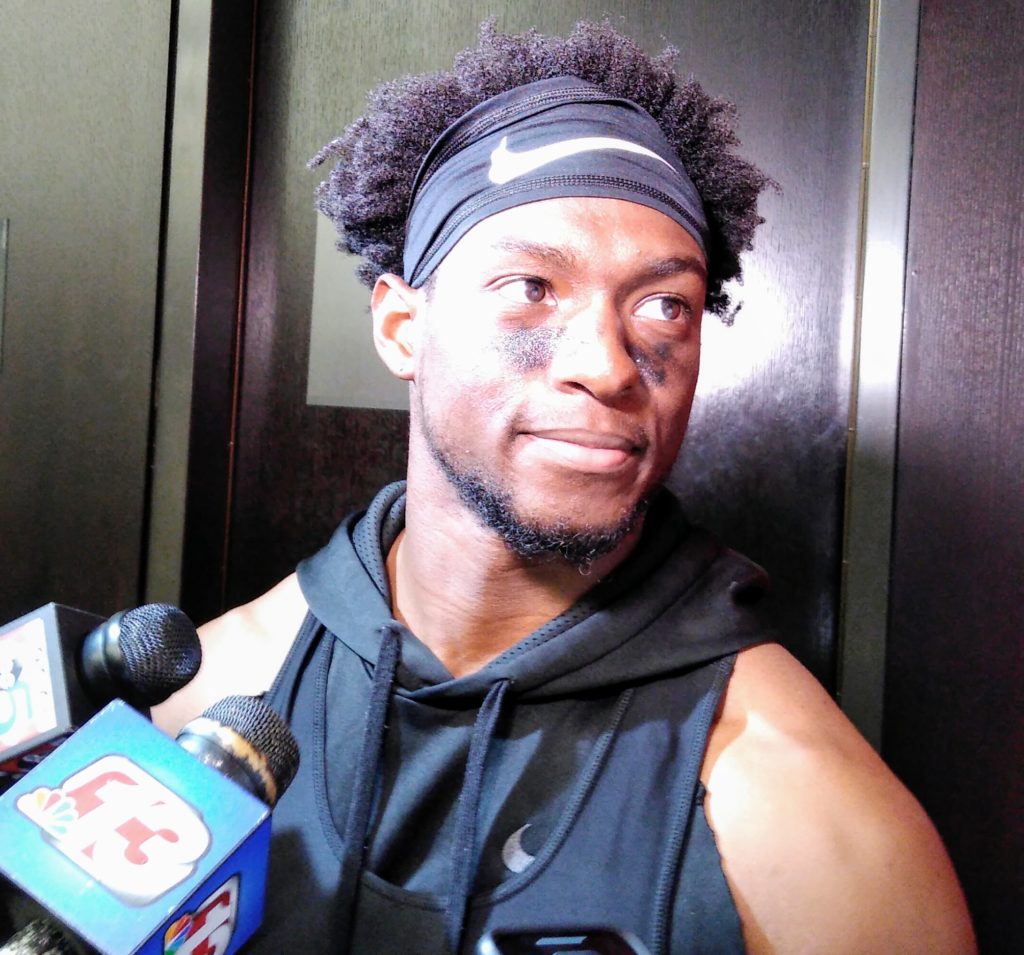 AMES, Ia. — Last Saturday senior wide receiver Deshaunte Jones hauled in 10 passes for 110 yards and moved up to sixth all-time in career receptions at Iowa State, with 145.
It was Jones' second game this year with at least 10 catches or more, including 14 in the season-opening win over Northern Iowa. The veteran Cyclone has blossomed into one of the best receivers in the Big 12 and provides quarterback Brock Purdy with a safety blanket.
After Hakeem Bulter moved onto the NFL Iowa State's wide receiver room lost a lot of production, experience and leadership. However, the five-foot-10, 180-pound Jones has filled the void nicely and provided a smooth transition with Iowa State's aerial attack.
Jones has played alongside two of the Cyclones' greatest receivers in Allen Lazard and Butler so he knows the responsibility that comes with accepting a leadership role. He's the vocal one in practice, on the sidelines and tries to give the younger receivers as much guidance as possible.
Jones is leaving his own mark with the Cyclones' offense, but feels there's a lot of room for improvement in his game. He wants to get better at running in and out of his routes, plus his blocking skills could use some polishing.
"It's just the little stuff I'm working on, running routes, critiquing everything, space and alignment," Jones said. "I go watch film to see what I did wrong and to see what I can correct."
The Cincinnati native is pleased with the depth of Iowa State's pass catchers and believes there's a diversity of targets for Purdy to throw to. He has great chemistry with the true sophomore signal-caller and it's evident during games.
Jones emphasizes the Purdy and the younger players to relax and have fun out on the field. He believes worrying about mistakes leads to playing timid and slows down the pace of the offense.
"Brock trusts me and gives me the opportunity to catch the ball, my teammates count on me to make plays and that's what I'll continue to do," he said.
Iowa State got its' first conference win of the season with a 25-point win over TCU. Scoring 49 points was an impressive feat for the Cyclones' considering the Horned Frogs are one of the best defensive teams in the Big 12. Nonetheless Iowa State is back alive in the conference, with momentum heading into game at West Virginia.
"It gives us a lot of confidence, just to continue to win, continue to build on the things we're doing well and correct the bad things that are happening," Jones said. "As long as we play team football I think we'll be fine."
The Cyclones are looking for back-to-back wins for the first time this season when they take on the Mountaineers this Saturday.