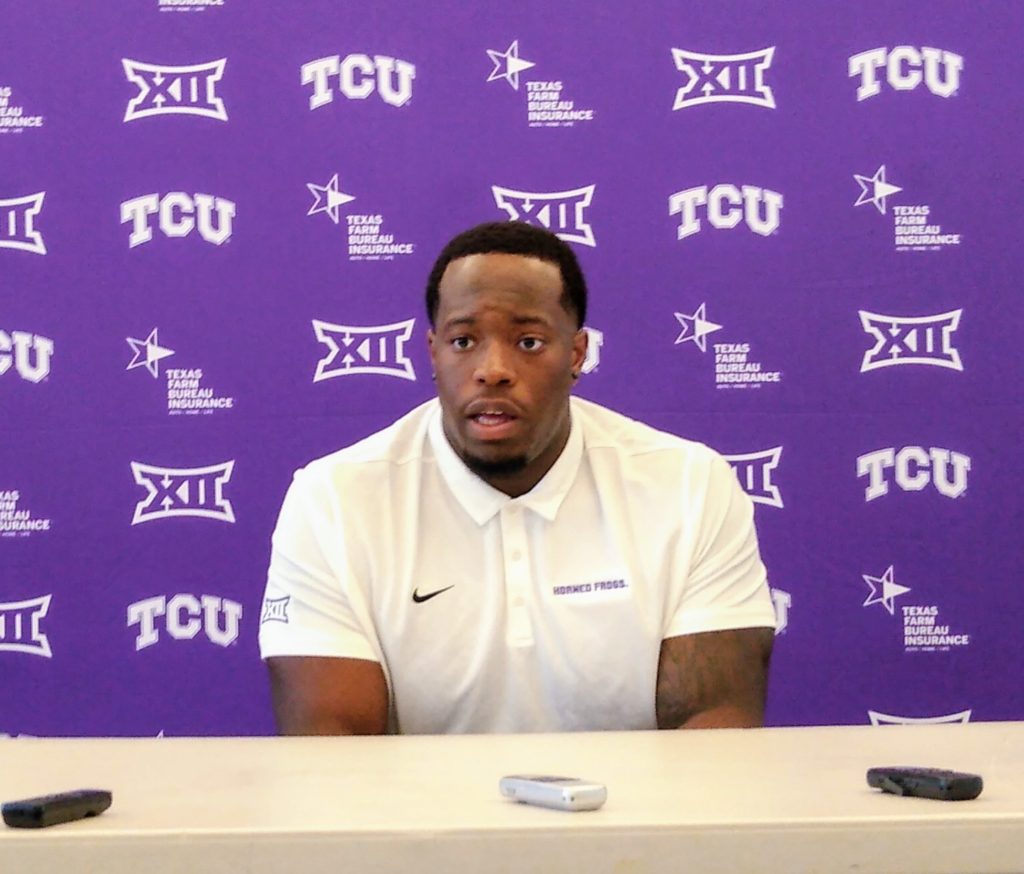 AMES, Ia. — It was a rough outing Saturday for TCU's offense on the road at Jack Trice Stadium.
The Horned Frogs scored a season-low, 24 points and suffered their first conference and road loss of the year. Now the team must regroup with a bye-week ahead of them and Cordel Iwuagwu believes they'll utilize their time in both the film and weight room.
TCU's senior offensive guard isn't pointing fingers at anyone for the team's subpar performance against Iowa State. However, he knows the offense is capable of producing better results and wants to get back on the winning track immediately.
The loss to the Cyclones was a great measuring stick for the Horned Frogs' offense. Iwiagwu found out a lot about himself and his teammates, knowing there's still a lot of work to do.
"I just know as a unit we have to do better," Iwuagwu said. "As an offensive line unit I feel like the offense starts with us and I didn't feel like we did our job."
The Horned Frogs' offense came out flat, the team fell quickly fell into a 14-point deficit and never led in Saturday's loss. Senior running back Darius Anderson came into the matchup with three-straight 100-yard games, but he didn't accomplish that feat against Iowa State's defense.
The offensive line didn't play with any consistency in order for Anderson to get into a rhythm and TCU struggled to run the ball. Iwuagwu feels it was uncharacteristic of the unit and prides himself on being the leader in the huddle. There's still a lot of questions left unanswered and the offensive line needs to build back that chemistry.
"I think accountability is the biggest thing as of right now and we have to hold guys accountable," he said.
Despite losing by 25 points the offense showed heart, never stopped fighting and scored 21 points in the second half. It's something the Horned Frogs can build on and Iwuagwu wants everyone to keep their heads high. He gives credit to Iowa State's defense, but wants TCU's offensive line to play with more physicality.
Iwuagwu thought the the Horned Frogs' offense was at their best when running tempo and they were able to pick up the Cyclones' blitzes. True freshman quarterback Max Duggan was able to make plays when the unit put the pedal to the metal. He's blossoming in front of everyone's eyes game by game and Iwuagwu thinks has the potential to become a special player.
"Max is doing a great job in my opinion, he's still growing, he's still a freshman," he said. "Right now as the starting quarterback we need him to play like that and he will keep growing and we have all the faith in him to do that."
There's still a lot of football left to be played and with a challenging conference slate looming, TCU's bye-week is coming at the perfect time. At the end of the day Iwuagwu just wants his team to continue improving as a whole and knows they can still accomplish a lot this season.
"If we just do our job we can be successful."