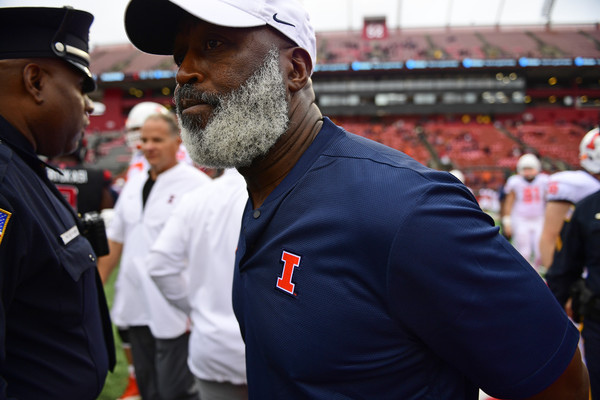 CHAMPAIGN, Ill. — After winning their first two games of the season the Fighting Illini have lost two-straight and a challenging conference schedule looms.
Although Illinois has improved on both sides of the ball, Lovie Smith has yet to get the program to win consistently. The Fighting Illini haven't won three games in a row since the 2011 season. The two losses were demoralizing for the team and Smith must find a way to close out games.
Illinois tied the game late in the fourth quarter against Eastern Michigan and led Nebraska in the last period of Saturday's loss. The problem was the Huskers looked stronger in the second half, while the Fighting Illini looked fatigued.
Not to mention there are no guaranteed wins for the remainder of the season and the road only gets tougher as the Illinois approaches the Big Ten meat-grinder. Still, the potential is there for the Fighting Illini to carve out four more wins to become bowl-eligible for the first time since 2014.
The team can build off of Saturday's loss too. After all, the Fighting Illini's averaging over 35 points per game, with a great backfield on offense and an opportunistic defense. Running back Reggie Corbin is a 1,000-yard rusher, who has 278 yards on the ground and two touchdowns the past two games for Illinois.
However, in order for Smith to utilize Corbin effectively, he'll need better play from his quarterback. Brandon Peters struggled throwing the ball against Nebraska, with a mere 78 yards through the air. The Fighting Illin's defense did force four turnovers and converted three into 21 points, which kept them in the game.
Unfortunately, allowing the Huskers to rack up 690 yards was back-breaking. As a matter of fact Illinois has allowed 40-plus points in seven of its' last nine losses overall. That's a trend that must change in order for the team to reach the post season.
Smith has kept his team competing til the very end, but it remains to be seen if the Fighting Illini can get over the hump. Illinois' bye-week is coming at the right time in order for the team to regroup before resuming Big Ten play. The next three games are against an undefeated Minnesota team on the road and Illinois hosts No. 20 Michigan and No. 8 Wisconsin.
That's a tough three-game stretch that the Fighting Illini will be big underdogs in. If Illinois can somehow steal one of those games, the remaining clashes with Purdue, Rutgers and Northwestern are definitely winnable in order for the team to be bowl-eligible by the end of the regular season.
There's light at the end of the tunnel for Smith and the Fighting Illini despite the cloudy path along the way.