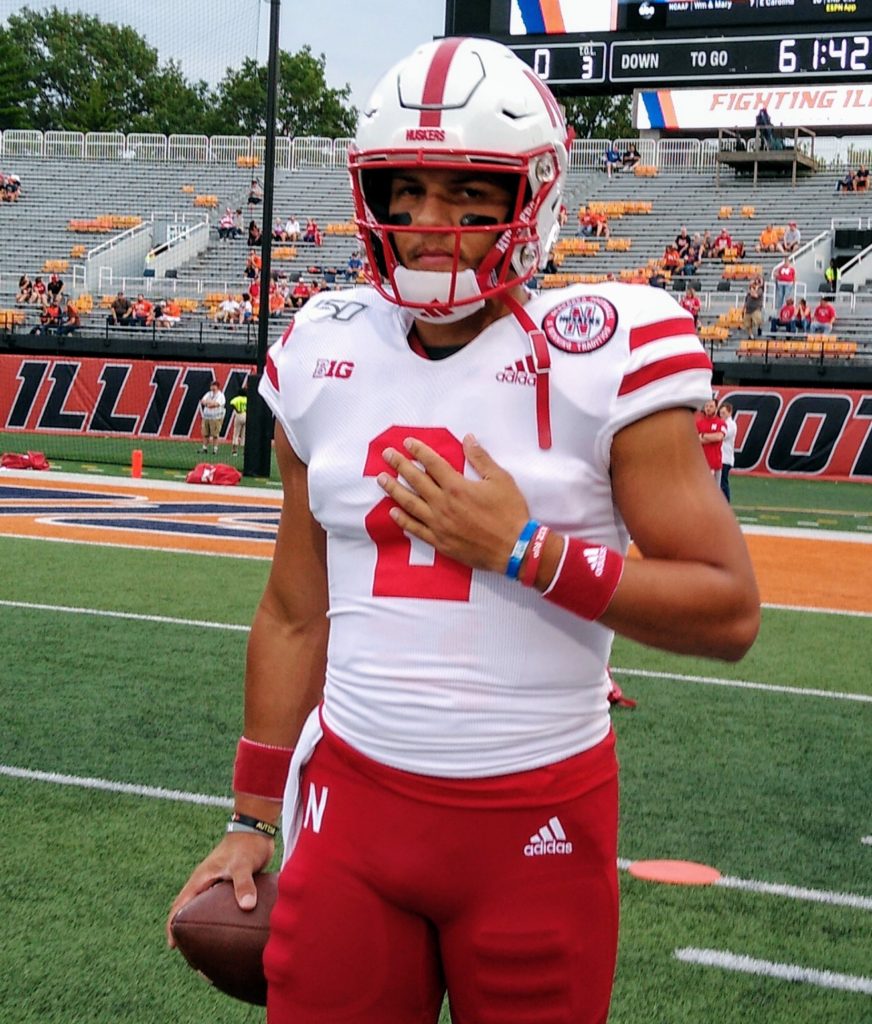 CHAMPAIGN, Ill. — He put together a gutsy performance in Nebraska's road win at Illinois and silenced all of his critics.
Adrian Martinez became the fourth FBS quarterback this season to throw for 300-plus yards and surpass the century mark in rushing in a single game. However, the true sophomore quarterback is not complacent and feels his game has a lot of room for improvement.
Starting with correcting the Huskers' recent turnover issue. Nebraska's offense lost four fumbles against the Fighting Illini, including two by Martinez and it's something he holds himself completely accountable for.
"I didn't play as well as I could've in general and when it relates to those turnovers, I'll take responsibility for that as well," Martinez said. "That's tough on our defense."
Nebraska's offense racked up a season-high, 690 total yards last Saturday, but didn't play a complete game. It speaks volumes of the unit's potential as the team navigates through the Big Ten gauntlet. Martinez is proud of his team through times of adversity and it's showing how far they've come with their mental toughness.
Scott Frost is pleased with Martinez, feels he has complete control of the Huskers' offense and refuse to let the critics be a distraction for his quarterback.
"I don't read too much, but I hear the whispers, he's tentative, he's not playing well, nobody is going to be saying that after the way he ran the game," Frost said. "The kid is a winner, he's a great player and he'll continue to lead us."
The Huskers have scored 40-plus points in back-to-back games for the first time since October of 2018. Martinez credits the units' success to their maturation process. Second half adjustments were key in the victory over Illinois. Nebraska played better on offense, defense and special teams.
"At halftime we knew we needed to come out steely-eyed, confident and just not shoot ourselves in the foot," he said. "I don't think our mindsets necessarily changed, we just had to pay more attention to detail and go out there and execute."
The young signal-caller has weapons at his arsenal at the skill positions. He feels the Huskers' backfield is very versatile. Maurice Washington is explosive as they come and true freshman wide receiver Wan'Dale Robinson scored three touchdowns against Illinois. Not to mention he provided Martinez with a safety blanket.
"I think Wan'Dale played great, whether it be as a receiver or as a running back, he answered the call," he said. "He knew his assignment, he not only did his job, he did it a high level and took care of the football."
Nonetheless Nebraska snapped a ten-game road losing streak and will try to carry that momentum into week five. Getting that monkey off their backs was huge for the Huskers and came at a time when the team needed it most. It showed the Huskers are resilient and Martinez believes they answered the call.
"I think it's nice to have that road win, it's another building block to keep on building this program and this team," Martinez said. "I think we've gotten better in some way each week and this another step in the right direction."
In hindsight Martinez seems ready for the big stage when No. 4 Ohio State visits Lincoln this Saturday. The Huskers are confident, but have't beaten a top-five team at home since the 2001 Oklahoma game and have lost five-straight. Through four games Martinez has 1,052 yards through the air, 234 on the ground to go along with 10 total touchdowns.
The six-foot-two, 220-pounder will need probably need to play the best game of his young career if the Huskers have any hopes at upsetting the Buckeyes.
Nebraska has lost four-straight to Ohio State, but will be all dialed in for the biggest game of the season thus far. The Husker players should be expecting  an intense week of practice.
"We're going to go prepare our usual way," he said. "We realize we can't turn the ball over like we did if we're going to go play a good game against Ohio State."