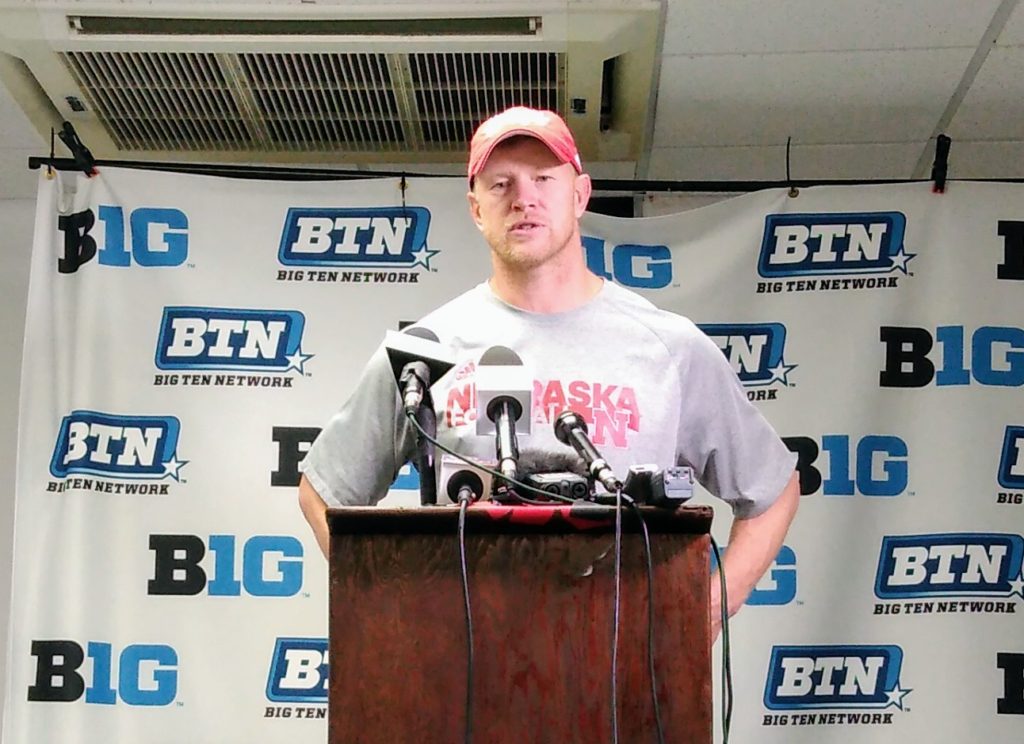 CHAMPAIGN, Ill. — Nebraska fell behind by two touchdowns before rallying all the way back in a physical fourth quarter to beat Illinois 42-38 Saturday night.
The Huskers were able to snap a 10-game road losing streak to improve to 3-1 on the season. The win in front of a crowd of 44,512 at Memorial Stadium was as entertaining as it gets. Nebraska played sloppy through the first three quarters, but were able to overcome four costly fumbles.
Illinois turned three of Nebraska's turnovers into touchdowns in the emotional game, something Scott Frost was not happy about.
"Coach Osborne is up at the University all the time talking to me about turnovers and ball security drills," Frost said. "We can't spot team advantages like that."
The Huskers were two different teams in the first and second half. Nebraska's defense missed several tackles and allowed a 66-yard touchdown run in the first minute of the game. Not to mention quarterback Adrian Martinez had two fumbles and team simply got outplayed in the first two quarters.
However, the Huskers were resilient in the second half. It was obvious in the fourth quarter that fatigue set in for the worse for Illinois. Nebraska looked conditioned and got stronger as the game prolonged, which showed the team's mental toughness.
If it wasn't for the costly four turnovers the game could've possibly been a blowout win for Nebraska. After all the Huskers moved the up and down the field on the Fighting Illini's defense and racked up 690 yards of total offense. Nebraska never panicked through times of adversity and Frost knew the hard week of practice had paid off.
"We talked all last week about finishing when we had a chance to finish, this week it was about everyone staying calm no matter the situation," Frost said.
Frost encouraged his players to fall back on their training, execute with speed, not to panic or worry and to just play the game. The tactic worked out well for the team, the Huskers took advantage of their tempo and were able to open up conference play on a high note.
True freshman Wandale Robinson had himself a game, with 189 total yards from scrimmage and three total touchdowns.
Martinez became the fourth FBS quarterback this season to have 300-plus yards through the air and 100-plus on the ground to go along with three touchdown passes. Nebraska did lose star running back Maurice Washington due to an undisclosed injury and his status remains unknown.
Still, with Saturday's victory the program joined the elite 900-win club, which features Michigan, Ohio State, Alabama, Notre Dame and Texas.
"We are where we are, we could easily be 4-0 and everybody would be saying how great we are," Frost said. "We could easily be 2-2 and everybody would be talking how it's not any better and the sky is falling."
Now the Huskers will shift their attention to game five and No. 6 Ohio State travels to Lincoln and ESPN College Gameday will be at Memorial Stadium.
"We got a great team coming in next week," he said. "Watching them a little on tape I think they are as good of a team as I've seen since I've been in the Big Ten, so we have a huge challenge."