Despite loss, Iowa State still has everything to play for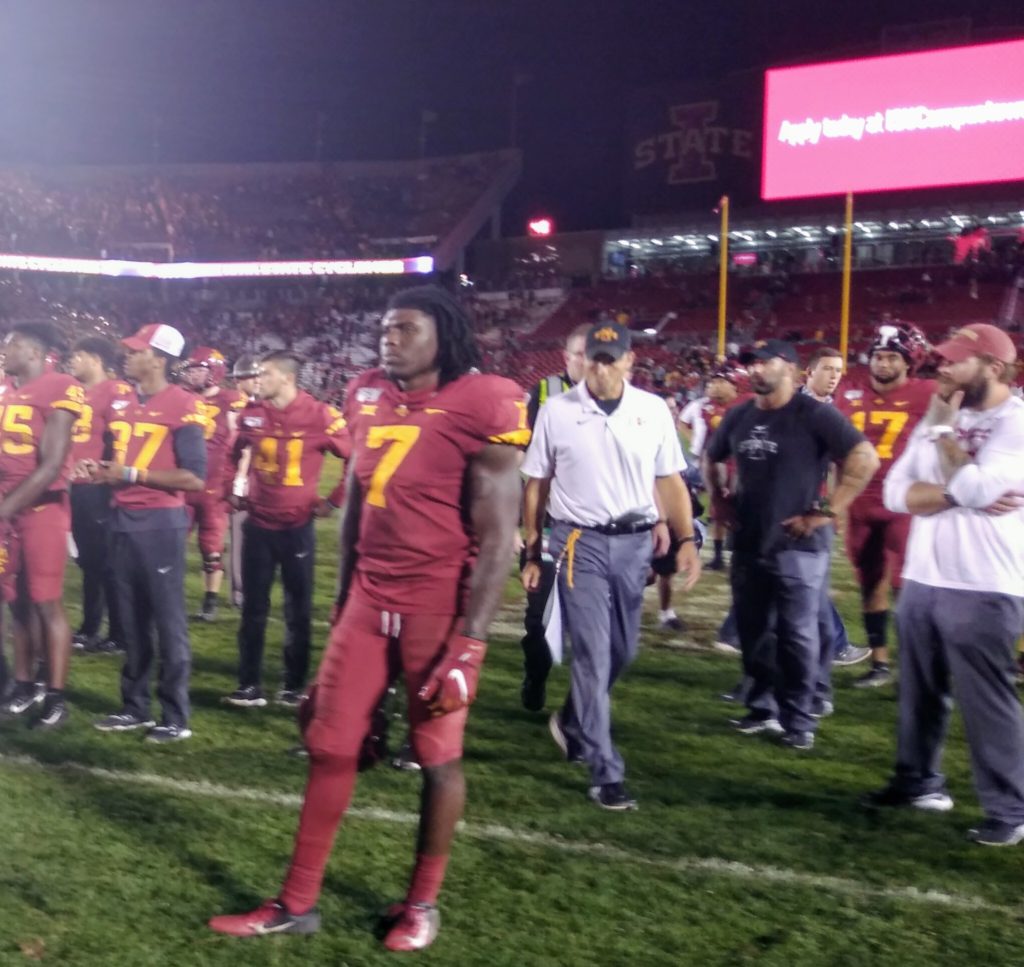 AMES, Ia. — The fifth-straight loss to Iowa was a low blow for the program.
The Cyclones were supposed to have one last possession to win the game. It was supposed to been a legacy building drive for Brock Purdy and fans at Jack Trice were ready. However, Iowa State's offense never got the ball back because of a miscue on special teams that caused a turnover.
It was one of the worst ways to lose a close game with the magnitude of the Cy-Hawk rivalry. Not to mention Iowa State had a week off to prepare for Iowa. Matt Campbell almost made it to the finish line, but came up short and remains winless against the Hawkeyes.
Still, there's no reason for the players to keep their heads down and everything is still on the table for the team to achieve all of their goals. There's several things to build on, including the Cyclones' offense, which put up 418 yards on one of the nation's elite defenses.
Purdy had a solid performance with 310 total yards, a touchdown toss and no turnovers. The offensive line allowed only one sack and the running game averaged nearly five yards per carry. Wideout Tarique Milton established himself as a possession receiver, plus tight end Charlie Kolar is a matchup nightmare and requires double coverage on obvious passing downs.
The defense played well enough to win. Holding the Hawkeyes' offense to 17 points after they averaged 34 points through their first two games is worth noting. Big 12 plays is still two weeks away and Campbell has time to iron out all the wrinkles.
Playing a third-straight game at Jack Trice will be a great opportunity for the players to get their confidence back and establish momentum. Louisiana-Monroe is no pushover and nearly upset Florida State at the Doak. Campbell will have to find a way to close out games more efficiently. He has a defense that's one of the best units in the Big 12, which should help.
There's enough experience, leadership and production on the team so a swift rebound should be expected. Sometimes keeping your players focused through adversity can be more challenging than the X's and O's for coaches. Campbell and his staff have a great connection with their players, which after emotional losses.
Currently the Big 12 looks as solid as ever from top to bottom. Iowa State was projected to be one of the top-three teams in the league during the off season. Campbell knows the caliber of talent he has on the roster and there's no reason why Iowa State can't be contenders.
The Cyclones have yet to play a complete game, which means the players should be expecting an intense week of practice. Campbell is all about getting the most out of his players. There's a lot to learn from Saturday's loss and the team's best football is still ahead of them.
Game three will show if Iowa State can bounce back and show everyone that Saturday's loss to Iowa was just a fluke.