Greg Eisworth awed by the maturation of Iowa State's secondary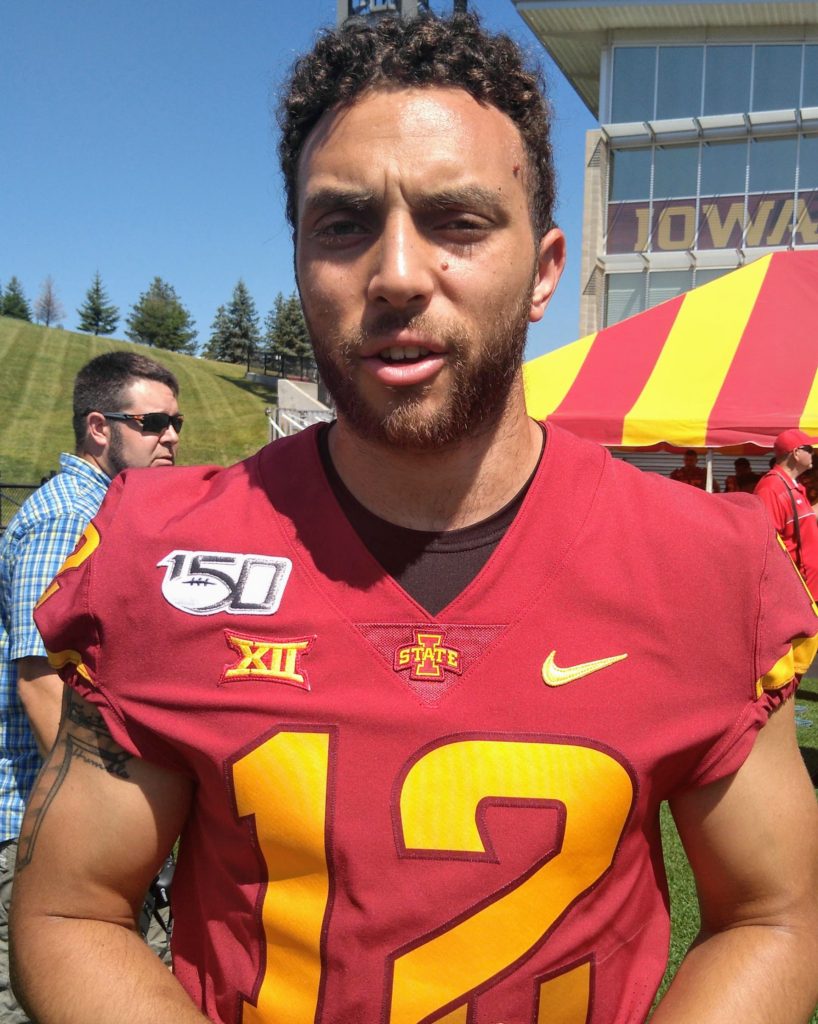 AMES, Ia. — He went from an unknown commodity to being named the Big 12's Defensive Newcomer of the Year last season.
Greg Eisworth established himself as one of the hardest hitters in the league. Now he's embracing his role as a leader of Iowa State's secondary, a unit operating with two young, but seasoned corners. Eisworth knows the group has come a long way. He likes what he sees out on the field and feels like they're ready.
"What I try to tell them is to take practice reps like they are game reps and they do a good job of that," Eisworth said. "Our young corners really stepped up huge this off season and probably made the biggest improvements as far as leadership."
Iowa State finished second in the Big 12 in pass defense last season. However, the Cyclones will see some talented quarterbacks on the schedule again and need to remain consistent. That's when Eisworth and fellow safety Braxton Lewis come into play. The duo keeps the group focused and strive for ways to improve everyday.
"Last year when I first got here nobody in the secondary really had a lot of playing time," Eisworth said. "So I think last year just growing as a  safety unit, that brought us together and we're just putting it all together and taking bigger strides this year."
Eisworth feels the team unity is there and they have all grown together and are closer on both sides of the ball. As for himself Eisworth is light years ahead of where he was at the start of the 2018 season. That's when he was learning the different offensive formations and was just trying to get the plays down.
Now Eisworth is an enforcer in the Cyclones' defensive back four. The Texas native credits Defensive Coordinator Jon Heacock for his knowledge in the film room and the different techniques. The players and the coaching staff are one big family to him and it helps with blocking out high expectations.
"We enjoy it, it's a great challenge, but we really don't try to pay attention too much to the rankings," he said. "We set our own expectations and that's what we're going to judge at the end of the day."
Despite all the recognition he received last season, Eisworth is his own worst critic. He constantly pushes himself to make more plays on the field. The six-foot, 205-pounder is very thankful to be in the position he's in and understands the responsibility that comes with being a leader. He's never complacent and loves taking on new challenges.
"Just getting one percent better each day trying to perfect my craft and really just helping this team in any way possible," he said.
Iowa State is coming off a bye-week after pulling out an overtime win over in-state foe Northern Iowa. The Cyclone's defense allowed 224 yards through the air in week one. Not a lackluster by any means, but the defensive backs need to become ball hawks in close game like that.
Eisworth mold his game after NFL star safety Earl Thomas because of his smaller frame and the way flies around from sideline to sideline making plays. He also idolized Troy Polamalu for his physicality. Eisworth doesn't considers himself the hardest hitter on the Cyclones' defense, but he knows he can lay the boom.
As for his fellow defensive backs, everyone holds each other accountable. More interceptions is what the unit needs to work on generating. The secondary will be facing the Big Ten's most experienced quarterback in Iowa's Nate Stanley this Saturday afternoon.
The Cyclones have lost four-straight games to the Hawkeyes and fell out of the polls after week one. The team is definitely motivated and will be playing with a chip on their shoulder at Jack Trice Stadium.