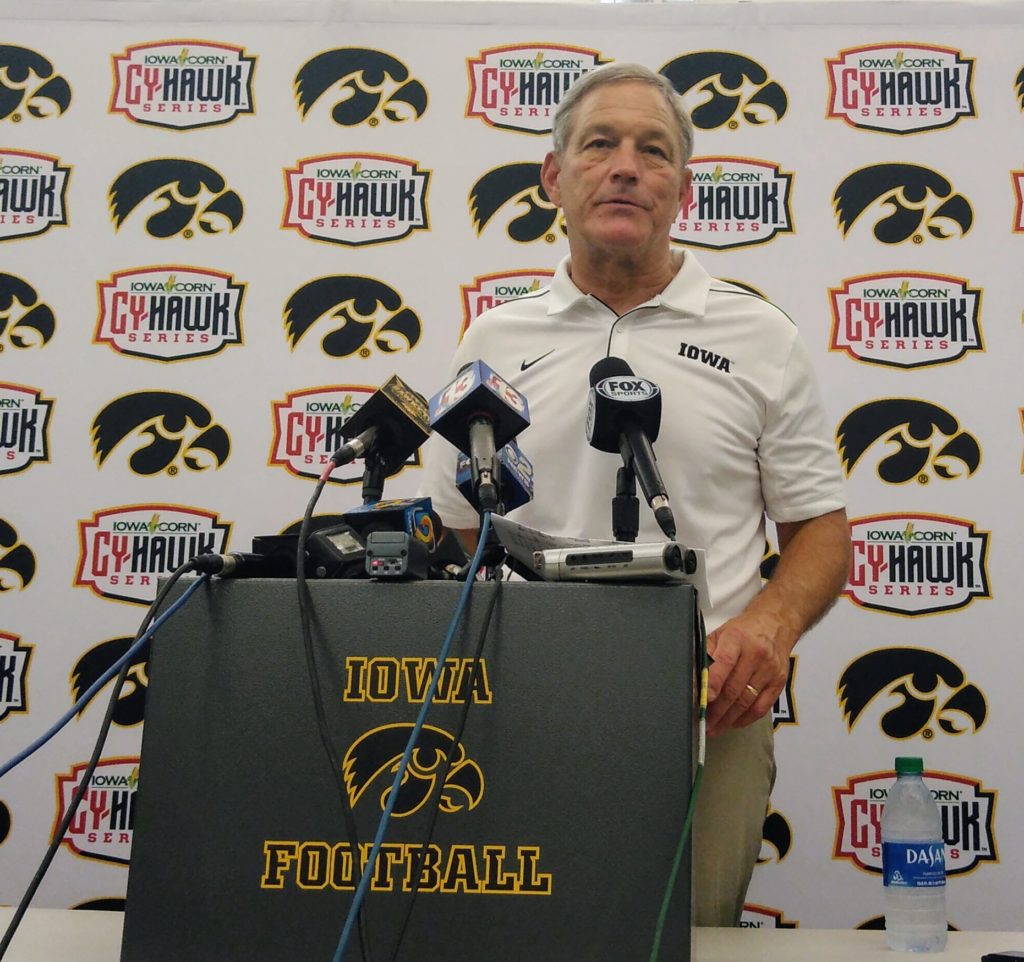 AMES, Ia. — Two weather delays, hard-nosed defense, big plays on special teams and clutch throws defined the 67th meeting between two rivals.
The Cy-Hawk trophy will be staying in Iowa City for another year after Iowa's 18-17 victory over Iowa State Saturday night in front of a sold out crowd at Jack Trice Stadium. It was Kirk Ferentz's fifth-straight win against the Cyclones and he's 6-5 all-time in Ames.
Not to mention Iowa has won its' first three games for the third-straight year. Saturday's clash wasn't pretty by any means. Not only did the Hawkeyes have to deal with the noise from the 61,000-plus fans, they also had to stay fluid after three hours of weather delays.
"It's got to be a four quarter game, it was a lot of ups and downs, including the weather, it was hard to prepare for that," Ferentz said. "The bottom line it was a real test of mental toughness, physical toughness and I thought our guys did a great job against a team that played extremely well."
Iowa State had the total yardage edge, with 418 compared to Iowa's 313. However, two key Cyclone turnovers, including a punt return blunder sealed the game for the Hawkeyes. Still, it was a tight game throughout and Iowa was down five points entering the fourth quarter. Keith Duncan connected on four field goals, which helped the Hawkeyes' rally back.
It was a challenge for Ferentz to keep his players focused, hydrated and free of cramping through the weather delays. He even sent his staff out to get his team sandwiches during the wait. He's happy for his players, especially the seniors who will finish their collegiate careers undefeated against the Cyclones. It's a rare feat a student athlete gets to claim.
"We're thrilled to get the victory, proud of our seniors for putting great leadership forth in our first time on the road in a tough place to play," he said. "The seniors did a great job too, I'm happy about that, I'm happy we got a bye week and we'll move onto the next step."
The defense got hit with a trick play by Iowa State for a 51-yard touchdown pass in the first quarter and Brock Purdy completed 24 of his 34 passes. The Hawkeyes' defense failed to sack and intercept Purdy. Give credit to the quarterback's mobility and the play from his veteran offensive line.
Iowa held a huge advantage in  time of possession, which allowed the team to run 72 plays to Iowa State's 54. Quarterback Nate Stanley didn't turn the ball over and made some clutch throws to move the chains.
"We had a lot of tough third downs that we converted and that's a value of having a quarterback who's a veteran guy and stays poised" Ferentz said. "Guys catching the ball too, we're protecting, catching a lot of good things there and hopefully we'll build off that."
The win over Iowa State boosted Iowa to No. 18 in the latest AP Poll and the team has momentum to carry into the bye-week. The Hawkeyes will resume play in two weeks against Middle Tennessee State at Kinnick Stadium.