Mike Rose: Iowa State's true sophomore star linebacker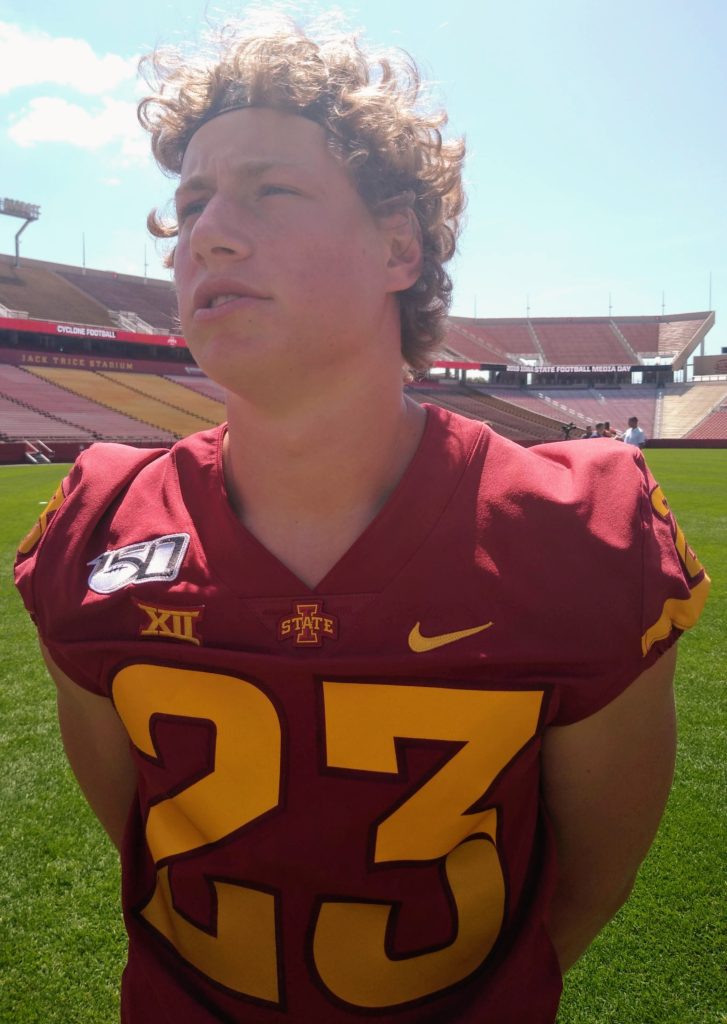 AMES, Ia. — He was one of Iowa State's best defensive recruits from last season, was thrown to the wolves early on and earned freshman all-conference honors.
Mike Rose held his own with the veterans of the Cyclones' defense and finished third on the team in tackles with 75 total stops. He earned his stripes and now the Ohio native is a full-time starter on one of the best defensive units in the Big 12. Rose goes about his business on the field the blue-collar way, with a work ethic that stems from his hard working parents.
"I bring an energy like a never give up mentality, really I think that's my best asset and always has been since I was a little kid," Rose said.
He loves the game of football, Cleveland Browns and sports in general, plus Rose was a two-way athlete growing up and played basketball also. His god-given talent has excelled him on the field and he wants to continue getting better. Rose is proud of his accomplishments as a true freshman last season, but he's not complacent.
"What pushes me is having no doubt," he said. "I don't want to look back in 10 years and be like yeah I could've gone harder, because I feel like that would haunt me forever."
The true sophomore has more responsibility this time around being one of the enforcers in Iowa State's veteran defensive front seven. Iowa State finished No. 1 in scoring and rushing defense in the Big 12 last season and held Northern Iowa to a mere 31 yards on the ground in week one.
Rose wants the defense to build on that performance. The Cyclones had the week off and been preparing for the Cy-Hawk Showdown. The overtime scare against Northern Iowa caught everyone's attention and Rose been using that game as motivation.
"It's good to have the experience under your belt for sure and this season I need to take on more of a leadership role," he said. "Be that leader for that new guy we're going to have out there with us and be a leader for the whole defense."
ESPN's College Gameday will be in Ames this Saturday for the first time ever for the 67th Cy-Hawk showdown. National exposure, sellout crowd at Jack Trice and NFL scouts will be in the building. Iowa State is motivated to get back on the field after falling out of the AP top-25 post week one.
However, Rose admits the team doesn't pay any attention to the polls and rankings. Instead they just continue to practice hard and control what they can control. After all, the games are played on the field and not on paper.
"Coach Matt Campbell does a good job of having us not listen to the outside noise, believe in what we believe inside our walls and that's all that really matters to us," Rose said.
Rose doesn't consider himself a selfish player and is all about whatever benefits the team. He's also very careful how he carries himself on and off the field, knowing eyes are always watching.
"A lot of people want to be at this stage," he said. "You got to remind yourself all the time that there's a ton of kids out there that wish they could be in this position."
As for now Rose will continue to grind hard in practice hoping it'll translate into success on the field. All he needs is some music from his favorite hip-hop artist 'Lil Baby' and he's ready to get out on the field and make a bone-crushing tackle.