The ranked Power Five team that nobody's talking about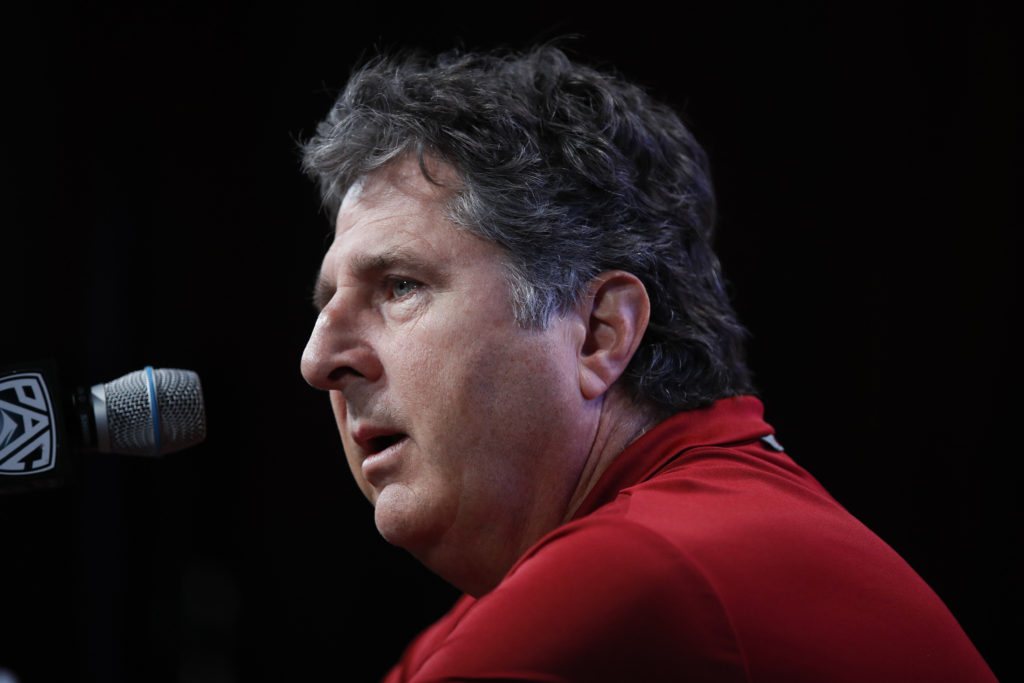 Mike Leach led Washington State to the most wins in school history last season and has picked up right where he left off.
His Air Raid offense continues to put up video game numbers, regardless of who's playing quarterback. Oklahoma's Lincoln Riley gets a ton of credit for producing two-straight Heisman Trophy winners at quarterback. Leach is also a wizard when it comes to his signal-callers padding up stats.
Luke Falk and Gardner Minshew broke school and Pac-12 records during their time at the helms of the Cougars' offense. Senior signal-caller Anthony Gordon has stepped up to the plate to orchestrate Leach's offense on the field and his numbers so far have been jaw-dropping.
884 yards, nine touchdowns and an interception through two games. Plus Gordon has a plethora of receivers to operate with. Gordon and his pass catchers have used their first two opponents secondaries for target practice.
Even Washington State's victory over New Mexico State was more impressively than Alabama's. Washington State is currently No. 20 in the AP Poll and has yet to face a Power Five opponent. The program has become notorious for scheduling cupcakes.
Washington State hasn't faced a Power Five opponent in the non-conference slate since 2015. It's why there hasn't been a huge buzz behind this talented team.
Remember Leach had Washington State very much in the Playoff hunt late into the season in 2018. As a matter of fact, Washington State has won 10 of its' last 11 games.
What will likely hurt the Cougars chances if they make another run at the Playoffs is their strength of schedule. Unfortunately, Leach's squad don't play an opponent with a pulse in non-conference. Houston has one of the worst defenses in the FBS, Northern Colorado is from the FCS and New Mexico State been outscored by its' first two opponents 120-17.
Washington State opens up Pac-12 play against UCLA in two weeks. This means the team will likely be undefeated heading into next month. It remains to be seen if Leach's team will be battle-tested enough heading into their Pac-12 gauntlet.
Not to mention Washington State has a daunting road schedule, traveling to Utah, Arizona State, Oregon, California and Washington. If the Cougars can somehow navigate through their schedule with just one loss they should be in the Playoff discussion.
The Pac-12 seems to already have one leg out of the Playoffs after the league's play against Power Five competition through the first two weeks of the season. There are currently five undefeated teams in the Pac-12 and the Cougars have five of them on their schedule.
Win those, and there'll be a ton of buzz behind Washington State. Still, the Cougars perform better by flying under the radar anyway and the next coming weeks will tell all the College Football fanatics a lot about Leach's team.