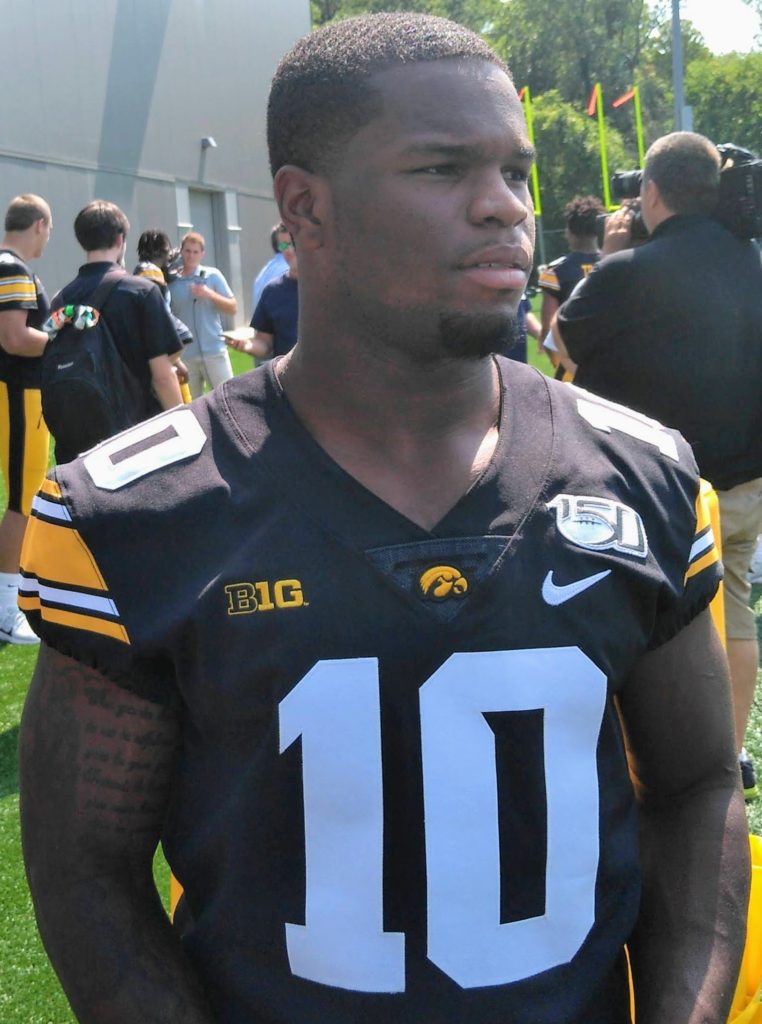 IOWA CITY, Ia. — He has nearly 450 yards on the ground the past four games for Iowa.
Mekhi Sargent has emerged out of a crowded Hawkeye backfield and been receiving the bulk of the carries. Coach Kirk Ferentz knows he has a three-headed monster at running back.
Toren Young, Ivory Kelly-Martin and Sargent battle it out in practice hoping it all leads to success in live games. For the first time in a while the trio is healthy and provides Iowa with nice depth at running back.
"Toren and Mekhi both took big steps in the spring, they just did everything a little bit better," Ferentz said. "The group of those three guys that have been on the field is a really healthy group of guys, good players that care about each other and compliment each other."
Ferentz will likely continue the rest of the season trying to figure out how to utilize his backs' skill set. Distributing the rock to his ball carriers could be a challenge, but Sargent downplays the heated competition and believes it benefits the team.
"Having a lot of backs is a good thing and it saves our legs," Sargent said. "By having a lot of backs you can feed off one another, you can learn from each other, cheer each other on and it's a beautiful thing."
Sargent knows everybody needs to be battle-tested by the time October comes around as the Hawkeyes navigate through the Big Ten meat grinder. The Florida native is striving to be better everyday and enjoys competing out on the field with his teammates.
The five-foot-nine, 212-pounder has come a long way since he first arrived on campus.
"Last year around this time I got the playbook thrown at me and was making a lot of mistakes," he said. "This year I've been doing a good job with implementing everything that I've learned."
Sargent just tries to be himself out on the field. He has gone through a big learning curve with understanding the playbook and its' concepts. He also believes the coaches are going to do a good job at rotating the running backs. Sargent wants to mold himself into a complete backs.
That takes, experience, production and leadership, qualities Sargent feels he has.
"Now I feel like I got to be more of a leader out there," he said. "Definitely need to improve in the run game, that's the emphasis this year."
The Hawkeyes' haven't had a 1,000-yard rusher since Akrum Wadley in 2017. Not to mention Iowa had two 1,000-yard rushers in 2016. Sargent believes with the caliber of players the Hawkeyes have in the backfield, eclipsing that number is a possibility.
The Hawkeyes' offense will face one of the best defensive fronts in the country when they square off with the Cyclones in Ames this Saturday. Iowa State has had the week off to prepare for Iowa and likely studied film thoroughly on its' first two games.
Still, if Sargent and the rest of Iowa's backfield play to their potential, moving the chains shouldn't be an issue.