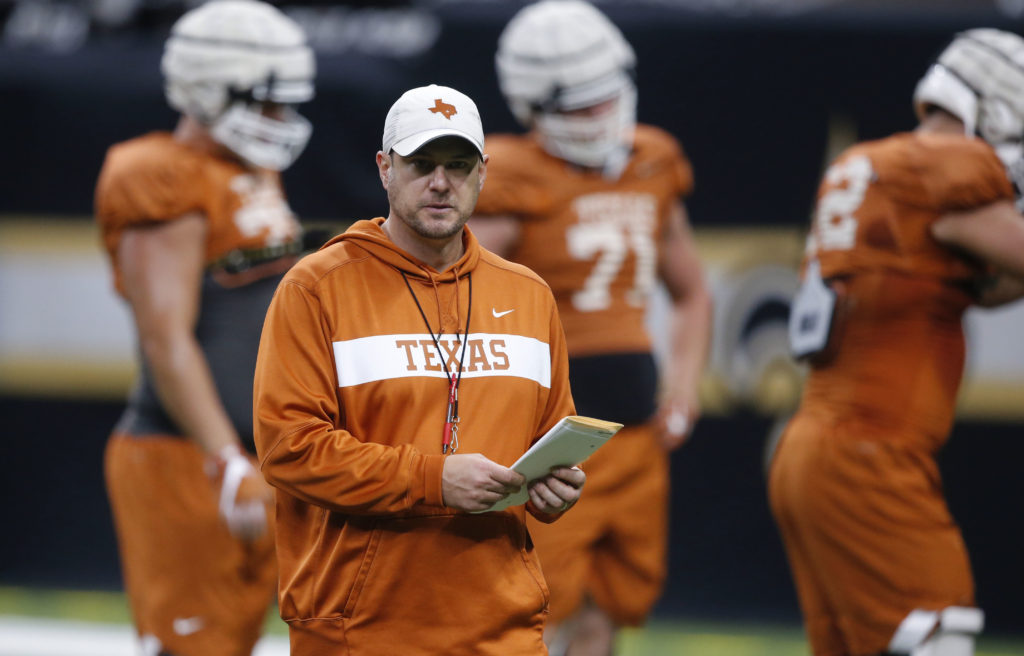 After beating Georgia in the Cotton Bowl Texas received praise, but now it has come the time for Tom Herman to show the win was no fluke.
The Longhorns have a Heisman contender at quarterback, won five of their last six games and are ranked No. 9 in the AP Poll. Herman appears to have Texas a year ahead of schedule. However, there's a big road block that's standing in the Longhorns' way of solidifying they've returned to College Football prominence.
That road block is SEC powerhouse LSU visiting Austin. Like the Longhorns, the Bayou Bengals are coming off a double-digit-win campaign and ranked in the top-10. Talk about a game that moves the needle. Herman knows how important Saturday's clash against LSU is in terms of recruiting, playoff implications and conference bragging rights.
The Big 12 is perceived as an Oklahoma and everybody else league that plays no defense. Still, Texas has a ton of momentum with a chance to show the entire nation there are more elite teams in the Big 12. Beat LSU and Texas could control its' own destiny for the remainder of the season.
The Bayou Bengals haven't won in Austin since 1938 and are 2-9 there all-time. Ed Orgeron is trying to get LSU back among the nation's elite after Georgia took its' spot as the second-best program in the SEC. No doubt the Bayou Bengals will reveal how far the Longhorns' measuring stick can reach.
Both teams recruit the Houston area hard and games of this magnitude is why recruits sign with these programs. It's arguably one of the most anticipated non-conference games in the Power Five. Longhorn signal-caller Sam Ehlinger receives criticism because he's not the typical gunslinger, instead he's blue-collar and bleeds burnt orange.
With so much exposure on this contest everyone will be on Ehlinger's bandwagon if LSU leaves Austin with a loss. Not to mention Herman emphasized at Big 12 Media Days how Ehlinger is ahead of where J.T. Barrett was at this point in his career. Although a loss would hurt either teams' Playoff chances, they'll still be in the hunt if they run the table the rest of the way.
The Longhorns won't be playing for just themselves, but for the entire Big 12. With the Pac-12 on life support in terms of post-season glory, Herman and his team have everything to gain from this match-up that'll be under the lights at Darrell K Royal. Now College Football fanatics will find out if Texas is truly back.