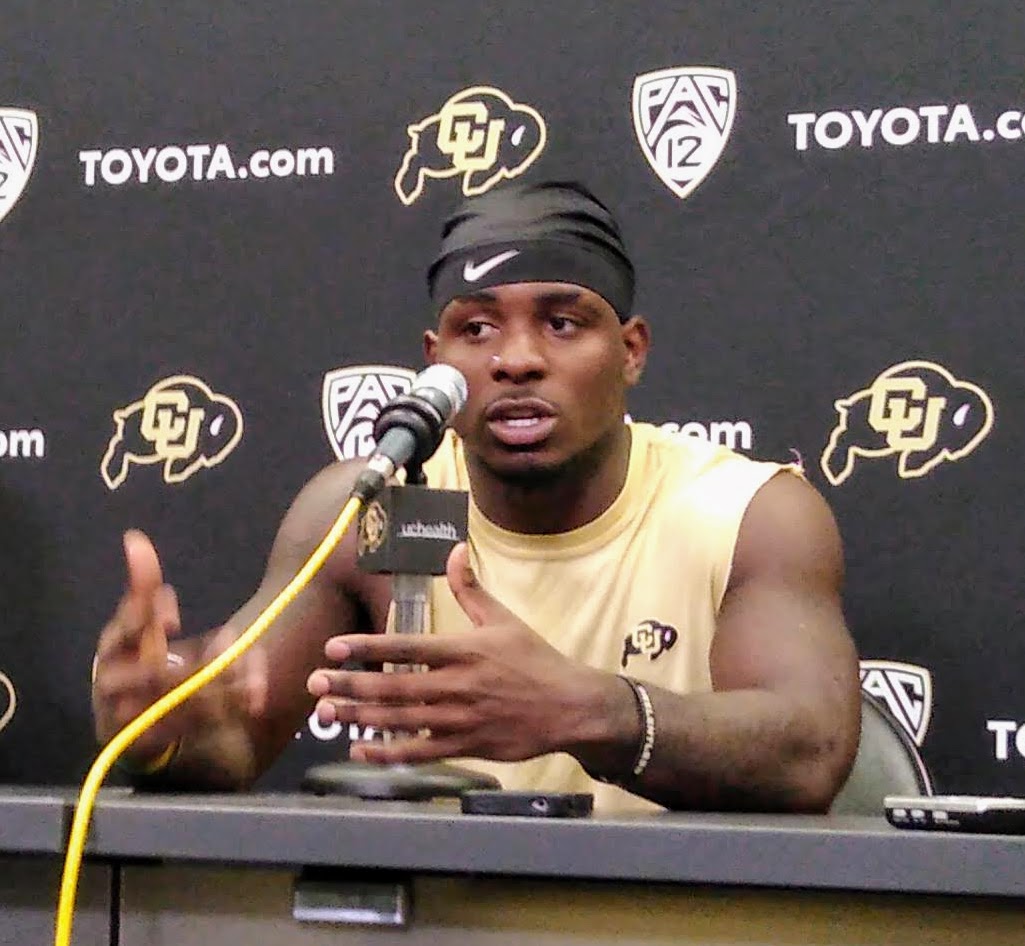 BOULDER, Co. — Colorado's junior wideout scored the longest touchdown in program history when he caught a 96-yard flea-flicker pass.
The jaw-dropping play took guts and shifted the momentum of the game from the Huskers to the Buffaloes. The play's success didn't surprise Nixon, after all he make plays like that everyday in practice.
"It's a play I had to execute, that's what our coach talk about all the time, execution, execution, don't worry about no other teams and just do your job," Nixon said. "Basically making that play really just made me happy because I know what type of player I am."
Nixon led both teams with six catches for 148 yards and credits his success to all of his coaches, knowing the hard work they put him and his teammates through during the off season. The five-foot-eight, 190-pounder has elevated his game under Mel Tucker's guidance and thrives at being the team's motivator.
"If I make a big play I know the team will get excited and that's all we need is other players to make plays," he said. "Once we all make plays we all feed off of each other."
That's exactly what Colorado has been doing the first two wins of the season against Colorado State and Nebraska. The Buffaloes continues to increase their intensity in the second half, outscoring their opponents 62-24. However, Nixon knows the team's productive performance stems from the weight room before being put into play on the field.
"We won this game back in summer workouts, we had the hardest summer workouts I've ever had in my life," he said. "So credit the strength and conditioning staff, credit to Coach Tucker for telling them to do that."
Nixon and most of the Colorado players don't understand the significance of the victories. Several Buffaloes are from different states throughout the country, but are quickly finding out what beating rivals is all about. The team is 2-0 for the fourth-straight season and there's no telling how far they can go this fall.
The Texas native knows the team won't have another mid-season debacle like last year because of all the conditioning. He truly believes staying relentless and strength is not a joke in today's game.
"I don't think nobody outside of this football team could've played with the Colorado Buffaloes through summer workouts," Nixon said. "I guarantee you anybody on another College Football team would've quit because this is how hard it was and we all stick together."
Now Colorado will face its' third-straight rival this Saturday when Air Force visits Folsom Field. The Falcons are coming off of a bye-week and are undefeated on the season. The Mountain West has looked solid so far against Pac-12 teams. The Buffaloes can't fall victim to the hangover win against Nebraska and need to prepare for the Falcon's triple-option attack.
"We happy, but at the same time it's a 24-hour rule and we know tomorrow we got to be right back here for treatment and get right back to work."