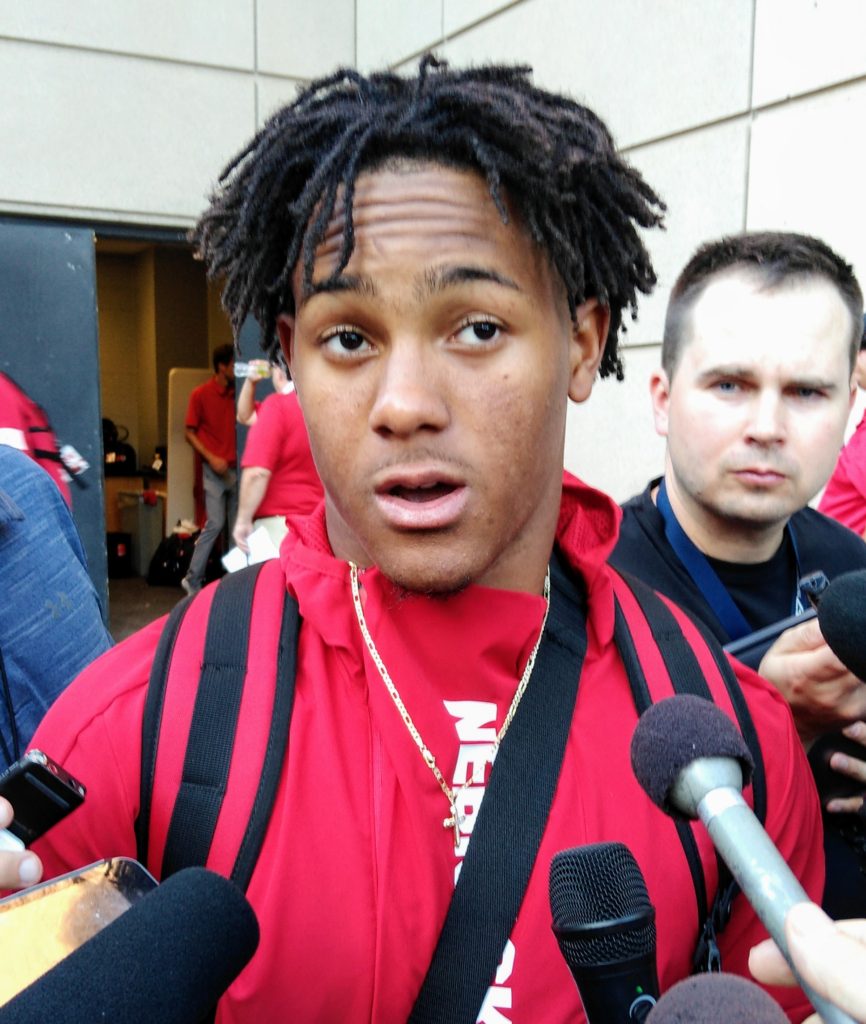 BOULDER, Co. — Wan'Dale Robinson got his first taste of defeat Saturday, but Nebraska's star true freshman refuses to hang his head low.
The Huskers suffered their first loss of the season to Colorado for a second-straight year and once again it was in dramatic fashion on national television.  It's a humbling experience for any program to endure and could potentially damage a team's psyche.
However, Robinson is remaining focused knowing the talent, experience and leadership the Huskers have in their locker room. During times of adversity shows the mental toughness of a team and how they bounce back. In Robinson's eyes, Nebraska will bounce back stronger than ever.
"Everything we want to accomplish we can still do," Robinson said. "That's the big thing, we can't dwell on this, it's done and over with now, we onto next week."
Nebraska Coach Scott Frost will likely put his players through an intense week of practice in hopes of correcting the reasons of why his team can't finish games. Nebraska made several plays on both sides of the ball throughout the game, but couldn't come up with any during clutch times.
Through two games Robinson has found himself very much involved in the Huskers' offense. Robinson got thrown to the wolves and had to adjust from high school to Power Five speed. So far it has been a smooth transition.
However, the Kentucky native has to grow up fast and the challenge will be supporting his teammates, especially the seniors. It's a time when players have to stay strong for one another, knowing a lot of them won't get to experience a shot at their rivals again.
"They were disappointed, especially the seniors that don't get to beat them," Robinson said. "Now we know what we have to do to work harder and come back next week for a win."
Robinson has been amazed with the spark running back Maurice Washington provides the offense when he enters the game. The true sophomore finished the game with 195 total yards, including 118 through the air and a touchdown catch. Clearly the unit is at its' best when Washington is on the field.
"It makes a big difference, obviously you can see what he can do with the ball in his hands," he said. "His versatility, playing running back and receiver, kind of like I am, it just causes problems for defenses."
Robinson knows he's also a key piece to Nebraska's offense. In just a short time on campus he has already experienced what it takes to be a responsible student athlete. He's trying improve certain areas of his game and trusts what his coaches tell him.
"I feel like I can get better at a lot of things," he said.  Ultimately I'll get back to the drawing board with the coaches and figure out what they have to say about my game."
The Huskers have averaged 33 points per game through the first two contests and the offensive scheme has displayed potential. Now it's time for the team to put together a complete game. Northern Illinois, a team that won in Lincoln in 2017 is up next for Nebraska.
With revenge on the players' minds and frustration from the Colorado loss, motivation shouldn't be an issue for the Huskers.