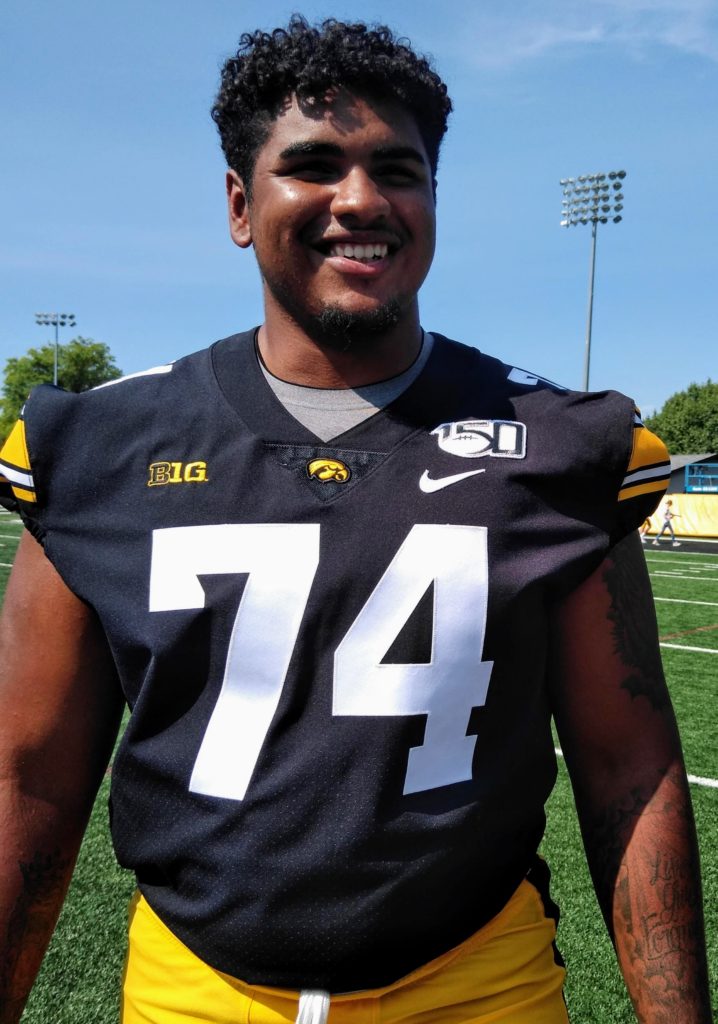 IOWA CITY, Ia. — He came to the Iowa program as one of the top recruits of the 2017 class.
A.J. Epenesa may have stole all of the headlines from the other incoming freshmen that signing period, but Tristan Wirfs has been just as viable to Iowa's success the past two seasons.
The junior offensive tackle has 20 career starts and is considered one of the strongest players in College Football. He's also projected by veteran Scout Analyst Mel Keiper as a top-10 pick in next year's NFL Draft.
Still, Wirfs is enjoying life as a student athlete and Hawkeye Football is like family to him. After all, Wirfs is an Iowa native, who grew up in Mount Vernon, which is less than 30 minutes from campus. Wirfs has a great relationship with all of his teammates, especially his fellow offensive linemen and Epenesa.
The two may be at each others throats in practice because of the positions they play, but off the field it's all fun and love. The two dine out a lot and play video games together. Wirfs know he's benefiting by going up against one of the best edge rushers in the game in practice. He admires Epenesa's skill set and how he uses it to his advantage.
"It's so crazy how fluid everything is and how confident he is in his moves," Wirfs said. "He has a motor and will work for a sack no matter what."
Wirfs describes his relationship with Iowa's offensive linemen as a brotherhood. Off the field they grill and smoke meat together at their homes. Wirfs has played next to Cole Banwart for the past two seasons and the chemistry he has with the center is second to none. The two don't even have to say anything to each other in practice. All they need to do is just tap each other to communicate. Wirfs believes the more he's with these guys the better bond he builds with them.
He has also developed a friendship with the Hawkeye Marching Band and remembers them chanting his name during Iowa's bowl game last season. He doesn't get to see them perform at halftime so Wirfs expresses his love by waving to them during games.
The junior continues to remain focused and keeps his intensity at a high level in practice. Wirfs is arguably one of the best offensive tackles in the Big Ten. However, the six-foot-five, 322-pounder continues to push himself to improve in different areas of his game, like getting his hands up on his set.
"Coach Kirk Ferentz told me I'm not a cowboy, I don't need to shoot for my holsters," Wirfs said. "He wants me to carry my hands higher in my set and I'm trying everyday to get better at that."
Expectations are high for the Hawkeyes this season, but the team is taking it one game at a time. Wirfs remains confident that Iowa can accomplish something special in his junior year.
"That's what we come into the facility everyday thinking," he said. "We want to lift, eat, sleep and definitely practice with the intentions of being Big Ten Champions."
Wirfs keeps his routine the same before every game like he has since his sophomore year in high school. All he needs to hear is his anthem 'Can't be touched' by Roy Jones Jr. and Wirfs is ready to go out on the gridiron and pancake block a defensive lineman.
Iowa is ranked No. 20 in the AP Poll, fresh off a 36-14 victory over Miami (Ohio) last week and will open up conference play at Kinnick Stadium against Rutgers this Saturday. Wirfs will have to step it up for the offensive line the next two weeks because the unit will be without star tackle Alaric Jackson, who's sidelined with an injury.