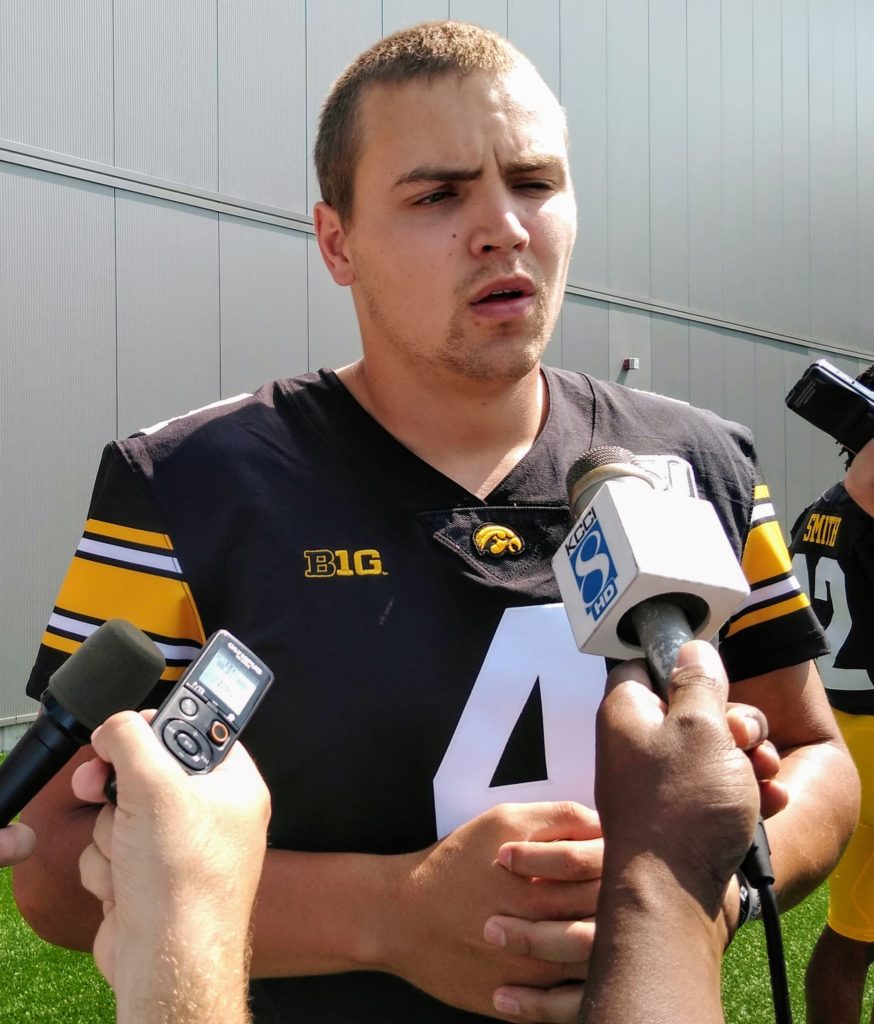 IOWA CITY, Ia. — He's the most experienced quarterback in the Big Ten and confident in himself and his teammates.
Nate Stanley is set to take stage on his senior season and poised to shatter school records this fall. Expectations are high for the Hawkeyes and they are ranked in the AP preseason top-20 for the first time since 2016. Still, Stanley continues to work hard in practice, knowing there's room for improvement in his game.
Every detail mattes to the signal-caller and he won't stop until he has perfected his craft. Although Stanley has thrown for 52 touchdowns and 16 interceptions the past two years, he feels it hasn't been good enough.
His ball placement has been a point of emphasis throughout fall camp. Quarterbacks Coach Ken O'Keefe has emphasized to Stanley that better footwork will lead to better accuracy and wants him to get the ball out faster.
"My completion percentage has been a little lower than I liked it to be the last couple of years," Stanley said. "I want allow my receivers to make plays on the ball after they catch it."
It's no secret that the Hawkeyes have to fill a huge void in their passing production after the departures of wide receiver Nick Easley and tight end dynamic duo Noah Fant and T.J. Hockenson. However, receivers Brandon Smith and Ihmir Smith-Marsetter and tight end Nate Wieting are ready to step up to the plate, so Iowa doesn't miss a beat.
"We feel very confident with everybody that we can put out on the field," he said. "We expect ourselves to statistically improve every single year."
Stanley needs 23 touchdown passes this season to become the school's all-time leader in that category. He's flattered to be mentioned in the same sentence as legendary Iowa quarterbacks Chuck Long and Chuck Hartlieb. Stanley credits his teammates for even receiving the recognition.
The six-foot-four, 243-pounder is confident with the quality of work the team has put in throughout fall camp and believes it stems from all the preparation over the past six months. Stanley hasn't taking anything for granted and the Wisconsin native has enjoyed every minute of his collegiate career in Iowa City.
"The biggest thing I really enjoyed in the three and half years I've been here is the relationships and all the opportunities we get to meet new people," he said.
Stanley met former acting U.S. Attorney General Matt Whitaker two years ago and believes the networking he's able to do in the process sets him up for success well past his playing career. He plans on being a physical therapist and will attend PT school once he hangs up his helmet and shoulder pads.
Off the field Stanley is your typical student athlete. He idolized NFL quarterbacks Peyton Manning and Tom Brady growing up, because of the way they carried themselves off the field and the intensity and energy they brought onto the field. He's also a Chicago Bears and Cubs fan at heart because his dad is from Illinois.
As for now Stanley is downplaying all the preseason recognition he has recently received and is ready to prove everything on the field at Kinnick Stadium tonight against the Miami (Ohio) Redhawks.