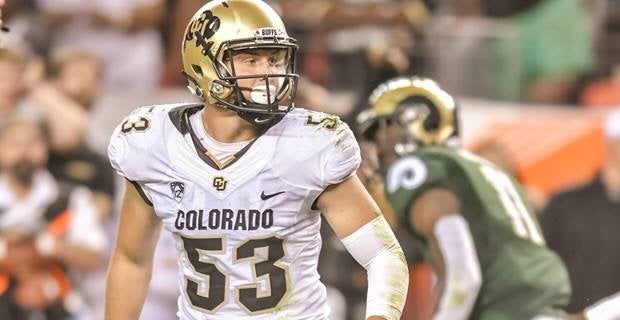 BOULDER, Co. — He's the heart and soul of Colorado's defense, led the team in tackles and earned All-Pac-12 last season.
Nate Landman was named to the preseason Bednarik, Butkus and Nagurski Award Watch List for 2019. However, everything didn't happen overnight and it's the main reason why he remains humble. Landman credits his teammates for all the success he has endured, knowing it's a team effort that got him this far.
He feels flattered after receiving those accolades and all the recognition, but it's not what he's about. Instead Landman is focused on playing tough football with his teammates throughout the season.
"Everything works together, I can't make tackles if my defensive line aren't taking on blocks and my secondary aren't covering receivers," Landman said. "I give all the credit to them because they make me the player who I am."
Landman is one of the best linebackers in the Pac-12 and he's an enforcer in the Buffaloes' front seven. He gets his work ethic from his father Shaun, who raised him and his three sibling from humble beginnings. Landman came to the United States at a young age with his family from Zimbabwe.
Life was a struggle early on for Landman's family. His mother didn't go to school, but he watched her live her American dream and today she's a successful entrepreneur. Her ambition is what drives him on the field and his competitive spirit stems from his two older brothers, who pushed him to the limit everyday of his adolescence.
Now the six-foot-three, 230-pounder sets the tone for Colorado's defense every game. He's the first one out there on the field getting the unit ready. He's also the first one on the sidelines getting everybody motivated.
"I'm a man of few words when I'm out there, but I'm intense and the players next to me feed off of that," he said.
Landman likes to remain calm before games and he does that by listening to country music. It's the genre he enjoys and his favorite artists are Darius Rucker and Brad Paisley. Like most linebackers, Landman feels he has improved as a downfield tackler and on his physicality. He also believes his secondary coverage has come a long way.
Still, Landman believes his biggest impact this season is being a leader on the team and taking control of the whole defense. He knows what his team is capable of doing and the players are motivated as ever to start the season off 5-0 again.
Landman felt his team had nowhere to go but up after ending 2018 on a seven-game losing streak. It fueled the Buffaloes' fire the entire off season and they took it as motivation and a learning experience.
"We've been through spring together and summer training," Landman said. "Going through that hardship together really bonds us together and it's one of our biggest attributes as a team."
As for now Landman is enjoying being the big man on campus and he's rarely spotted without his white baseball cap on. Colorado's season got off to a great start last week with a 52-31 victory over in-state foe Colorado State. The Buffaloes hope to carry that momentum into game two this Saturday, with a home-opener against the Huskers.
It will be the 71st meeting between the two rivals. Colorado fans will try their best to keep the scarlet and cream out of Folsom Field Saturday afternoon in what should be a great game day atmosphere.