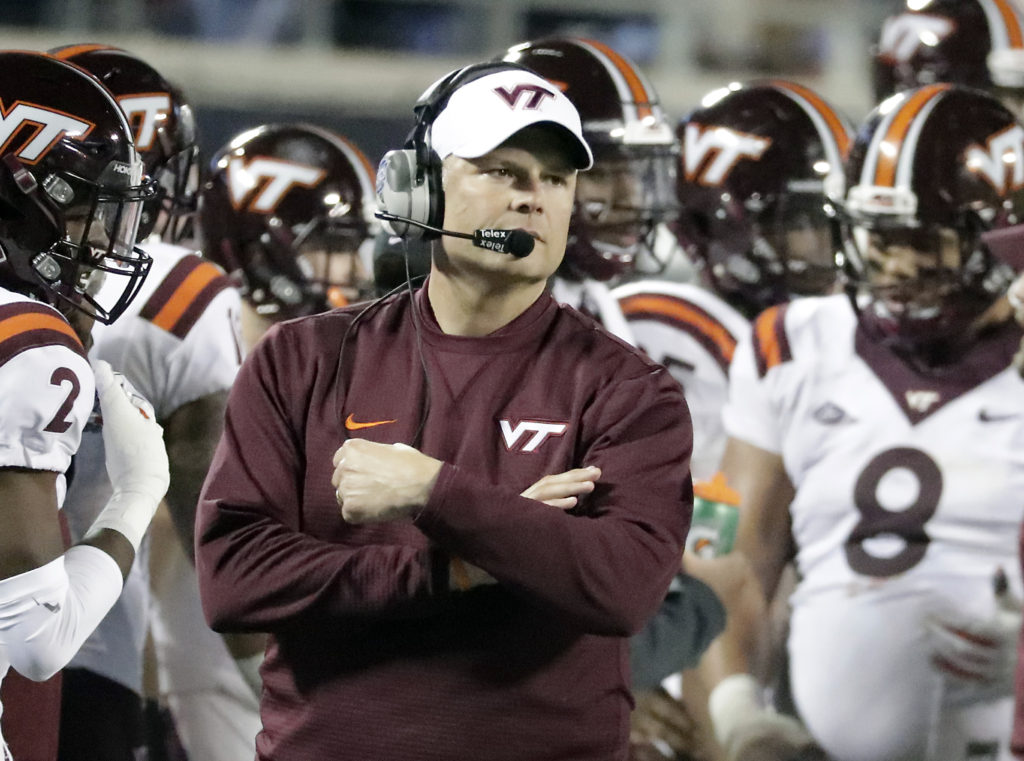 College Football is back, which means upsets are on the menu.
The glory of the game is the fact that it's unpredictable. Any given Thursday, Friday or Saturday the unthinkable can happen. There are several tasty match-ups in week one on the non-conference slate. Not to mention some early conference clashes.
Teams get overlooked and use it as momentum, while others approach the game with arrogance and get hit right in the mouth. Plays are made in the trenches, not on paper and you can expect the unexpected. Arizona's loss to Hawaii in week zero was a perfect example. Here are six Power Five teams that could potentially get caught with their pants down.
Virginia Tech: ACC football starts right out of the gate between two teams very familiar with each other. Virginia Tech has won three of the last four games against Boston College, but lost by double digits in Blacksburg last season. The Hokies' defense had an uncharacteristic year in 2018 and Bud Foster's unit couldn't stop run. The Eagles have a bruiser at running back in A.J. Dillon, who's a load for four quarters when healthy. Virginia Tech's defense returns nearly intact, but if the front seven is still leaky, Dillon will expose those holes. This game will be decided in the trenches and if the Hokies can stop the run the second half will go smoothly in their favor. However, if Dillon gets into a groove, this game will stay close throughout. It's possible Virginia Tech might be looking ahead to its' revenge game with Old Dominion in week two.
Stanford: The Cardinal are No. 25 in the preseason AP Poll and are hard to beat on the Farm. However, Northwestern is coming off a nine-win campaign and return some studs at every level of its' defense. Pat Fitzgerald's Wildcats are a scrappy bunch and often overachieve. Not to mention Northwestern beat Stanford in the 2016 season opener in Evanston. Both teams play similar styles of ball and have some of the most intelligent athletes in the country. This game will be a great measuring stick for Stanford's quarterback K.J. Costello. He will get pressure from Wildcat defenders Paddy Fisher and Joe Gaziano. All eyes will be on Clemson transfer Hunter Johnson and if he can duplicate Clayton Thorson's success for Northwestern. This game should be a low-scoring affair and if it remains close in the fourth quarter, Fitzgerald will have the advantage.
Wisconsin: The Badgers are opening up the season against a Group of Five team that will have the home field advantage, despite the game being played at a neutral site. South Florida started out 7-0 last season, but is entering 2019 on a six-game losing streak. The Bulls return several starters on both sides of the ball and Charlie Strong is trying to pick up the pieces that fell off the puzzle. The only way the Bulls stand a chance in this game is if they can stop Wisconsin's star running back Jonathan Taylor. South Florida's defense finished 123rd in the FBS at stopping the run. If the Bulls can keep Taylor from eclipsing the century mark in rushing this game will get interesting. South Florida has enough veteran players on offense to pull off the upset if the fourth quarter is close.
USC: Clay Helton needs to win and he needs to win now. However, facing a Fresno State team coming off a 12-win season won't be a walk in the park. Jeff Tedford is very familiar with Pac-12 teams, having coached the California Golden Bears for 10 years. The Trojans' offense struggled mightily last season, but will be operating in a new scheme similar to Mike Leach's Air Raid attack. Fresno State returns six starters to a unit that finished No. 1 In the Mountain West in scoring, passing and total defense. The Bulldogs will lean heavily on their defense and will try pressure JT Daniels into making turnovers. Still, the game will come down to which team's offense can make enough plays and the least amount of mistakes. USC has lost its' last three games at the Coliseum and Fresno State has won its' last two over Pac 12-teams.
Florida State: Willie Taggart is another Power Five coach under a lot of pressure to win this fall. Florida State clearly has more talent than Boise State and playing in Jacksonville this will be like a home game . However, the Broncos play their best against Power Five competition and the Seminoles their only Power Five opponent for the 2019 regular season. Boise State has a solid defense and will have to be up to the task of defending against bigger and faster athletes. Taggart will have to show he has made improvement on the offensive line in order for Florida State's offense to have success. If the Broncos can hang around until the fourth quarter this game could very well go down to the wire. After all they've had this one circled for quite some time. Just imagine the humility if Florida State somehow loses this game.
Utah: Opening up the season against an in-state rival is always dangerous. However, Utah has won eight-straight over BYU and haven't lost to its' cross town rival since 2009. This will be the 100th game of the Holy War and the Cougars are eager to snap their losing streak. Both defenses are elite and this game has all the makings of low-scoring, defensive battle. Both teams lay it all on the line and this one will be close. Utah has won 11-straight season-openers, while BYU has won five. BYU's quarterback Zack Wilson had a fabulous true freshman campaign and matured before everyone's eyes. Utah's senior signal-caller Tyler Huntley is a great game manager with dual threat capability. Kyle Whittingham's Utes always play disciplined with good special teams. Look for this game to be decided by the quarterback who makes the least mistakes.
Wake Forest: Utah State won 11 games last season and finished the year ranked No. 22 in the final AP Poll, but will have a new coach in place for 2019. The Demon Deacons are the Aggies only Power Five opponent this fall and they are approaching this game knowing they have the quarterback who can make plays. Jordan Love is the leading returning passer in the Mountain division, with 32 touchdown tosses last season. Wake Forest finished 116th nationally in total defense, 117th against the pass last season and returns only four starters. Love will try to exploit those weaknesses early and often. Wake Forest can score points and this game could very well turn into an offensive shootout. Utah State does have a talented defensive front seven. The Demon Deacons' offense goes as Cade Carney goes. The Aggies can pull off the upset if they limit Carney's touches.