JaQuan Bailey not letting high expectations be a team distraction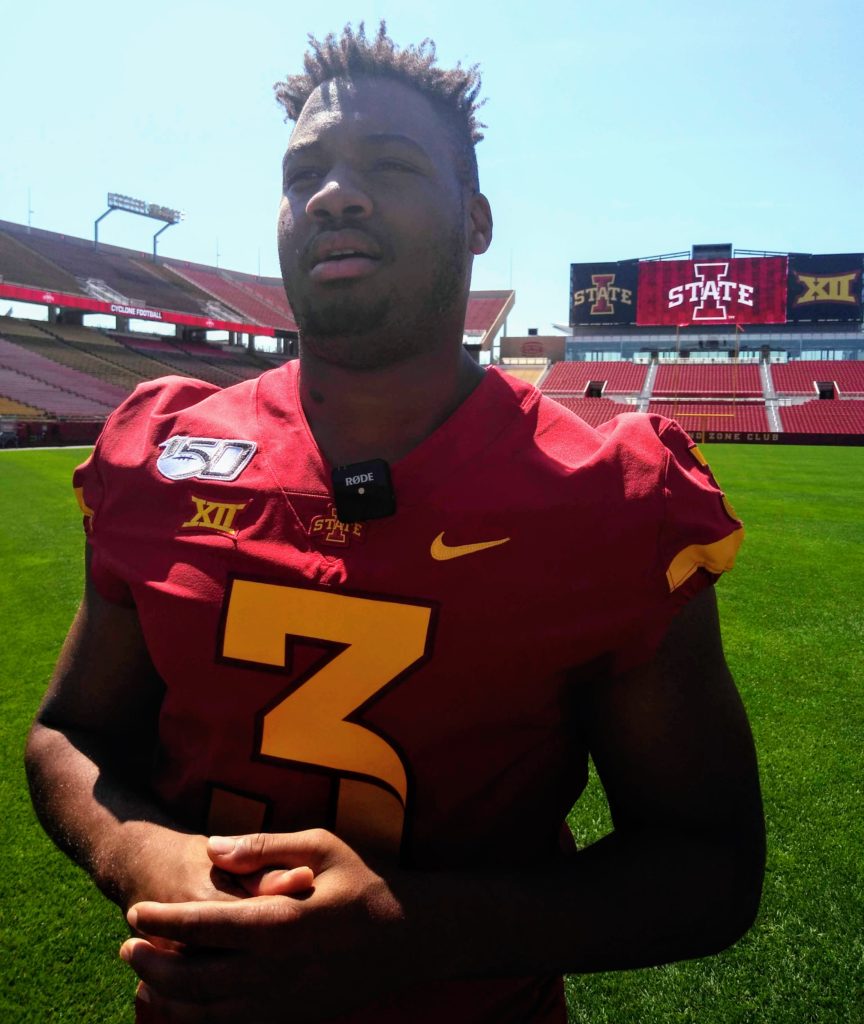 AMES, Ia. — The edge rusher has started 33-straight games for Iowa State and earned All-Big 12 honors last season.
JaQuan Bailiey is considered the heart and soul of Iowa State's defense and he's arguably one of the Big 12's most feared defenders. The Cyclones are ranked in the preseason AP Poll for the first time since 1978, but Bailey downplays the high expectations for his team.
"Honestly Iowa State has always been a laughing joke and as a team when people used to predict us to finish last in the Big 12 we always just stayed to ourselves," Bailey said. "We as a team aren't paying those guys any attention, we just coming everyday with the purpose of trying to get better so we can meet our fullest potential."
The Jacksonville native has made some key additions this off season by adding more balance to his life on and off the field. Most student athletes keep themselves occupied with academics and sports. However, Bailey has opened himself up more to the outside world and feels it has helped in his preparation.
"Last year I kind of cut all of my social life off and suffocated myself with just ball and school," he said. "I never gave myself time to just breathe, so hopefully this year I can get in some quality time."
The former three-star recruit has had a productive career with Iowa State thus far, garnering 18.5 sacks in three seasons, to go along with 31.5 tackles behind the line of scrimmage. Bailey loves anchoring the Cyclones' defensive front and takes pride in being a leader for the team.
Iowa State's defense finished No. 1 in the Big 12 in points allowed and against the run last season. Still, Bailey continues to push his teammates throughout fall camp to not be complacent.
"For this whole year as a team we have player-driven leadership meetings," Bailey said. "We've been preaching just to believe in what our coaches say, we don't care about what anybody else thinks, because we're focusing on the goal at hand and not getting too caught up in the highs and lows."
Bailey is a team guy, who's always preaching team and is a firm believer in nothing he or anyone else does is just for self. The six-foot-two, 252-pound senior has been paying attention to the small details and different tactics his coaches have taught him. He also respects every opponent Iowa State plays.
He believes his team has great chemistry and embraces the bond they have built with one another.
"This year has been the closest team that I've ever played on," Bailey said. "We are all just this big brotherhood and it's great just to be around these guys each and everyday."
Bailey molds his game after NFL star defensive ends Aaron Donald and Frank Clark. He often finds himself studying their craft and details hoping it'll help him become more of a dominant edge rusher.
Being a down south guy, all Bailey needs to get the adrenaline pumping before games is to listen to some music from the Migos, Future or Jacob Banks and then he's ready to knock the snot out of a ball carrier.
Iowa State kicks off the 2019 season this Saturday at Jack Trice Stadium against in-state foe Northern Iowa and Bailey is as motivated as ever.