Tom Manning looks to reload Iowa State's offense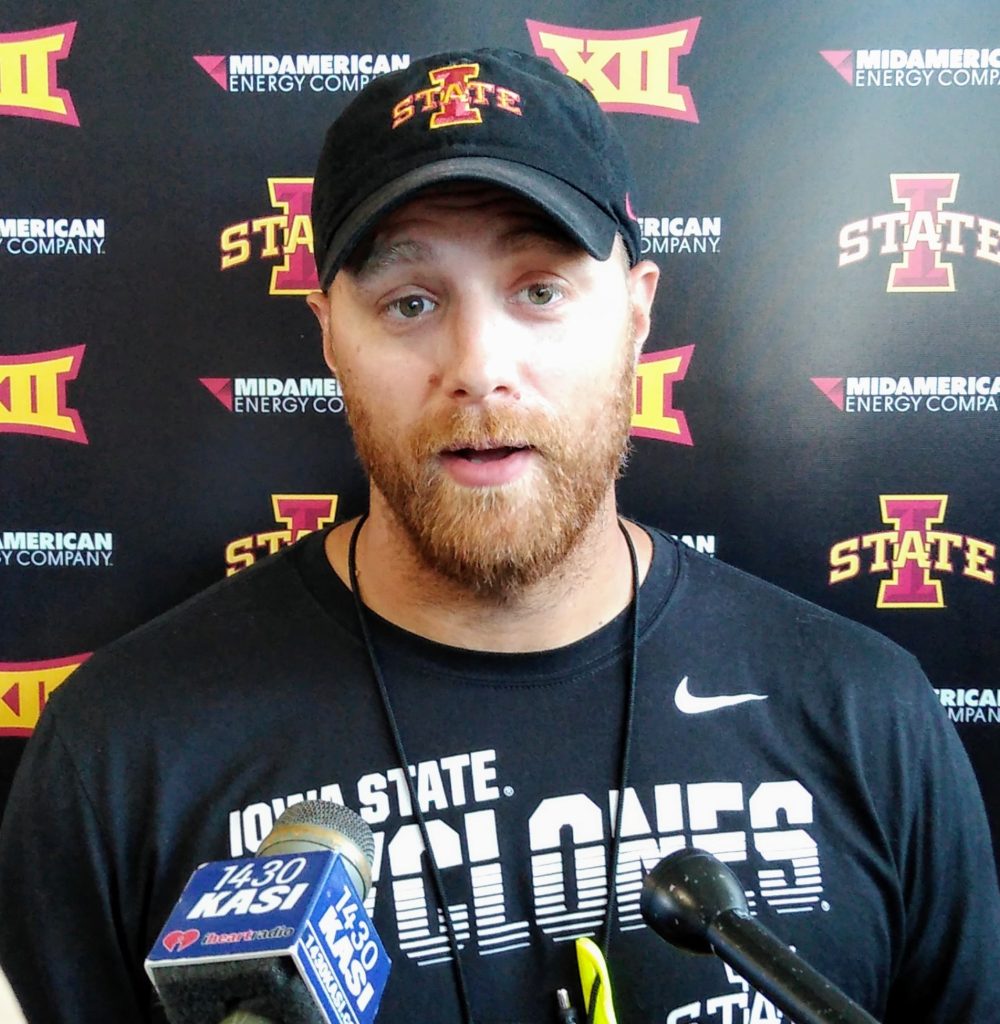 AMES, Ia. — Matt Campbell called all the plays last season for the Cyclones' offense, which contained David Montgomery and Hakeem Butler, who are now on NFL rosters.
However, Campbell handed over those duties to Tom Manning, who's in his second stint as Iowa State's Offensive Coordinator. Manning received great reviews in the NFL last season, when he coached the tight ends for the Indianapolis Colts.
He reunited with Campbell and is hoping he can establish that same success with Iowa State's offense, with the departure of Butler and Montgomery. Replacing the dynamic duo's experience, production and leadership won't be an easy task, but Manning is up to the challenge.
"For us it's about finding different ways to move people around," Manning said. "We have to find ways to continue to put pressure on guys to see if they can emerge and be who those guys were."
Manning coached Butler and Montgomery two years ago, but this will be his first time grooming Iowa State's quarterback Brock Purdy. The signal caller had a fabulous true-freshman campaign and will be the key part of Manning's offense this fall. So far Purdy has impressed Manning in fall camp with his leadership and decision-making.
"Brock has done a really good job of spreading the football around, obviously our defense forces us to do a lot of really difficult things," he said. "For us I think all of our quarterbacks are doing a good job of going through their progressions and getting the ball around."
The Cyclones still have talent at the skill positions and Manning instantly found that out with some of the younger and inexperienced players. Although Iowa State finished last in the Big 12 in rush yards per game and yards per carry last season, Manning is pleased with the rotation in Iowa State's backfield.
No back has stood out as of yet, but Manning knows one will emerge sooner than later with the way competition has been going. Kene Nwangwu earned All-Big 12 as a return man and leads all backs in yards on the ground.
"Ball security is job security as far as operating an offense," he said. "The guy that has the agility usually leads to a guy that has really good vision."
The Cyclones are young at wide receiver. Senior Deshonte Jones is the veteran of the group and Manning likes his style of play. Jones has 108 receptions, 1,175 receiving yards and 10 touchdown catches the past three seasons for Iowa State.
"I'm really proud of Deshaunte, he obviously played a lot of football here and he's a guy that continues to answer the bell," Manning said. "You see the way he exchanges his preparation habits, the way he takes care of his body and he looks so different from the day that I met him."
The tight ends will contribute more in the passing game and Manning is pleased with the way Campbell has developed that position. Sophomore Charlie Kolar had three touchdown grabs last season and earned All-Big 12, with only three starts. Chase Allen made the second team in 2017. Both tight ends will give Purdy big reliable targets to throw the ball to.
"When we got here there was no tight ends on scholarship, so I think its' been a really long process for us," Manning said. "We feel like we have a good group of tight ends and we're going to try to spread the ball out the best way we can and try to find the best guys who can do the best things."
Iowa State's big boys up front will be the strength of the offense. Julian Good Jones, Collin Olson, Collin Newell, Josh Knipfel and Bryce Meeker have all combined for a jaw-dropping, 98 career starts. Campbell been raving about the unit since spring ball and they will need to keep Purdy upright.
"What's probably the most impressive thing to me from the group is their player ownership has changed over the past few years," Manning said. "When offensive lines are really good I think they have a tremendous amount of pride in what they do and you start to see those guys flock together a little more."
Iowa State won't be sneaking up on anyone this time around and is ranked No. 21 in the preseason AP Poll. The coaches do their best to try and get their players to block out all the outside noise. Manning is happy to be back on Campbell's staff and loves what all the coaches bring to the table.
"What's unique about this coaching staff is we're in competition on a day to day basis as far as situational football," he said. "I think we try to use that to kind of help bond us a little bit and work together."