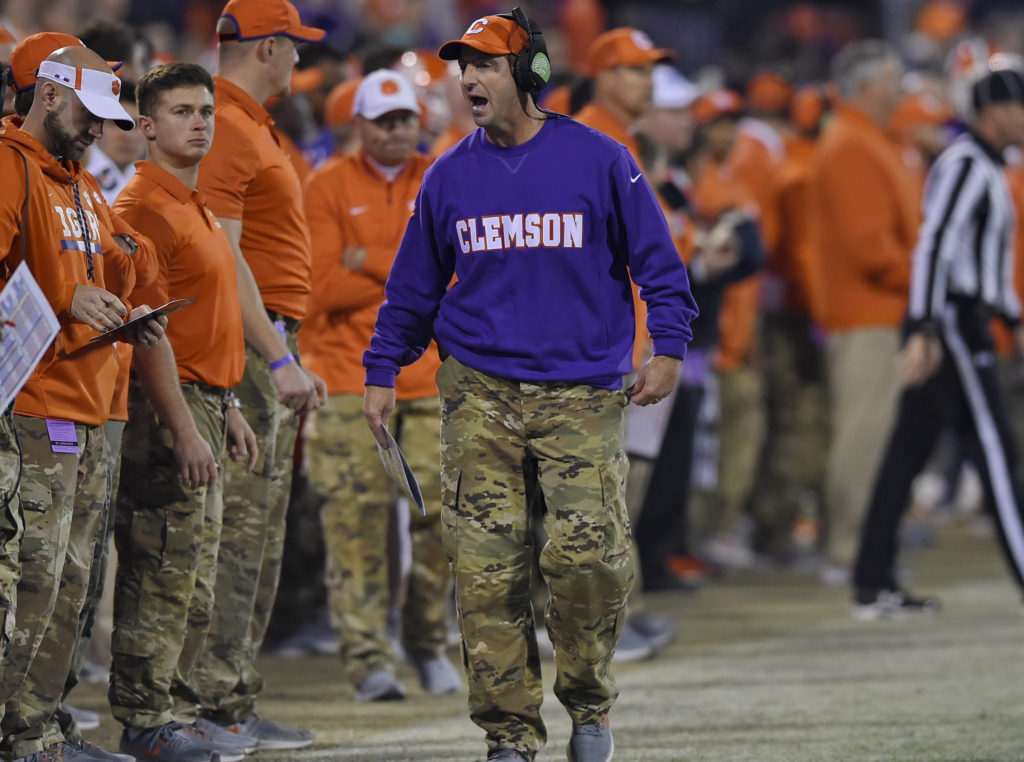 Most of them laid down the groundwork to be successful in today's game and some have the best job security you'll find of any coach at the FBS level.
However, others have yet to deliver their respective programs something worth waiting for and time is of the essence. Contracts can get tricky with extensions, bonuses and buyouts. Not only are coaches expected to win on the field, but they have to be solid recruiters, keep their players excelling in the classroom and maintain the program's integrity.
Everything usually runs smoothly for coaches just as long as their teams are winning consistently, but developing a pattern of losing can make it all complicated. Through the years we've all witnessed the highs and lows of coaches' tenures. There's a thin line between coaches who are overpaid and others who aren't compensated enough. Here are some notable coaches with contracts that fit the bill on every type of scenario when it comes to the almighty dollar and winning in College Football.
Will Muschamp, South Carolina: He makes $4.2 million a year, which is the third-highest among SEC East Coaches. Muschamp is very familiar with the conference and consistently lures in quality talent. Muschamp continues to recruit at an elite level and the Gamecocks are coming off three-straight winning seasons. However, he has yet to get his team over the hump and struggles to keep up with East powerhouses Florida and Georgia.
David Shaw, Stanford: Private schools are not subject to public record laws regarding contract information. Still, Shaw is Stanford's highest-paid employee and makes roughly $4.3 million a year. Elite recruiting, three Pac-12 Titles, two Rose Bowl wins and being the program's all-time winningest coach makes Shaw worth every penny. His 82 victories over the past eight seasons is more than Brian Kelly, Jimbo Fisher and Chris Petersen during that span.
Mark Stoops, Kentucky: The Wildcats have showed improvement in each of the last three seasons under Stoops. Kentucky is fresh off its' first 10-win campaign since 1977, landed a Top-30 class for a second-straight year and finished the season ranked No. 12 in the Final AP Poll. Stoops accomplished all of these feats at a basketball school and $4 million a year proves he's rewarded for it.
Scott Frost, Nebraska: His alma mater paid him $5 million a year to turnaround the program and the Big Red faithful are expecting big things from Frost's second season. He has a Heisman contender at quarterback and the schedule is more favorable with all the big games at Memorial Stadium. Frost continues to recruit well and ever since he arrived back in Lincoln the program has a family vibe that hasn't been felt since Osborne was patrolling the sidelines and that's priceless.
Gus Malzahn, Auburn: Although he led the Tigers to an SEC Title and a berth in the 2013 National Championship Game in his first season, Malzahn has gone 21-19 in conference play from that point on. He's paid a whopping $6.7 million a year, which makes him the third-highest paid coach in the almighty SEC. Yet Auburn has lost four or more games a year for the past five seasons and continues to underachieve. With the talent the Tigers have had on the roster double-digit win seasons should be expected and Malzhan needs to have a solid year this fall on the Plains.
Jimbo Fisher, Texas A&M: The Aggies are fully invested in Fisher and rewarded him a 10-year contract, with $75 million guaranteed. His $7.5 million a year makes him one of the highest paid coaches in the Power Five. He recruits like a monster, has one of the best quarterbacks in the SEC and he's supported by a fan base that believes in his vision for the program. Year two will be very challenging for Fisher with one of the toughest schedules in the FBS, but that's why he's paid the big bucks to win games of that magnitude.
Chris Petersen, Washington: He led the program to the College Football Playoff in 2016 and the Huskies have won the Pac-12 two of the past three seasons. Petersen has a knack for recruiting and the Huskies have some of the best talent on the West Coast. He has won 47 games in five seasons, which is more than his predecessors Tyrone Willingham and Steve Sarkisian won from 2005 to 2013. Not to mention Washington is riding a 14-game win streak at Husky Stadium, going unblemished at home the past two seasons. With the Huskies expected to take a step back this season, Petersen will really get to show his worth.
Dabo Swinney, Clemson: He just delivered the program its' second National Title in three years and is one of the best recruiters in the game. So Clemson showed its' appreciation and rewarded Swinney with a new, record-breaking 10-year, $93 million contract this past April. The contract was unprecedented for College Football Coaches and more lucrative than Fisher's with the Aggies. Factoring in off-field bonuses, Swinney will make $9.25 million in 2019. Swinney's 116 wins since 2008 is phenomenal and the Tigers have gone undefeated at home four of the past five seasons. Clemson will have one of the nation's best offenses this fall, but Swinney will earn his keep reloading the Tigers' defensive front seven.
Jim Harbaugh, Michigan: For a coach that has yet to clinch a berth in the Big Ten Championship Game or beat Ohio State in his past four years on the job, Harbaugh is still paid very well for his services. $7.51 million a year clearly puts Harbaugh in another stratosphere as one of College Football's highest-paid coaches. The Wolverines have some of the best talent in the Big Ten under his watch and he has led the program to three 10-win seasons in the past four years. The entire nation is waiting on Harbaugh to finally take over the Big Ten and get Michigan back to the promised land.
Lincoln Riley, Oklahoma: Two Big 12 Titles, two College Football Playoff berths and back-to-back Heisman Trophy winning quarterbacks. Riley continues to load his team with incredible talent and the Sooners' brand is as powerful in the game today as it was in the 1950s. Riley's offense is one of the nation's best and fun to watch. He makes $4.8 million a year and Riley is only 35-years old. If he leads the Sooners to the Playoffs for a third-straight year Oklahoma will have to make him one of the highest paid coaches in the Power Five. If not, the NFL will come calling for sure.
Kirby Smart, Georgia: The program was solid under Mark Richt, but Smart has turned it into the second-best in the SEC. His recruiting is phenomenal, he has a Conference Title Title, two-straight SEC Championship appearances and was a broken play from winning all the marbles in 2017. Every year under Smart Georgia moves a step closer to replacing Alabama as the No. 1 power in the league. Smart is well-worth the $6.6 million he's paid a year and the Bulldogs will begin the 2019 season ranked in the top-five. Georgia has officially become a 'National Title or Bust' program under Smart. No consolation prizes accepted and that was on display when the team didn't bother to show up against Texas in the Cotton Bowl.
Mark Dantonio, Michigan State: He has had 10 winning seasons in 12 years, including six double-digit win campaigns and led the Spartans to the College Football Playoff in 2015. Dantonio is three wins away from surpassing Duffy Daughtery as Michigan State's all-time winningest coach. He has built the Spartans back to a respected Big Ten program and won't be bullied by the Wolverines. Surprisingly, Dantonio makes $4.39 million a year, which is more than legendary Michigan State Basketball Coach Tom Izzo. It just shows how invested the Spartans are in Dantonio.
Willie Taggart, Florida State: Despite the Seminoles suffering their first losing season since 1976 during Taggart's first year, the future looks bright. Taggart is a solid recruiter and Florida State is never short on talent. Year two is always the most vital one for new coaches and the Seminoles are expected to be drastically improved. Taggart brings home $5 million a year, which makes him the second-highest paid coach in the ACC. Florida State's schedule this season is favorable enough to reach nine wins and that'll prove Taggart has the program headed in the right direction.
Kirk Ferentz, Iowa: He sits atop Iowa's all-time win list and is the longest-tenured coach in the entire FBS. You won't find a coach that constantly does more with less. Ferentz has a knack for turning two and three-star recruits into NFL prospects by the time they become upperclassmen. He runs a steak and potatoes program the blue collar way and is the epitome of midwest football. Ferentz is also undefeated against rivals Iowa State, Minnesota and Nebraska the past four seasons. Although he makes $4.7 million a year, you can't put a price on the integrity and competitive spirit Ferentz brings to the program.
Nick Saban, Alabama: Gene Stallings was great coach for the Crimson Tide during the post-Bear Bryant years. However, Saban has turned the program back into the No. 1 power in College Football. Forbes labeled him the most powerful individual in sports in 2008 and rightfully so. 146 victories in 12 years, with a winning percentage that's higher than Bryant's. Five National Championships, six SEC Titles and Alabama has reached the College Football Playoff all five years its' been in existence. No one recruits like Saban and the Crimson Tide's roster is stacked for years to come. Alabama own the nation's longest home win streak, which sits at 26 games. Saban makes $8.31 million a year and he doesn't just create elite teams, he creates elite dynasties.
Lovie Smith, Illinois: The Fighting Illini haven't had a winning season since 2011 and last bowl appearance was in 2014. This fall will be Smith's fourth season with Illinois and he has yet to get his team to a bowl game. Going 9-27 thus far has been hard for the fan base to stomach. However, Smith had a major rebuilding project when he took the job. This upcoming season could potentially show he has the program in good hands. Smith is paid $5 million a year and received a contract extension towards the end of last season. He's facing a crucial year four and If Illinois decides not to retain him after the 2019 season, Smith will have a $4 million buyout.
Tom Herman, Texas: He led Texas to its' first double-digit win season since 2009 and already has the program a year ahead of schedule. After Herman led his team to a victory over Georgia in the Cotton Bowl, everyone is now believing Texas is back. The Longhorns are buzzing more this preseason than his predecessor Charlie Strong had them his entire tenure. Herman is a solid recruiter, who has a good connection with his quarterbacks. He's the reason why Sam Ehlinger's name is being mentioned in the Heisman discussion for this upcoming season. At $5.5 million a year, Herman is the highest-paid coach in the Big 12. If he delivers Texas a Big 12 Title this fall, his salary rate will increase for sure.