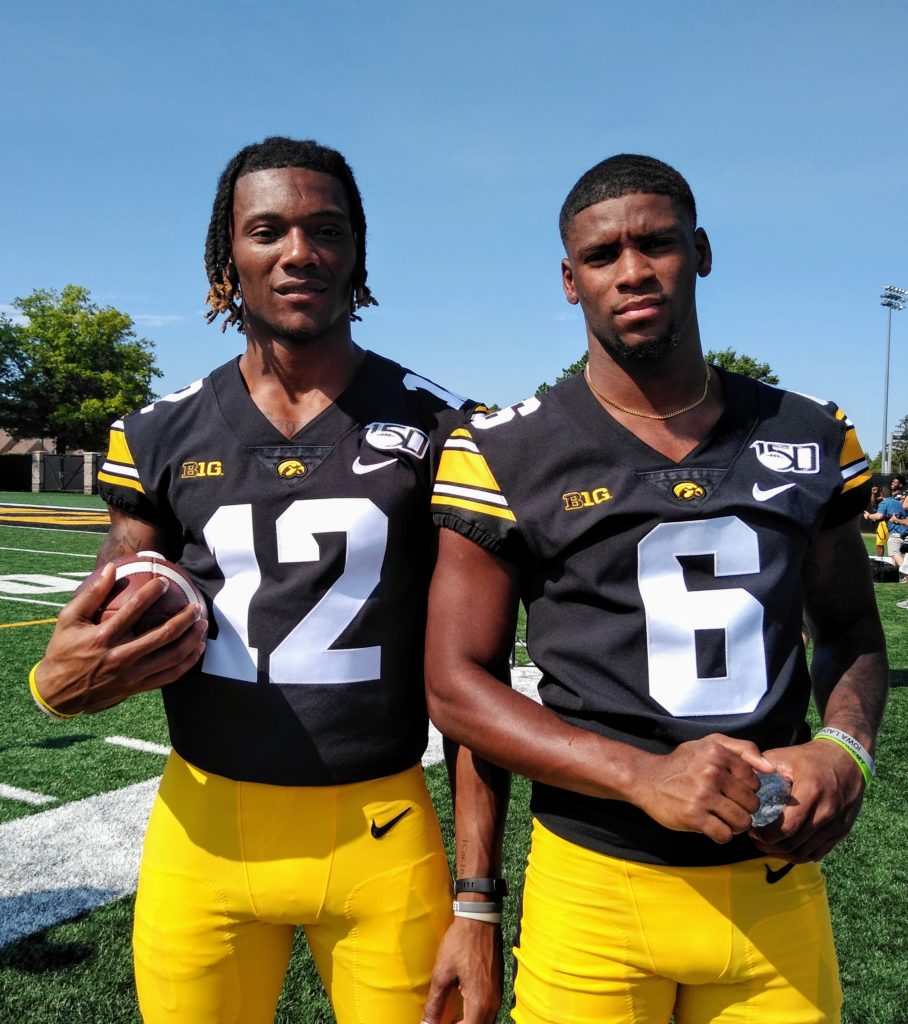 IOWA CITY, Ia. — The Hawkeyes must replace 1,773 receiving yards and 23 touchdown catches worth of production from last season after the departures of Nick Easley, T.J. Hockenson and Noah Fant.
Not to mention their leadership and experience. However, junior Hawkeye wide receivers Brandon Smith and Ihmir Smith-Marsette are up to the challenge this fall. They both have different skill sets, which will compliment Iowa's offense and they are the veterans of the receiving group. There's a lot of responsibility that comes with the territory and both individuals are embracing their roles.
"Me personally I've grown a lot, being one of the older guys now since Nick left," Smith said. "Me and Ihmir both we're just trying to be the leaders and set the example for the younger receivers."
The duo is the Hawkeyes' leading returning pass catchers and combined for 51 receptions, 722 receiving yards and five touchdowns catches last season. Smith is the possession receiver, who knows how to go up in the air and snag a ball away from a defender. Smith-Marsette is the speedy wideout, who's dangerous out in space.
Despite having those attributes, both players feel they have a lot of room for improvement in their game.
"Just being able to come out here and got to work each and everyday is another opportunity to get better," Smith-Marsette said. "I feel as though we're going to make a big impact as an offense, as a receiving group and w'ere going to be able to turn some heads this year."
The New Jersey native finds his leadership role a bit different, but feels Iowa's offense is in good hands with a great core of receivers ready to step up. Freshman reserve wideouts Tyrone Tracy Jr. and Nico Ragaini have impressed Smith in fall camp.
"We're definitely confident in ourselves," Smith said. "Ihmir has the blazing speed, Tyrone route running is phenomenal, he can play any type of receiving position and same with Nico, he has the sweet feet and can break anybody out in his routes."
They are a tight-knit group and have fun with each other in the receiving room, but knows when it's time to be serious and hold each other accountable. Having a senior quarterback with 52 touchdowns passes the past two seasons in Nate Stanley is vital to how high the unit's ceiling could potentially be.
"It's great to have Nate come back, having a quarterback with that much experience, he already has a leadership personality," Smith said. "He's just a big time play-maker, he can dump it off to the backs and he's not afraid to throw it downfield to make some big plays."
The six-foot-two, 218-pound Smith feels he has improved this off season with getting in and out of his breaks quicker and his releases have been a lot better off the line when corners press. He has a bond with Stanley and been catching balls from him for the past two seasons.
Smith-Marsette earned All-Big Ten honors as a return specialist and wants to become more of a bigger threat on offense. He knows he doesn't need to be the go-to receiver and feels there's plenty of catches to go around. He wants to continue hitting the machine, getting his catches in during practice and develop a consistent routine.
"Getting that extra work in after practice, building that connection with the quarterbacks and being able to talk to them  with what they see out there and what they want from us," Smith-Marsette said.
Smith idolizes NFL receiver Julio Jones because he's big, physical and instead of talking about his game he goes out there and shows everybody. The Mississippi native  feels he carries himself the same way. Smith-Marsette is more of the flashy wideout, who gets compared to Tyreek Hill with his explosiveness.
Smith likes listening to rapper 'Lil Wayne' to get the adrenaline going before games. Smith-Marsette prefers 'Gunna' and 'Lil Baby' with a mix of some old school Jay Z and Nas to get pumped up. Rather the two are jamming on the sidelines or making plays on the field, they both are trying to lead the Hawkeyes to a Big Ten Title this season.