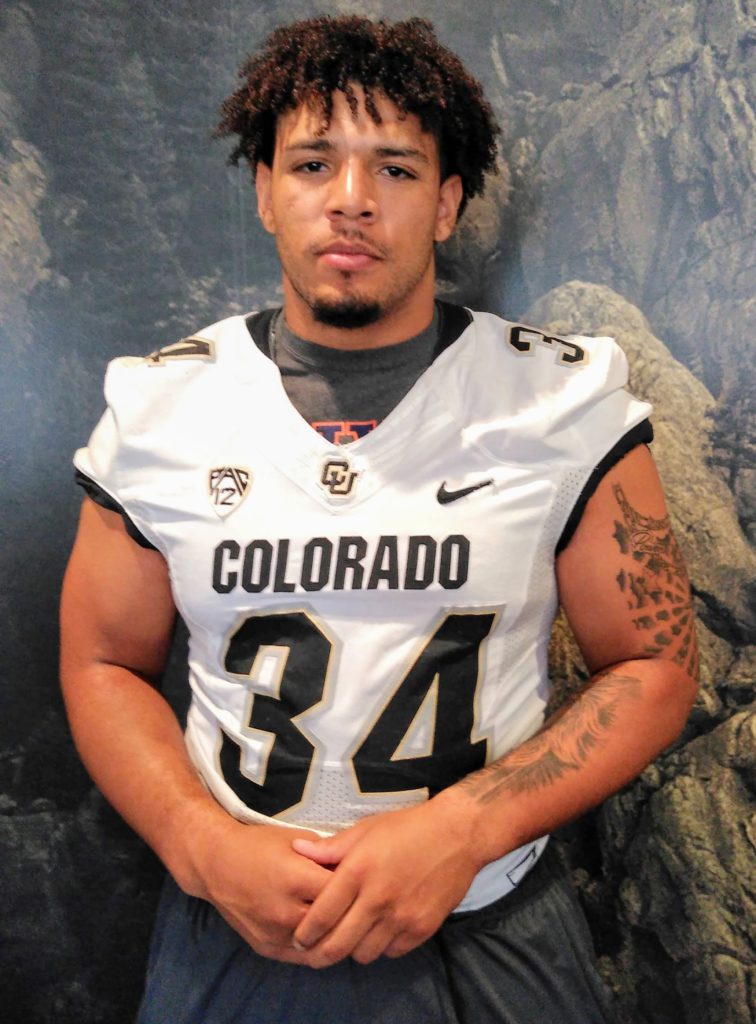 BOULDER, Co. — He led all Pac-12 defensive linemen in tackles last season and finished second in the league in sacks, yet Mustafa Johnson only received Honorable Mention recognition.
When his coaches joke with him about the snub he laughs it off, but deep down inside it's what drives Johnson to be the best player he can be. After all, the junior anchors Colorado's defensive line, does all the dirty work in the trenches and sets the tone every game for the front seven.
"All I'm working on is being the best, definitely want to get to the top," Johnson said. "I've been working a lot on my technique, hand placement, how my strike is, not cocking back and a lot of things like that to elevate my game."
Johnson has embraced his leadership role within the Buffaloes' defense for this upcoming season. He's now learning new concepts from a new defensive-minded coach in Mel Tucker. He embraces the groundwork Tucker is establishing in Boulder and believes positive things are on the horizon for the program.
"It's just a different culture with Coach Tucker," he said. "He preaches physicality, he preaches that winning mind set."
The players are anxious to get back on the winning track after ending last season on a seven-game losing streak. Johnson believes the reasons for most of the losses were because the team didn't execute. He understands the game is physical just as much as it is mental and requires toughness.
"We lost those last seven games because we didn't finish," Johnson said. "We were in the game, a couple of plays from actually winning the game, but then we would go downhill so that's what we've been working on is finishing."
Tucker lets his players get as physical as they want in practice, but they are not allowed to take each other down to the ground to avoid injuries. Now it's all about guiding the younger defenders for Johnson and establishing discipline in them. He's all business once the team hits the field. Johnson admits there are times he has to put other players in line.
"The young guys they didn't understand that and I had to get in their faces and let them know this stuff is not a game, you got to be ready to play," Johnson said. "There's grown men out there and they're going to bully you if you don't do the bullying."
Johnson has All-Pac-12 linebacker Nate Landman lined up behind him and knows their chemistry is solid. However, he wants to build a bond with the new linebackers to avoid miscommunication on the field. The six-foot-two, 280-pounder feels his best skill set is his hands when rushes the passer. Johnson idolizes and measures himself up to NFL star defensive end Aaron Donald and believes the two somewhat resembles one another.
"We weigh the same, but he looks a complete different 280 and that's my goal to get to that point," he said. "He's a hand fighter, hand rusher and that's what I work on, I try to be as explosive as him, so it's just going to come with time."
Johnson has a huge chip on his shoulder in fall camp and can't wait to take it out on Colorado's first three opponents, which happens to be all rivals. He admits the Rocky Mountain Showdown gets his blood boiling, and Colorado hasn't played Air Force since 1973, but he's excited to play Nebraska again.
All the California native needs is some music from one of his favorite rappers 'Lil Boosie' and he's ready to strap on the shoulder pads and helmet and knock the snot out of a ball carrier. He knows he's one of the most feared defenders in the Pac-12 and opposing Offensive Coordinators will be game planning their schemes around him and locating him on every play.
"When I step on the field I'm serious, I may joke aroud in the locker room, but once I hit the field I'm ready to go," Johnson said. "When I start striking and start playing it's not a joke."
His work ethic stems from his mother who raised him into a man by herself. Last season Johnson had two sacks apiece against Colorado State, Nebraska, Oregon State and California. He wants to improve on those numbers and demands a lot out of himself. Johnson is also a versatile defensive lineman, who can play along the edge or in the interior.
He's truly a man among boys when he's playing at his full potential and deserves all the recognition and preseason accolades he has received.