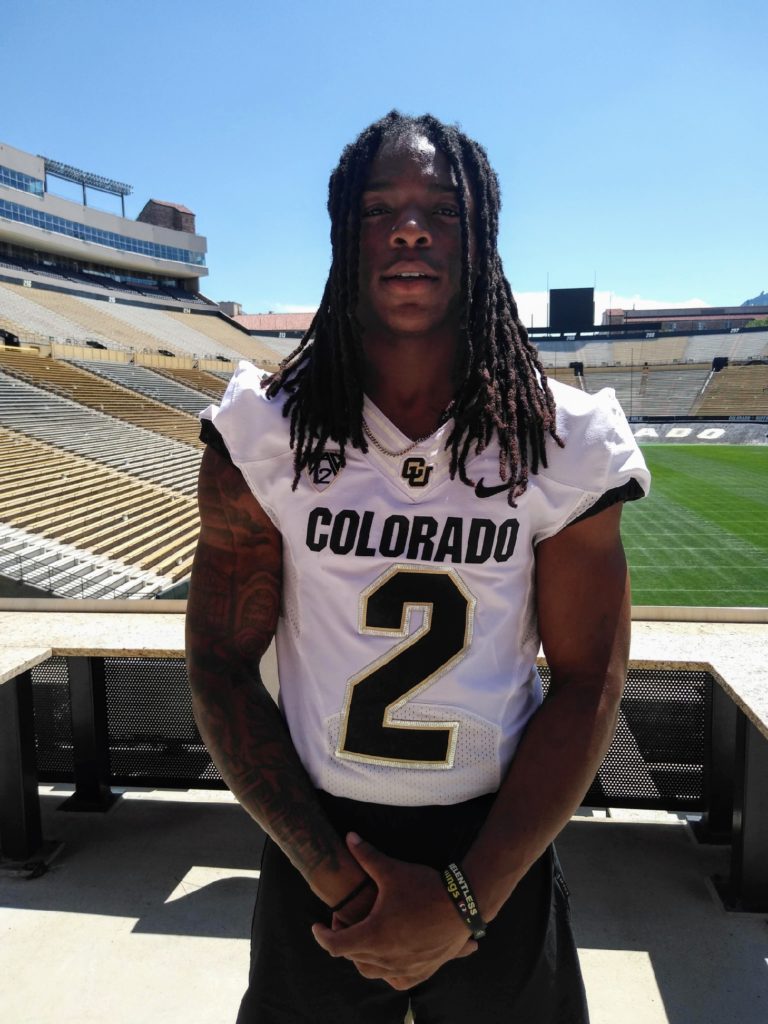 BOULDER, Co. — He led the Pac-12 in receptions and receiving yards per game as a true sophomore last season and he accomplished that feat in just nine games.
There's no denying Laviska Shenault is arguably one of the best receivers in College Football. Everyone sees his sticky hands, long dreadlocks and nonchalant swagger on the surface, but behind the helmet, jersey and shoulder pads is a very intriguing individual.
The 20-year old, Texas native has the confidence and work ethic that stems from his childhood and it keeps him focused when it comes to blocking out all the outside noise and preseason accolades.
"I feel like the staying humble part is built in me," Shenault said. "My mom wasn't always screaming stay humble, but she was like who better than me and made sure I understood that , so I just took it and ran with it."
His father died when he was 10-years old, but he remembers his dad taking him to play football with kids from their neighborhood twice his age in a big field right behind their house.
"We used to play games in the house, putting stuff in socks and throwing it, all of that," he said. "Playing football in the streets, that just made me tougher and I feel like I'm just built for it."
Shenault was limited through spring ball while he nursed an injury, but he feels good and healthy through the first three practices of fall camp. Shenault has a new coach in place in Mel Tucker and loves the intensity he brings to the program.
"Coach Tucker is established, he let it be known that he wants to win and he wants us to be relentless," Shenault said.
Every Colorado player wants to put last season's seven-game losing streak in the rear view mirror and hiring Tucker gave the team some much-needed momentum. Now the Buffaloes feel like they have something to prove this fall and remember winning their first five games last year.
"We definitely have a chip on our shoulder and we're going to look back at last year as a learning experience," he said.
Shenault feels good about the Buffaloes receiving unit, with him and K.D. Dixon being the veterans of the bunch. The junior dynamic duo combined for 138 catches 1,647 yards and 10 touchdowns last season. Not to mention Shenault provided five touchdowns on the ground also.
"Me and K.D. we love good energy and good vibes," Shenault said. "Our receiving core we all one family, this whole team we all one family and when you have a good bond I feel like it helps bring wins in also."
Shenault learned how to become more of a vocal leader for the team during a foot injury that kept him sidelined for three of Colorado's games. It also built chemistry and helped the communication with his teammates run smoother.
"Being a leader for my team is one big thing I worked on this off season since I couldn't really participate in a lot of things," he said. "I had to use my voice."
Shenault has been named to the to the Maxwell, Walter Camp, Biletnikoff and Paul Honung Award Watch List for this upcoming season. Still, he understands what comes with the territory and embraces the spotlight.
Tucker knows what caliber of player he inherited with Shenault when he took the Colorado job. The six-foot-two, 220-pounder has a skill set that hasn't been seen around the program for quite some time and Tucker wants to get him as many touches as possible.
"I was excited to see him practice, he is different" Tucker said. "When he gets the ball and turns it on he got a different speed than everyone else and not often do you get to coach a player like that."
Shenault wants to re-establish a winning culture with the program that'll reflect positive on the players and coaches, but most importantly the Colorado fans. Although he prefers to listen to rapper 'Lil Baby' to get pumped up before games, Shenault regularly listens to a wide range of genre that would surprise other student athletes.
"When it comes to music I have an international taste, so I just put my stuff on the shelf and jam to every song," he said.
Shenault knows whenever he wears the black, silver and gold that he's not just playing for himself, but for the Buffalo faithful that pack Folsom Field every home game. He loves keeping the home crowd entertained with his jaw-dropping athletic ability and he's eager to suit up the first game of his junior season.
"I stay motivated because I know what I can have in the future, so that's a big reason," he said. "All the fans that show love to me, that's what keeps me motivated also, I love the fans."