Brock Purdy out to prove last season was no fluke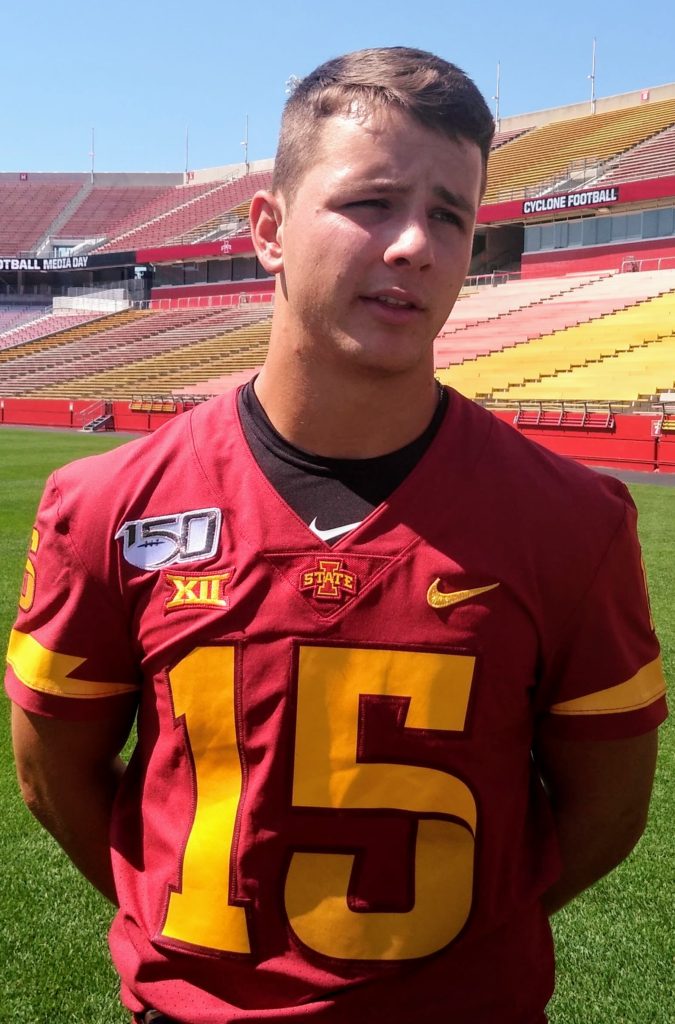 AMES, Ia. — He set the Big 12 on fire as a true freshman last season and went 7-2 as Iowa State's starter.
Brock Purdy finished third in the league in passing efficiency, behind current NFL signal-callers Kyler Murray and Will Grier. As a matter of fact, Purdy's passing numbers were very similar to Nebraska's quarterback Adrian Martinez, who earned freshman All-America honors last season.
The Arizona native enters fall camp as one of the top players in the Big 12 and won't be sneaking up on anyone this time around. However, Purdy plans to build on the momentum he established last year and refuses to fall victim to a sophomore slump.
Now expectations are higher for Purdy and he's no stranger to responsibility, having revived the Cyclones from a 1-3 start last season. Coach Matt Campbell knew Purdy's potential early-on, threw him to the wolves and the rest was history.
"It's good to have that experience under my belt obviously, but I'm just trying to build off what we did last year," Purdy said. "Last year was crazy jumping in the fire and everything early, but having the whole season to develop and going back to watch film, that's how I can build off of that and hopefully get better."
Purdy's go-to receiver Hakeem Butler is now on an NFL roster and he has spent the entire off season building chemistry with the new wideouts. He believes the young receivers who red-shirted last year are seasoned, got better over the past nine months and he can't wait for them all to compete in fall camp.
The former three-star recruit also has added five pounds of muscle to his frame and wants to be more explosive speed wise. Purdy is the Cyclones' leading returning rusher and had five touchdowns on the ground. However, he wants to make good decisions when carrying the ball this fall and stay healthy.
"Last year I learned my lesson about lowering my shoulder against Oklahoma State," he said. "Obviously I've got to be smarter and get down or out of bounds when I need to instead of trying to extend plays all the time."
The six-foot-one, 210-pounder will be operating behind an offensive line that returns five starters, including four seniors. Julian Good-Jones, Collin Olson, Colin Newell, Josh Knipfel and Bryce Meeker have all combined for nearly 100 career starts.
"To have experience on the offensive line and all of them coming back is amazing, I'm excited for them and they are ready to roll this year," he said. "They've gotten better honestly, technique, fundamentals, everything and I think their minds are in the right place too."
The 19-year old knows he must take on a leadership role  and set the tone for Iowa State's offense. Instead of being vocal he prefers to lead by example and let his actions speak for his game. He also feels there's more trust and accountability among his teammates. They may joke around in practice, but when it's time to get serious he's quick to get them in line.
As the Cyclones enter fall camp Purdy feels he has improved his awareness on the field, staying in the pocket and going through his progressions. The game has slowed down for the true sophomore and he feels it has made him a better quarterback. He idolized NFL signal-callers Drew Brees and Russell Wilson growing up and is very similar to both in stature.
"They are very accurate, they are great leaders, so I looked at them and try to mold my game after them," he said. "But at the same time I am who I am and I'm trying to make a path for myself.
The Cyclones are projected to be one of the top-three teams in the Big 12 this season and are ranked No. 24 in the preseason Coaches Poll. Still, Purdy and his teammates don't read into the predictions and try their best to block out all the outside noise. However, that's easier said than done when you go from being the hunter to the hunted.
"We just want to take every game week by week, we're not trying to look too far into the future," Purdy said. "We don't listen to anybody outside of these walls, we trust one another, believe in one another and it's a great brotherhood."
Iowa State opens up the 2019 season against Northern Iowa at Jack Trice Stadium.