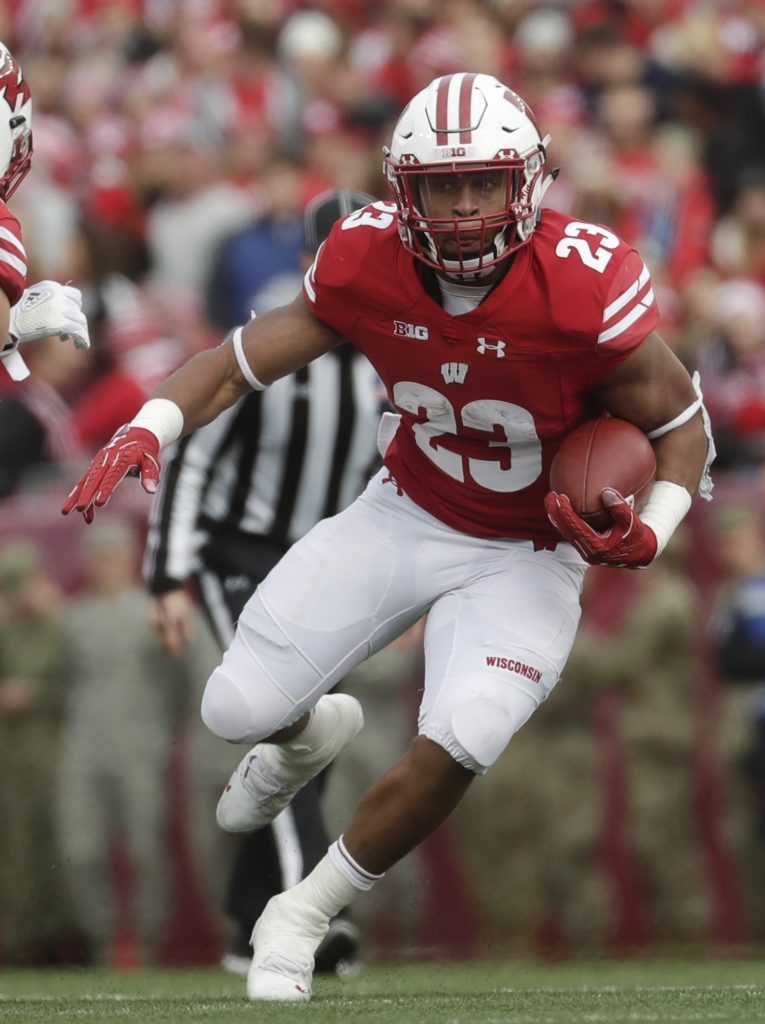 They make life easier on the quarterbacks and sets the tone for their teams' offense. Rather by committee or being the lone featured running back, these players are among the best in the Power Five and will be looking for holes to run though this fall. Some are bruisers, while others are speedsters, but each back has their own skill set and look to capitalize on their productive seasons from 2018. Without further ado let the countdown begin………
20. Mohamed Ibrahim, Minnesota: When Rodney Smith went down with a injury early in the season it opened up the door for Ibrahim. He was a late bloomer, but quickly emerged as the Golden Gophers' primary back. Ibrahim finished the season with 1,160 yards on the ground to go along with nine touchdowns. He hit the century mark in rushing against New Mexico State, Ohio State, Purdue and Wisconsin. However, Ibrahim saved his best performance for last in Minnesota's bowl win over Georgia Tech when he rumbled for 224 yards and two touchdowns. Although the Gophers running back room will be crowded, Ibrahim will likely be P.J. Fleck's featured back this fall so his workload and production should increase. Ibrahim will definitely take some of the pressure off whoever Fleck's names his starting quarterback.
19. Stevie Scott, Indiana: He's a running back people people outside of the Big Ten don't know much about because he plays for the Hoosiers. Still, Scott made everyone take notice of him after his 200-yard rushing performance in Indiana's win over Virginia in game two. Scott followed it up with 100-yard games against Ball State, Maryland, Michigan and Purdue. The New York native finished the season with 1,137 yards, 10 touchdowns and averaged five yards per carry. The six-foot-two, 233-pounder will be vital for Tom Allen's offense and a valued asset for Indiana to have any hopes of becoming bowl eligible for the first time since 2016.
18. Scotty Phillips, Ole Miss: The junior college transfer started off last season with a bang and steamrolled Texas Tech's defense for 204 yards and two touchdowns. Phillips also had 100-yard games against Southern Illinois, Kent State and South Carolina. The Mississippi native finished last season with 924 yards on the ground, 12 rushing scores and two touchdown catches. The Rebels new Offensive Coordinator Rich Rodriguez will find several ways to utilize Phillips' talents. Rodriguez has a great track record with running backs. Expect Phllips to be a 1,000-yard rusher by the end of the regular season.
17. Anthony McFarland, Maryland: Two years ago the local kid decided to stay home and was the Terrapins' No. 1 recruit from a Top-20 class. McFarland lived up to his billing thus far with 100-yard games against Temple, Minnesota and Indiana. Not to mention his career high against Ohio State in Maryland's home finale, when he shredded the Buckeyes' defense for 298 yards and two touchdowns. McFarland finished the 2018 season with 1,034 yards, scored four touchdowns and earned All Big-Ten second team honors. McFarland's 7.9 yards per carry was the second-highest among Big Ten running backs. If new Maryland Coach Mike Locksley can get McFarland more touches his number of touchdowns will flourish.
16. C.J. Verdell, Oregon: He's not the biggest running back by any means, but Verdell has some quickness to him that helps him manuever around defenders. He rushed for over a 1,000 yards with 10 touchdowns on the ground as a redshirt freshman last season. Verdell had 100-yard games against Portland State, Stanford, California, Washington and a career-high 187 against Oregon State. He also has great hands and hauled in 27 passes for 315 yards and two touchdown catches. Verdell is a multi-dimensional back, who's dangerous out in space and will be a great weapon for Heisman hopeful Justin Herbert to operate with this fall.
15. Reggie Corbin, Illinois: Last season he rushed for 1,085 yards, nine touchdowns and averaged an eye-popping 8.5 yards per carry, which was first in the Big Ten. Corbin had 100-yard performances against Maryland and Wisconsin. Not to mention he bulldozed Minnesota's defense for 213 yards. He garnered All-Big Ten third team honors and hopes to capitalize on his numbers this fall being Illinois' featured back. Illinois Coach Lovie Smith will make sure Corbin get his hands on the ball on as many plays as possible. With a new face at quarterback this season the Fighting Illini fans are hoping Corbin can lead the team to bowl eligibility for the first time since 2014.
14. Larry Roundtree III, Missouri: He has 1,919 yards on the ground and 17 touchdowns the past two seasons. Roundtree is the SEC's second leading returning rusher. Last season he had 100-yard games against Purdue, Memphis, Arkansas and Tennessee. However, the North Carolina native saved his best for last and stampeded Oklahoma State's defense for 204 yards in the Liberty Bowl. The Tigers have had a 1,000-yard rusher for three-straight seasons and Roundtree definitely has the potential to make it four. Barry Odom may lean on Roundtree for the early part of the season while Missouri's new quarterback gets adjusted. If his workload increases so will his stats.
13. Ke'Shawn Vaughn, Vanderbilt: He's the SEC's leading returning rusher, who amassed 1,244 yards and scored 12 rushing touchdowns. Vaughn also had an SEC-best 7.9 yards per carry. The hometown kid was so close to entering the NFL Draft, but decided to stay put with Derek Mason and his staff for his senior year. Vaughn had 100-yard games against Tennessee State, Arkansas, Missouri and Ole Miss. Plus he had he had 243 yards and two touchdowns against Baylor in the Texas Bowl. He's a fun back to watch break in the open field and zoom past the defense. With Kyle Shurmur moving on Vaughn will be the focal point of the Commodores' offense this fall.
12. Joshua Kelly, UCLA: He was an unknown coming into last season, but quickly made his name known throughout the Pac-12. Kelly had 100-yard outings against Colorado, Washington, California, Arizona and Oregon. However, he rushed for a career-high 289 yards and two touchdowns in UCLA's win over rival USC. The California native also caught 27 passes out of the backfield. Kelly flirted with going into the NFL Draft but decided to stay put and help the team rebuild. Most of the College Football world outside of the Pac-12 hasn't heard much about Kelly because the Bruins had an awful first season under Chip Kelly. This time around UCLA's offense will be expected to be improved in year two and Kelly will be a key piece of the Bruins' spread attack.
11. Trey Sermon, Oklahoma: He was one part of the Sooners' two-headed monster at running back last season. Sermon is a bigger back who stepped up for Oklahoma's offense after Rodney Anderson went down with injury. The six-foot, 224-pounder has rushed for 1,691 yards and 18 touchdowns the past two seasons. Sermon is lethal in space and averaged 15 yards on 12 catches out of the backfield. Sermon had 100-yards games against Oklahoma State, TCU and Army. He ran for a career-high 206 yards and three touchdowns in Oklahoma's shootout win at Texas Tech. Lincoln Riley keeps Oklahoma's offense humming and have loads of riches at running back. Sermon may have to split carries again this fall, but should be able to break the 1,000-yard mark for the first time in his career.
10. J.K. Dobbins, Ohio State: This Buckeye has had back-to-back 1,000-yard seasons to go along with 17 rushing scores. Dobbins had to split carries with Mike Weber and his sophomore campaign wasn't as productive as his freshman season. Still, the Houston native increased his number of touchdowns and earned second team All-Big Ten honors. He had 100-yard games against TCU and Nebraska, plus he rumbled for 203 in Ohio State's nail-biting win over Maryland. Dobbins is now focusing on being the featured back of Ryan Day's offense, which will be breaking in a new quarterback in Justin Fields. Dobbins will take a lot of pressure off the Georgia transfer and provide him with a sure-handed target out of the backfield.
9. Jermar Jefferson, Oregon State: He was the Beavers' No. 1 recruit last year and the Harbor City native lived up to his billing. He rushed for 1,380 yards, 12 touchdowns and was named the Pac-12's Freshman Offensive Player of the Year. Jefferson had 100-yard outings against Washington, Stanford, Colorado, Washington State and Nevada. Not to mention he had 200-yard performances against Southern Utah and Arizona. Jefferson is the league's best-kept secret because Oregon State is coming off a two-win season, but second-year Coach Jonathan Smith will keep him the focal point of the offense. Jefferson also showed he can help the Beavers' passing attack, hauling in 25 balls last season. Smith is trying to make his alma mater competitive again and having a great running back like Jefferson is a great start.
8. J.J. Taylor, Arizona: The California native only stands five-foot-six, but he's as elusive as they come. Taylor had 100-yard games against UCLA, Colorado and Arizona State and 200-yard outings against Oregon and Oregon State last season. He earned first team All-Conference honors, averaged 119 rushing yards per game and finished the season with 1, 434 yards and six touchdowns. Taylor along with quarterback Khalil Tate should help Arizona's offense run the ball effectively on any defense in the Pac-12 this fall. Kevin Sumlin may even give Taylor more of a workload this time around to keep Tate healthy. Taylor has the potential to lead the Pac-12 in rushing by the end of the 2019 season and if he accomplishes that feat the Wildcats should definitely be bowl-eligible.
7. Kennedy Brooks, Oklahoma: He's the other half of Oklahoma's dynamic duo at running back. Brooks set the Big 12 on fire with 100-yard games against Baylor, TCU, Oklahoma State, Kansas and West Virginia. Brook's jaw-dropping 8.9 yards per carry ranked first in the league and he finished last season with 1,056 yards and 12 touchdowns. The Texas native is a true home-run threat and had an 86-yard rushing score last year. Riley's biggest challenge this season will be finding a way to get all of his talented running backs enough carries to keep everyone satisfied. The Sooners' offense has led the Big 12 in rushing the last two seasons under Riley and should increase on the 42 touchdowns they had on the ground a year ago. With the caliber of backs the Sooners have in their arsenal, they'll have arguably the nation's best backfield this fall.
6. Najee Harris, Alabama: What would this list be without an Alabama running back? Harris was the Crimson Tide's No. 1 recruit two years ago and been battling it out for carries in the team's talented backfield. He had to split carries with Josh Jacobs and Damien Harris last season and still ended up with nearly 800 yards on the ground. His 6.7 yards per carry was better than the other two backs, who are now on NFL rosters. Standing at six-foot-two and weighing 227 pounds Harris is a load to bring down. The California native has 1,153 yards and seven touchdowns over the last two seasons in limited action. Now he'll be Nick Saban's featured back this fall, which means his numbers should improve drastically. Harris will continue Alabama's impressive track record of churning out elite running backs.
5. D'Andre Swift, Georgia: The Philadelphia native has 1,667 rush yards and 13 touchdowns over the last two seasons. Swift made a name for himself after rushing for over 100 yards against Florida, Kentucky, Auburn and Georgia Tech. He has that rare blend of power and speed and earned second team All-SEC last season, despite splitting carries with Elijah Holyfield. The five-foot-nine, 215-pounder had an 83-yard touchdown run last season and also has some great hands and caught 32 passes out of the backfield for nearly 300 yards and three receiving touchdowns. He'll now be the Bulldogs' featured back this fall which means better rushing numbers. Georgia has led the SEC in rushing the past two seasons and will look to continue that trend.
4. A.J. Dillon, Boston College: He was the Eagles' No. 1 recruit two years ago and has 2,697 career rushing yards and 24 touchdowns. Dillon is the first player in school history to rush for over a 1,000 yards in his first two seasons. Standing at six-foot and weighing 250 pounds makes him one of the toughest running backs to bring down and he only gets stronger as the game progresses. He had 100-yard games against Holy Cross, Wake Forest, Temple, Miami and Florida State, earning first team All-ACC honors. Dillon dealt with a nagging ankle injury throughout last November that kept him out of the second half of the regular season finale against Syracuse. Dillon is a workhorse-type of running back who'll be the focal point of the Eagles' offense. If he's fully healthy by fall camp Boston College will have a chance to make some serious noise in the ACC.
3. Eno Benjamin, Arizona State: He was the Sun Devils' No. 1 recruit two years ago and led the Pac-12 in carries, rush yards per game and rushing scores last season. Benjamin rushed for 1,642 yards, 16 touchdowns and earned third team All-America honors. He had 100-yard games against UTSA, Washington, Colorado, USC, Utah, UCLA, Oregon and Fresno State. Not to mention the Texas native had a career-high, 312 yards and four total touchdowns against Oregon State. Herm Edwards will have no problem giving Benjamin as many touches as he wants and the Doak Award Finalist also caught 35 balls for 263 yards and two receiving touchdowns. He's the Pac-12's most lethal weapon and 2019 will likely be Benjamin's last season with the team if he has another year like he did in 2018.
2. Travis Etienne, Clemson: He's College Football's No. 1 weapon on offense, who rushed for 1,658 yards last season and has 37 career rushing scores in just two years. Etienne led the ACC in rushing yards, rushing touchdowns, yards per carry and earned second team All-America honors. He had 100-yard rushing performances against Georgia Southern, Georgia Tech, Wake Forest, Louisville, South Carolina, Pittsburgh and Notre Dame. Plus a 200-yard outing in the nail-biting win over Syracuse. Etienne had eight games when he had at least two rushing touchdowns and three games when he had three rushing scores. The Louisiana native has the speed to take it to the house on any given play. He's also very dangerous in space and can catch the ball out of the backfield. Etienne will be a Heisman candidate this fall and will keep opposing defenses from keying in on Trevor Lawrence.
1. Jonathan Taylor, Wisconsin: Ever since he stepped foot in Madison the bruising running back has took the College Football world by storm and left a bunch of defenders in his path. Taylor has the power to plow over linebackers and the speed to run past defensive backs. The last thing a defender wants to see is No. 23 with his shoulders squared in the second level of the defense. Like Nebraska Heisman Trophy winner Mike Rozier and Penn State's Saquan Barkley, Taylor is that elite running back from New Jersey. He had 100-yard games against Western Kentucky, BYU, Iowa, Michigan, Illinois, Penn State and Minnesota. He had 200-yard games against New Mexico, Nebraska and Miami, plus a 300-yard outing against Purdue. Taylor led the entire FBS in rushing last season, finishing with an eye-popping 2,194 yards, 16 touchdowns, won the Doak Walker Award and earned first team All-America honors. The speedster also competes in track and field for the Badgers. Taylor will be asked to carry more of the load on offense this fall for the Badgers' with their unknown commodity at quarterback. Still, the bruising back will look to steamroll opposing Big Ten defenses again this fall. If Wisconsin can carve out a double-digit win season, Taylor will likely be a Heisman finalist.
Honorable Mention
Pooka Williams Jr., Kansas: He was the Jayhawks' top recruit a year ago and finished last season with 1,125 yards, seven touchdowns and led the Big 12 in yards per carry. Williams had 100-yard games against Central Michigan, Rutgers and Texas. Plus he ran for a career-high 252 yards against Oklahoma. Williams earned first team All- Big 12 honors and would be high on this list, but his status is unknown for this fall as he's currently on suspension while he completes diversion for domestic violence charges.
Cade Carney, Wake Forest: He was the Demon Deacon's leading rusher last season. Carney finished the year with 1,005 yards, eight touchdowns and averaged over five yards per carry. He had 100-yard games against Towson and Boston College. Carney also rushed for a career high 223 yards and two touchdowns against Duke.
Zack Moss, Utah: The two-time 1,000-yard rusher missed the Utes final five games of last season with a knee injury. Still, Moss had 100-yard games against Weber State, Washington State and Arizona State. Plus a 211-yard, three touchdown performance in Utah's 31-point victory over UCLA. He earned all-conference honors and the senior has 2,651 career rush yards to go along with 23 touchdowns. If he's fully healthy by the fall Moss has the potential to become the school's all-time leader in rushing yards and rushing touchdowns. The Florida native has a chance to make history in 2019 by becoming the first Utah running back to rush over a 1,000 yards in three consecutive seasons.