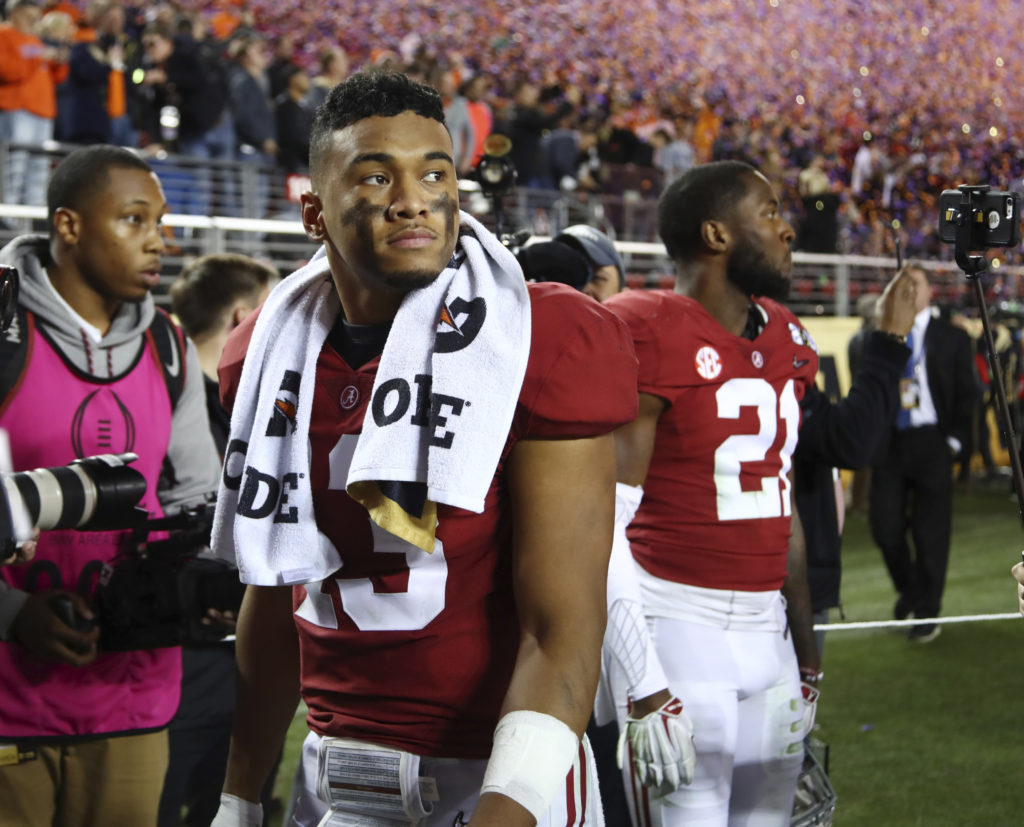 As a true freshman he reached the mountaintop of the sport by becoming the first quarterback to lead his team to a National Title since 1985.
However, Tagovailoa had a humbling sophomore campaign as the College Football world watched him stumble towards the finish line. Tagovailoa was knocked out of the SEC Championship and didn't return only to watch backup Jalen Hurts win the game. He was runner-up for the Heisman and had to watch Kyler Murray hoist that iconic 25-pound trophy.
Not to mention millions watched Clemson wallop Alabama by four touchdowns on the biggest stage. It must've been deja vu for the Hawaii native. Having a true freshman quarterback in Clemson's Trevor Lawerence snatch the red carpet from underneath him. Dabo Swinney's Tigers been hogging all the glory this off season too.
Still, it should be nothing for Tagovailoa to dust it all off his shoulder pads and keep pushing. After all, he led the SEC in passing efficiency, earned all-conference honors and threw for a league-high 43 touchdowns. He didn't throw his first interception until Alabama's ninth game of the season. Not to mention the Crimson Tides' offense finished No. 1 in the SEC in scoring, averaging over 46 points per game.
He'll be operating behind an offensive line that returns three starters, including All-SEC right guard Alex Leatherwood. Alabama's offensive line only allowed 15 sacks last season, which was second in the SEC. Alabama has a pipeline with putting linemen in the NFL.
Handing the ball off to Najee Harris will take some of the pressure off Tagovailoa. The six-foot-two, 228-pounder had nearly 800 yards on the ground and while splitting carries with two other running backs and his 6.7 yards per carry was better than Josh Jacobs and Damien Harris.
Tagovailoa should be licking his chops having the Biletnikoff Award winner in Jerry Jeudy, plus speedy wideout Henry Ruggs III for receiving targets again this fall. The dynamic duo combined for a jaw-dropping 114 catches, 2,056 yards and 26 touchdowns last season.
Alabama's non-conference schedule is a cakewalk with target practice games against Duke, New Mexico State, Southern Miss and Western Carolina. No Georgia or Florida from the East and Alabama's only threats will be on the road at Texas A&M and the Iron Bowl at Auburn.
With a schedule that favorable Tagovailoa could potentially put up better numbers than last season. Just like last year the spotlight will be on Tagovailoa all season long. It should all be more fun this time around with his little brother Taulia on the team. The buzz around campus is this could possibly be Tagovailoa's final year with the team, considering scouts are already projecting him as a first round talent.
Which makes this upcoming season a very anticipated one for the Alabama program. Alabama will come into the fall as one of the two best teams in the nation and Nick Saban has a track record of coming back with a vengeance after losing Championship Games. There will be a chip on the Crimson Tide's shoulder. Expect video game numbers from the offense with Tagovailoa back at the helms and as long as he stays healthy the Crimson Tide will roll through the regular season unscathed.