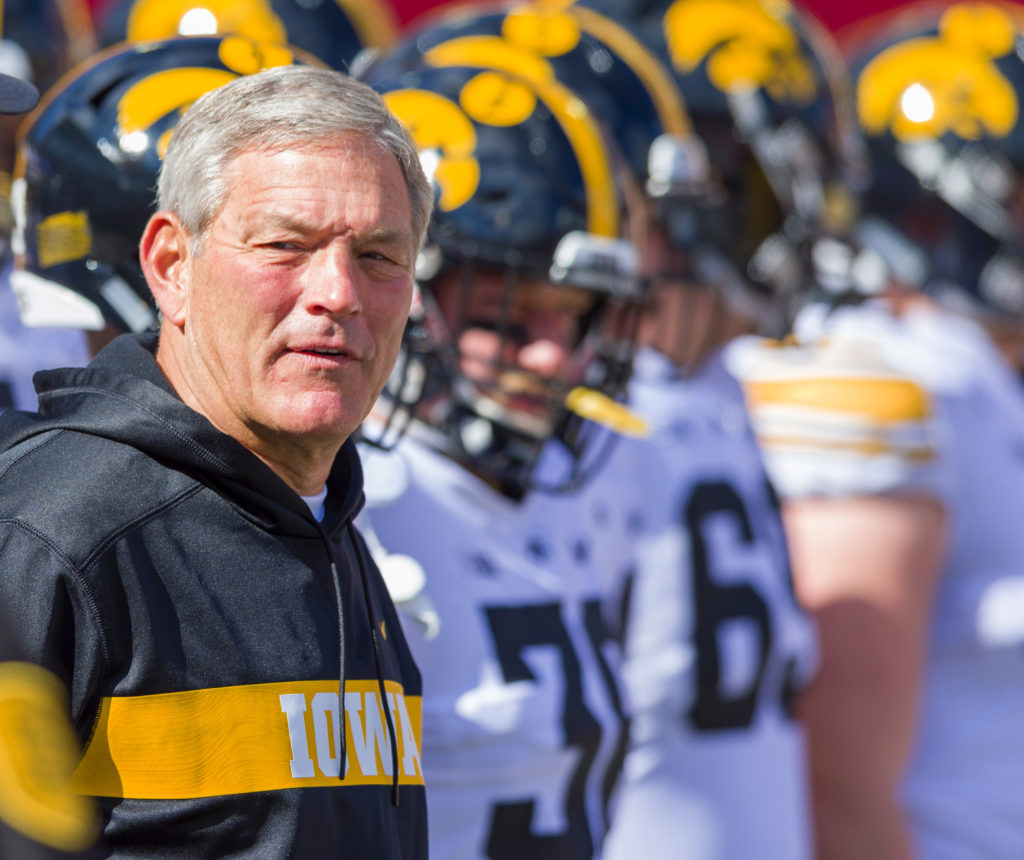 IOWA CITY, Ia. — He's the longest-tenured Head Coach in the entire FBS, sits atop Iowa's all-time win list and continues to turn two and three-star recruits into NFL prospects.
Over the past six years the Hawkeyes have had 18 of their players drafted, including two in the first round three weeks ago. The incredible feat caught the nation's attention, because it's unheard of for a program that rarely cracks the Top-40 in recruiting, to annually develop under-the-radar student athletes and turn them into All-Big Ten caliber players.
Not to mention former tight ends Noah Fant and T.J. Hockenson left with a year of eligibility remaining. It speaks volumes of the strength and conditioning within Ferentz's program and he seems to have an eye for talent other coaches don't see on the surface. Some freshmen arrive on campus with just raw talent, but by the time they become upperclassmen they're battle-tested, more knowledgeable of the game and stronger.
"You expect some unorthodox things from younger, inexperienced players, but when you get into your third year in the program you hope to really learn how to demonstrate consistency and performance," Ferentz said. "I think that's a big part of becoming a better football player."
Fant and Hockenson set the bar pretty high for their fellow Hawkeye teammates. All of a sudden Iowa is no longer criticized for its' location and brutal winters. Instead the program receives praise for its' competitiveness and player development.
Future recruits are beginning to view Iowa City as an attractive place for the next four years of their lives. They want to make their own history in the program and get drafted by the NFL. However, Ferentz downplays the clear-cut path to stardom and feels what goes on behind the scenes should be recognized.
"You can't look into being a First Round Draft pick and rarely is it just talent-driven," Ferentz said. "Both Noah and T.J. have really had good resumes here in the program, done a good job and to see that those efforts get recognized is really neat."
It simply shows that student-athletes who are willing to put the work in, have the potential for it to all pay off in the long run. Ferentz's teams always play physical and you expect a balanced attack on offense, along with a hard-nosed, disciplined defense. He runs a clean, blue-collar program, with no academic scandals or major investigations by the NCAA and for the most part his players stay out of legal trouble.
"We tell every prospect that we're going to do whatever we can to support them and try to get them to improve," he said. "It starts with their academics, citizenship and the football part, that's our jobs and I think we have really qualified people here to guide them."
The Michigan native keeps a tightly-knitted staff, who he has significant history with and his son is the teams' Offensive Coordinator. With the way today's game is constantly changing it doesn't hurt to have consistency on the coaching side.
"I tell everybody I think we have the best strength coaching program in the country," he said. "The guys that have benefited in there are the guys that work like dogs in there."
Obviously his players have mimicked that same approach from the time they arrive on campus til they use up their eligibility. Ten of Iowa's 18 drafted players over the past six years were consensus three-star athletes out of high school. Josey Jewell and Josh Jackson were two-star prospects, but were drafted in the second and fourth round of the 2018 Draft.
As quiet as it's kept, Ferentz has had at least one player drafted every year during his 20-year tenure as Head Coach. He's the epitome of modern day midwest football and arguably has the best job security of any coach in the Power Five. His longevity with the Hawkeyes shouldn't come as a surprise, considering he's apart of the Hayden Fry coaching tree. Bob Stoops, Barry Alvarez, Bill Snyder and Dan McCarney were all on Fry's 1983 staff and all served over a decade with their respective teams.
Ferentz continues to get it done on the field, posting 10 winning seasons over of the past 11 years, including six-straight. Iowa has also gone undefeated against rivals Iowa State, Minnesota and Nebraska over the last four seasons. The Hawkeyes return the most experienced signal-caller in the Big Ten this fall in Nate Stanley along with the most feared defender in the league in A.J. Epenesa.
Iowa has traditionally been dangerous as an under-the-radar team instead of being in the spotlight. Which is why Ferentz continues to stick to the basics, knowing it's about the system he has set in place, the culture as well as the individual that ties into their development.
"Most guys come into the program have dreams of having that(NFL) opportunity, not to put water on a campfire, but you always gotta temper that too," he said. "We always try to tell guys we'll do whatever we can to help them realize those dreams, but in reality it's not many guys playing football when they're 35."
Although Ferentz is pleased with his players making it to the next level, he's more focused on turning them into productive citizens in the real world after their football careers are over. It's all evident when you see his players graduation rate, how they stay involved with the program after they leave the team and their involvement in the local community.
No one knows how long the 63-year old can keep the Hawkeyes flying high, but in hindsight he hasn't showed any signs of slowing down. So expect the Hawkeyes to have more under the radar recruiting, winning seasons and to extend their streak of drafted players.