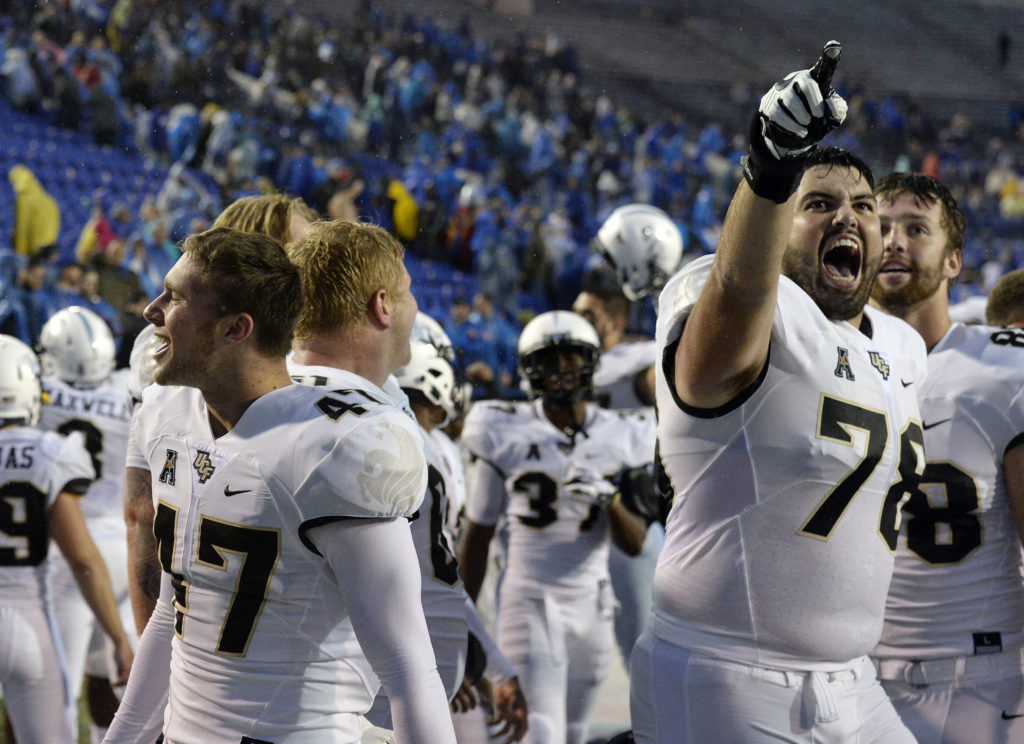 In College Football the regular season matters. Strength of schedule is vital when determining the Playoffs and post-season play. Quality wins in non-conference play goes a long way in terms of Playoff implications, recruiting and bragging rights from each conference. There's nothing like rematches and these games are resume builders and potential program changers. Most teams are applauded for playing big-time opponents, while going unblemished with a weak schedule can come back to haunt others. The 2019 season is going to provide College Football fanatics with enough blockbuster games on the non-conference slate to keep everyone satisfied.
20. Michigan State vs. Arizona State, Sep. 14th: Last season it was the Spartans that came into this game ranked No. 15 in the AP Poll and Herm Edwards' Sun Devils were the underdogs. Arizona State pulled off the upset and Edwards solidified he was the right man for the job. Mark Dantonio may need this win more than Edwards do after the Spartans lost three of their last four games to end the 2018 season. The sequel between these two programs might have more scoring instead of the defensive slug fest last year. A win here for either team will look nice on the resume when it comes time for the post season bids.
19. Virginia Tech vs. Old Dominion, Sep. 7th: This was the upset of the year last season between in-state foes. David beat Goliath. The Hokies lost in a stadium with a capacity of only 20,000 and never recovered, suffering their first losing season since 1992. The game was an instant classic for the Monarchs, after all they've only been playing a full FBS schedule since 2014. Old Dominion wound up finishing with a 4-8 season and it made the win over Virginia Tech look worse on the Hokies part and a black eye on the ACC. After hearing about this milestone upset all of last season and this off-season, expect Justin Fuente to have the Hokies locked, loaded and ready for this one. This game will also be Virginia Tech's home-opener and Lane Stadium should be rocking!
18. Mississippi State vs. Kansas State, Sep. 14th: First off, kudos to whomever does Kansas State's non-conference scheduling. Playing an SEC team in three of the past five years has been gutsy and a resume builder for the program. This will be another revenge game and Chris Kleiman will be getting his first taste of an SEC team when the Wildcats travel to Starkville. Kansas State got walloped on its' home field last year by three touchdowns to Mississippi State. However, this time around the Wildcats will face a completely different Bulldog team without all of the NFL talent on defense. The Wildcats will love nothing more than to return the favor to the Bulldogs this fall. This will be a Big 12 vs SEC matchup so Jim Moorehead will have his team dialed in for it and the cowbells will be in full force.
17. Purdue vs. TCU, Sep. 14th: The Boilermakers lost their first three home games last year and Jeff Brohm doesn't want a repeat. Purdue will be fresh off a game against an SEC opponent when they take on TCU. The Big 10 against the Big 12 is always intriguing. This will be the Horned Frogs second-straight year of playing a team from the Big 12 on the non-conference slate and third time since 2015. Jeff Brohm's team upset Boston College at home last year and it rejuvenated their season. If Purdue can pull off a win over TCU  it'll be battle-tested enough heading into conference play. Although the Horned Frogs will be on the road for their first two games of the season, they'll have an extra week to prepare for the Boilermakers. Don't be surprised if this game has a ton of offensive fireworks.
16. North Carolina vs. South Carolina, August 31st: The season-opener for both teams will be played in Charlotte and Mack Brown will be back on the sidelines with the Tar Heels for the first time since 1997. Brown will be squaring off against one of his former assistants in Will Muschamp, which adds a little luster to this border state clash. Muschamp was Brown's Defensive Coordinator at Texas for three seasons before accepting the Florida job. The Tar Heels are coming off back-to-back nine-loss seasons and need a victory here to start some momentum. The Gamecocks are coming off a disappointing season and Muschamp could use a spark in the opener. It's the ACC vs. SEC and South Carolina has won seven of the last nine over North Carolina, including three-straight.
15. Tennessee vs. BYU, Sep. 7th: Jeremey Pruitt needs to bring the aura back in Neyland Stadium. The Volunteers have lost three of their last four games at home dating back to last season. BYU should never be overlooked and the program is infamous for pulling off upsets against Power 5 competition, just ask Oklahoma, Texas, Nebraska and Wisconsin. Kalani Sitake's Cougars finished off last season strong, winning three of their last four games and want to keep that momentum going into the fall. However, that's easier said than done with BYU having Tennessee sandwiched between games against rival Utah in the season opener and USC in week three. Rocky Top will be rocking for this game which should be a good measuring stick for both teams.
14. Penn State vs. Pitt, Sep. 14th: Since this in-state rivalry got renewed in 2016 Penn State has won two of the last three games and outscored Pittsburgh 84-20 in those victories. The Panthers haven't won at Beaver Stadium since 1988 and have lost five-straight to the Nittany Lions on the road. This game will be the Nittany Lions' third-straight home game to open up the 2019 season and they should have their quarterback situation figured out by week three. This clash will be sentimental for both schools because it'll be the 100th meeting between the two programs and the last time the teams will meet in the near future. Expect this one to go down to the wire with players from both teams giving their all for the fans in the state of Pennsylvania.
13. Alabama vs. Duke, August 31st: After getting throttled in last year's National Championship Game the Crimson Tide will come into the 2019 season with a chip on their shoulder, which spells bad news for the Blue Devils. This game will be played at a neutral site in Atlanta and Nick Saban is 12-0 in season-openers at Alabama. Mark Ingram had a monster game the last time these two teams clashed in 2010 and the Crimson Tide won 62-13. With a motivated Alabama squad loaded with five-star talent and David Cutcliffe breaking in a new quarterback for the Blue Devils, the final score of this game could potentially be more lopsided. Clemson snatched the red carpet from under Alabama, which means Saban will want to make a statement to the entire nation in this game.
12. Mizzou vs. West Virginia, Sep. 7th: Imagine the final score if this game would've taken place last season. Neal Brown will be making his first road trip as the Mountaineers' coach and his team hosts North Carolina State the following week. When he was Troy's Head Coach Brown upset LSU and Nebraska on the road, and nearly beat eventual National Champion Clemson in the 2016 season. Brown knows how to prepare his team to play in hostile environments. Both teams will be breaking in new quarterbacks and this should be another great Big12 vs. SEC matchup in the non-conference. West Virginia spoiled Barry Odom's first game as the Tigers' coach in 2016 with a 26-11 victory. This game will be the home-opener for Missouri and Odom wants his team to be on the winning side this time around.
11. Iowa vs. Iowa State, Sep 14th: The battle for the Cy-Hawk Trophy never lacks in entertainment and gives the winner bragging rights in the state of Iowa. This game will feature two great quarterbacks in the Cyclones' Brock Purdy and the Hawkeyes' Nate Stanley. Both team's defenses should be very solid also. Iowa has won five of the last six meetings against Iowa State, including the last three at Jack Trice Stadium. Iowa State Coach Matt Campbell is still looking for his first win over Iowa and this year will probably be his best chance to accomplish that feat. The Cyclones have an extra week to prepare for their cross-town rival. It'll be interesting to see if Kirk Ferentz still has Iowa State's number.
10. UCLA vs. Oklahoma, Sep. 14th: If there's any Power 5 coach that needs a signature win in his second season Kelly has to be at the top of the list. The Bruins are coming off a 3-9 campaign, that included the school's first 0-5 start since 1940. Beating Oklahoma at the Rose Bowl could potentially be a program changer for UCLA. The Bruins lost by four touchdowns in last years's trip to Norman and will have to perform better in front of their home crowd. Oklahoma hasn't played a Pac-12 team on the road during the regular season since 2008. If the Bruins' defense can't slow down the Sooner magic on offense than they'll definitely need to put points on the board just to stay in this game. An Oklahoma loss would hurt the team more than a win over UCLA would help. Still, this game has the potential to be very entertaining, with a ton of points on the scoreboard.
9. UCF vs. Stanford, Sep. 14th: Although the Golden Knights aren't a Power 5 team, they have won 24-straight games during the regular season and their last loss was in 2016. UCF is currently riding a 15-game home win streak. Stanford will be Central Florida's highest-caliber opponent on the 2019 schedule. A quality win over one of the top teams from the Pac-12 will go a long way if the Golden Knights finish the regular season undefeated for a third-straight season. On the flip side, Stanford can dash all of Central Florida's hopes in week three with a win in Orlando. That'll be easier said than done considering Stanford's early tough schedule with three of the first four games against Northwestern, USC and Oregon. UCF's McKenzie Milton and Stanford's K.J. Costello are two of the best signal-callers from their respective conferences and will have their offenses pumped up for this game.
8. Colorado vs. Nebraska, Sep. 7th: Two old Big 8 rivals going at it in Boulder will most likely be an instant classic. Neither program has had the same success since exiting the Big 12. However, this rivalry always gets fans pumped up from both sides. The Buffaloes stormed into Lincoln last year and spoiled Scott Frost's first home game as the Huskers Head Coach. The Huskers have won three of their last four trips to Folsom Field. Frost needs this win bad. Nebraska quarterback Adrian Martinez was injured last late in last year's game and didn't return. He'll be motivated to finish this entire contest with a win this time around. New Colorado Coach Mel Tucker has the opportunity to start off his first season by knocking off the program's biggest rivals in week one and two. Both defenses are leaky, but each team has some offensive firepower. The 71st game between these two programs will likely be a shootout with the team possessing the ball last winning.
7. Michigan vs. Notre Dame, Oct 26th: This will be the first time these two blue-blood programs square off in the month of October since 1943. The Fighting Irish have lost their last four trips to the Big House and their last win there was in 2005. Jim Harbaugh is 1-1 head-to-head against Brian Kelly. The Fighting Irish's win over the Wolverines in last year's opener ignited the team and they rode that wave of momentum to an undefeated regular season. This will likely be another night game at the Big House and Notre Dame's last visit to Ann Arbor brought about a record crowd for a College Football game with 115,109 fans in attendance. Michigan's quarterback Shea Patterson had a rough debut against Notre Dame in last season's opener and will be looking to put on a better performance in front of the maize and blue faithful. The pressure will be on Harbaugh to beat Kelly and this game should have major Playoff implications by this point of the season.
6. Miami vs. Florida, August 24th: This game will be played in Orlando and will kick off the 2019 season. These two in-state rivals haven't played each other since 2013. It will also be the first time Florida and Miami open up the season against each other since 1987. The Hurricanes have actually won seven of their last eight games against the Gators. However, Miami will be in its' first season under Manny Diaz and he needs to settle in on a quarterback. Florida on the other hand has been responding well in Dan Mullen's system and finished the 2018 season on a four-game win streak. Miami came into last season ranked No. 8 in the AP Poll, but got embarrassed by LSU in the season-opener and never recovered. A win over Florida would be huge for the program and Diaz.
5. Florida State vs. Boise State, August 31st: The Seminoles must showcase improvement after a disastrous year that left them out of the post season for the first time since 1976. Florida State's opener against Virginia Tech last year was the only game all season long that the team failed to score a touchdown. Willie Taggart put his players to work all off-season and former Wisconsin quarterback Alex Hornibrook enrolled in the program back in March. The Broncos gained notoriety over the years for upsetting Power 5 teams and will treat this game as their very own Super Bowl. After all, the Seminoles are the only Power 5 team on the Broncos schedule this year. However, Boise State has lost three of its' last four season-openers against Power 5 competition. Although this isn't the Boise State team from a decade ago, they still shouldn't be overlooked. Bryan Harsin's boys always play their hearts out against Power 5 teams and a win over the Seminoles will crank up their momentum for the early season. With this game being played in Jacksonville Florida State will definitely have the home field advantage. There will be a lot of grumbling from the Seminole fans if the team loses this game.
4. Auburn vs. Oregon, August 31st: This monster Pac-12 vs. SEC matchup will be played in Jerry's World and will have the nation's attention. Two projected Top-20 teams anxious to get their seasons started off with a bang. This will be the first time these two programs face off since playing for the National Championship in 2010. The last time Oregon opened up the season against an SEC team in Jerry's World it was a loss to LSU in 2011. Gus Malzahn is 5-1 in season openers at Auburn and his team wants to build keep their momentum going after their 49-point victory over Purdue in the Music City Bowl. Mario Cristobal is building Oregon back into a monster in the Pac-12 and beating Auburn would be huge for the conference. The Ducks are 2-2 against SEC teams since 2010. Oregon has a Heisman candidate at quarterback in Justin Herbert. Auburn has the speed and physicality on both sides of the ball to give Oregon fits all day long. The winner of this early season clash will have an inside track on their path to the Playoff.
3. Texas vs. LSU, Sep. 7th: Both the Longhorns and Bayou Bengals have powerhouse programs and each team will be ranked in the Top-10 to open up the 2019 season. Tom Herman has Texas peaking at the right time and Ed Orgeron has LSU as solid as ever. There will be a lot of four and five-star talent on the field in this colossal matchup. A very pivotal game from a recruiting standpoint also, considering both teams target the Houston area hard. Texas hasn't hosted an SEC team in Darrell K Royal since 2013. The Bayou Bengals are 5-1 against Big 12 teams since 2001 and won their last four. Texas' Sam Ehlinger and LSU's Joe Burrow are both great quarterbacks, hoping to lead their teams to big seasons this fall and a win here would be the perfect start. Texas has lost two-straight season-openers under Herman and haven't opened up the season against an SEC team since a loss to Ole Miss in 1992.
2. Georgia vs. Notre Dame, Sep. 21st: Non-conference games don't get much bigger than these two legendary programs colliding. This will be Notre Dame's first game against an SEC team on the road in the regular season since 2004. Both teams had double-digit wins last year, but ended their seasons on a sour note. The Fighting Irish got exposed against Clemson in the Playoff and the Bulldogs felt snubbed by the Playoff Committee and didn't bother to show up against Texas in the Cotton Bowl. This will be Georgia's third-straight home game to start the season. The 2017 thriller in South Bend resulted in a one-point victory for the Bulldogs. Brian Kelly even caught a lot of criticism for condescending a female reporter when asked about the loss. The Fighting Irish have revenge on their minds and want to return the favor to the Bulldogs' home crowd. Kirby Smart is a great game-day motivator and it will be a crazy atmosphere Between the Hedges. Major playoff implications, several potential recruits will be in attendance and College Game Day may even be at Sanford Stadium. This game will also feature two great quarterbacks in Georgia's Jake Fromm and Notre Dame's Ian Book. Both teams should be ranked in the Top-10 entering this game with the winner jumping into the Top-Five.
1. Clemson vs. Texas A&M, Sep. 7th: Despite leaving the ACC Jimbo Fisher makes his return to Death Valley where he lost three of his last four trips. This will be the first big game for the reigning National Champs and Dabo Swinney will have his players in their "Bring Your Own Guts" mode. The Tigers have won 15-straight home games and haven't lost in Death Valley since November of 2016. Clemson's Trevor Lawrence and Texas A&M's Kellen Mond are two of the best young quarterbacks in the nation and both will be early Heisman candidates. This will be the game for both of them to put on a great performance with the entire College Football world watching. The Aggies nearly pulled off the upset in College Station last season and should have a better chance this time around with all of the NFL talent gone from the Tigers' defense. Fisher has lost four-straight head-to-head matchups against Swinney. Clemson currently owns the nation's longest winning streak at 15 games. If Fisher can somehow snap their streak, it'll show the nation his program has arrived and he's worth every penny of his lucrative contract. If the Tigers win it'll prove to everyone that they have continued where they left off. Either way, it should be one of the most entertaining games on the non-conference slate.