Yetur Gross-Matos on Penn State's defense improvement post-spring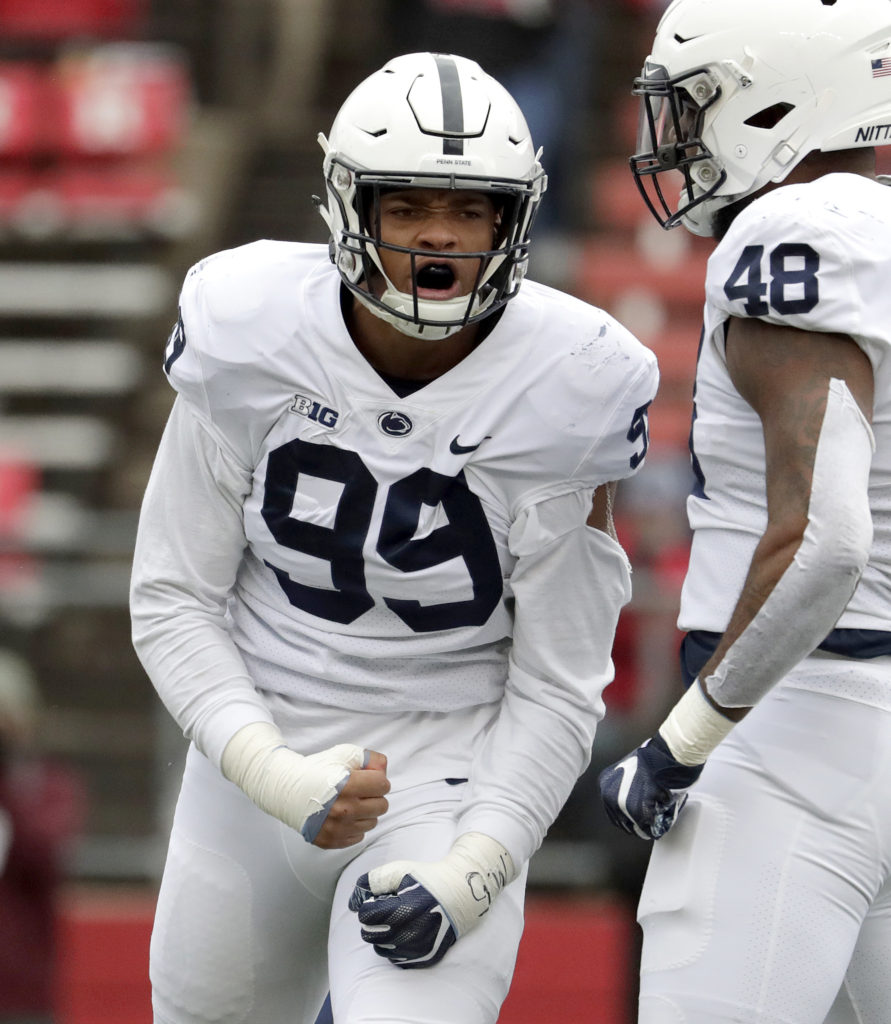 STATE COLLEGE — After jumping onto the scene last season he finished second in the Big Ten in tackles for loss, generated eight sacks and earned All-Conference honors.
Now that spring ball is over Matos feels he has elevated his knowledge and skills in all three phases of the game. The Virginia native also added 20 pounds of muscle to his massive frame and credits it to working hard in the weight room and eating right.
Penn State's defense has that same mentality and the six-foot-five, 265-pounder feels he's surrounded by quality defenders.
The Nittany Lions' return a play-maker at each level of their defense and they are better equipped this time around compared to where they were last season.
"I think as a group we just have tremendous speed and I think that's one of our key aspects to the group," Matos said. "I think that our defense as a whole unit we got speed everywhere and we're really talented across the board."
The Nittany Lions' finished No. 4 in the Big Ten last season in scoring defense, allowing only 20.5 points per game. However, there are some holes to fill along the defensive line after Kevin Givens and Shareef Miller left early for the NFL. The duo combined for 74 tackles and 12.5 sacks. Not to mention the secondary must find a replacement for All-Big Ten corner Amini Oruwariye.
Still, several players are back from the front seven who helped the unit finish first in the conference at getting to the quarterback and red zone defense. Penn State had a jaw-dropping 47 sacks last season and the returning experience and production alone has Matos feeling confident the group could be even better.
"I think we definitely can increase on the number of sacks we had from last year, and for our defense causing havoc in the backfield is always a focus of ours," Matos said.
Defensive tackle Robert Windsor knows how to clog up the middle and get into opponent's backfield with 11 tackles behind the line of scrimmage to go along with 7.5 sacks. Micah Parsons, who was the Nittany Lions' No. 1 recruit last year led the team in tackles and is accompanied by Cam Brown and Jan Johnson, who combined for 135 stops. The three play-makers form the best trio of linebackers in the league.
"That group(linebackers) I think is similar to our defensive end group, there's tremendous speed and athleticism," Matos said.
Despite the loss of Oruwariye, the secondary still has enough ball hawks to blanket opposing offenses. The back four of the defense finished No. 2 in the league against the pass and tied for a Big Ten-best, allowing only 14 touchdowns through the air. Garrett Taylor and John Reid combined for five interceptions and Tariq Castro Fields broke up seven passes.
With numerous weapons on the defensive side of the ball Matos feels Penn State should be able to adjust to different offensive schemes the Big Ten will provide this fall. There's trust among the players and they all have formed a bond that can't be broken.
"Sometimes especially during practice there be moments where I just look back and there's Micah behind me, Rob Windsor next to me and two defenders in front of us, so its' like pick your poison," Matos said.
After being an unknown entering the fall last season, Matos is now a household name among Penn State fans. He'll continue his journey to the Big Ten mountaintop and to opposing quarterbacks expect to see No. 99 coming to a backfield near you.
"Last year it was really me fighting for a starting spot," he said. "This year is more of a focus of earning that spot and everyday I go to work just putting the work in."