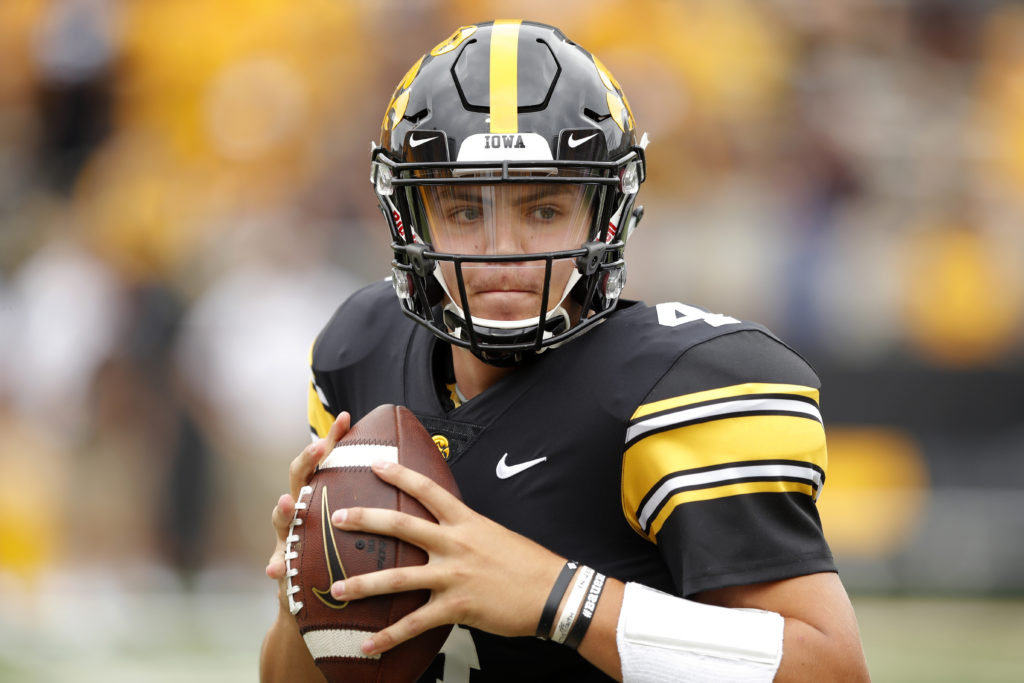 IOWA CITY, Ia. — He's 17-9 as a starter, has thrown for 5,289 yards and 52 touchdowns over the past two seasons for Iowa, but will be working with a new core of pass catchers this fall.
Gone out the door is dynamic duo, NFL first-round tight ends T.J. Hockenson and Noah Fant, plus receiver Nick Easley, who led the team in receptions a year ago. The trio combined for 140 catches, 1,773 yards and 18 touchdowns last season.
The Hawkeyes just completed spring ball and although no returning receiver caught more than 28 balls last year, Stanley believes the unit has potential. Brandon Smith, Ihmir Smith-Marsette and Nico Ragaini have all been doing their best throughout the spring of filling that void in Iowa's pass production.
"Brandon, Ihmir and Nico they all done a great job at stepping up doing what they need to do and I think a lot of guys are getting more comfortable at reading defenses on the move," Stanley said. "For them to continue to build their mental processing out on the field, it's something that's big to make sure that we're on the same page based off the coverage."
With Alex Hornibrook transferring to Florida State, Dwayne Haskins, Clayton Thorson and Trace McSorley taking their skills to the NFL, the Big Ten is short on star power at the quarterback position. Still, Stanley has the experience, leadership and production to potentially get Iowa back to the Big 10 Championship Game for the first time since 2015.
The Wisconsin native is entering his senior season and spent the past two months scrimmaging with his pass catchers. It's nothing new to Stanley and he believes repetition is starting to pay off for Iowa's passing game.
"It's two guys having that chemistry from throwing routes continuously through the off-season and building on that timing and rhythm is huge," Stanley said.
Although Stanley is one of the most experienced signal-callers in the Big Ten he still feels there's room for improvement in his game.
"What I've mostly focused on is post-snap recognition of coverage and knowing blitzes that tie together," he said. "Not having to make a spectacular throw on every single play and just getting the ball out on time through processing the game faster."
The six-foot-four, 243-pounder will be operating behind an offensive line that returns three starters from last season, including All-Big Ten tackle Alaric Jackson. Tristan Wirfs, Jackson and Cole Banwart combined for 31 starts in 2018 and Iowa's offense tied for first in the conference in fewest sacks allowed.
"It's definitely comforting to know that those guys have a lot of experience," Stanley said. "With that being said, there's still a lot of room to improve, for those guys, for myself and for the whole offensive line."
Iowa's Head Coach Kirk Ferentz is pleased with the players he has in the quarterback room. Alex Padilla and Spencer Petras have been battling it out all spring in trying to secure that No. 2 quarterback spot for the Hawkeyes.
"I think all three of those guys(quarterbacks) are in competition and that's one of the positions I think right now that's really up for grabs," Ferentz said. "Somebody is a snap from being in the game, so we want to keep it really open, but there's no horse in the race, it's just letting guys compete."
Iowa's offense finished fourth in the conference and first in the Big Ten West in scoring last season, averaging 31.2 points per game. With six starters returning for the unit it's very possible the Hawkeyes could improve on those numbers this fall.
Stanley is proud of Fant and Hockenson both going in the Top-20 of the first round of the NFL Draft and could've followed in their footsteps and left school early, but decided to stay put.
"I definitely think time flies," he said. "Seeing my former teammates get drafted, although they left a year early, it's definitely something you look back on and say man this went faster than I thought it would."
The Hawkeyes have nearly four months until the team opens up fall camp and Stanley wants to continue improving on his craft and skill set.
"I think it's about just getting one percent better every single day," he said. "Just really looking at the tape, finding one thing you want to focus on on a daily basis and just accomplishing that goal day by day."