James Franklin feels there's room for improvement with Penn State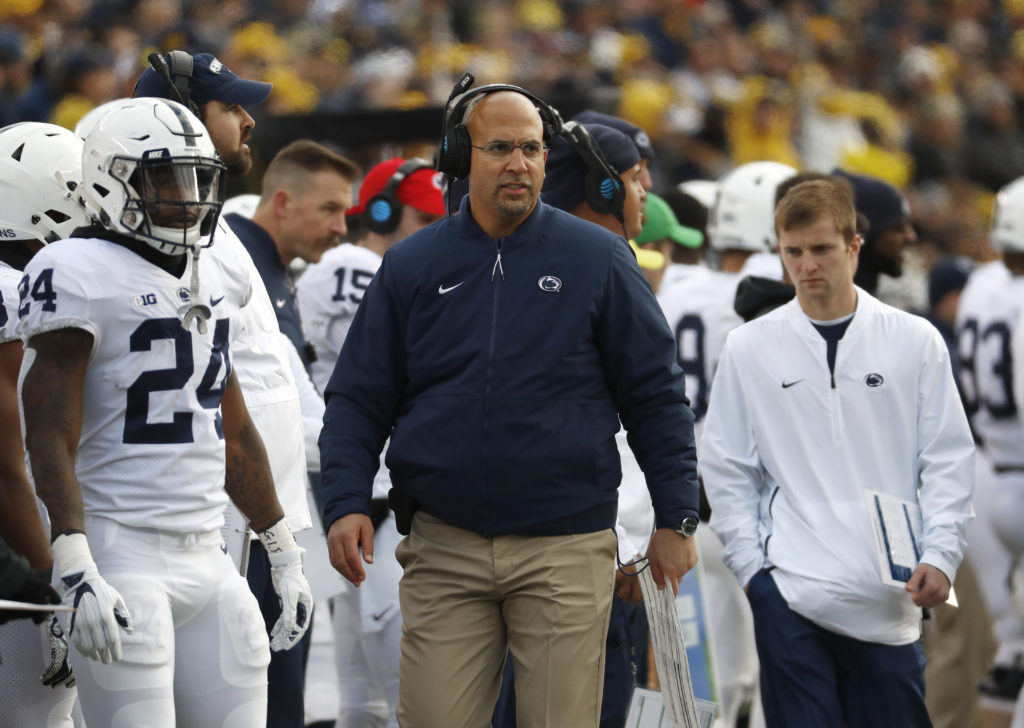 STATE COLLEGE — With only a handful of seniors on Penn State's roster and six underclassmen who left early for the NFL, James Franklin will be fielding one of the youngest teams in the Big Ten this fall.
Still, there's enough four and five-star talent across the board to keep Penn State in contention for the Big Ten East in 2019. After a 24-7 final in the Blue and White game, it's obvious the Nittany Lions look tenacious on defense and will need to hold the team down while the offense goes through a major overhaul.
Having to replace record-setting quarterback Trace McSorley and 1,000-yard rusher Miles Sanders won't be an easy task for Franklin. Although the spring game is over no position has been solidified and Franklin believes there's still room for improvement.
"Overall I'm pleased with where we're at, but we got a lot to do," Franklin said. "We haven't named a starter at any position."
Tommy Stevens and Sean Clifford are battling to be the Nittany Lions' No. 1 signal-caller. Neither quarterback has ever started a game in their collegiate careers and both combined for three touchdown passes last season.
Stevens didn't play in Penn State's spring game for a second-straight year because of a foot injury. However, he's dangerous with his mobility, having rushed for 506 yards in his career to go along with eight touchdowns on the ground. Clifford is more of a drop back passer, who threw for 118 yards and a touchdown in the Blue and White game.
Franklin is nowhere near ready to pull the trigger on who'll be his starting quarterback this fall.
"I'm a big believer in competition at every position," he said. "It was really good for Sean to get those reps today, obviously having Tommy back is going to be huge for all of us and I'm excited about that."
Penn State has had a 1,000-yard rusher in four out of the past five seasons under Franklin, including four-straight. Ricky Slade is the team's leading returning rusher, who had six touchdowns last season and a rushing score in the Blue and White game. Slade will be pushed by talented true freshman Noah Cain, who enrolled in January and rushed for 41 yards and a touchdown in the spring game.
"We got a whole bunch of different skill sets at running back and it's a good dynamic to have," Slade said. "Me personally, I want to work on my pass blocking and picking up blitzes."
Slade feels it won't be just one back who'll get the bulk of the carries this fall and instead it'll be a running back-by-committee approach. As for now, Slade is enjoying the competition in Penn State's backfield and feels he has developed into more of a leader after the departure of Sanders.
The Nittany Lions have some speed at the skill positions with K.J. Hamler. The sophomore wideout led Penn State in receptions last year, with 42 for 754 yards and five touchdowns. He's versatile, can stretch the defense and earned All-America honors as a kick returner.
Whoever wins the starting quarterback job will have a big target to throw to in tight end Pat Freiermuth. The six-foot-five sophomore hauled in 26 passes for 368 yards and eight touchdowns last season. Unfortunately Franklin was not pleased with his players pass catching in the spring game.
"There was too many drops on offense and we gotta get that cleaned up obviously between now and the first game," he said.
On the plus side, wide receiver Dan Chisnea earned himself a scholarship after hauling in a 59-yard touchdown pass in the Blue and White game. He finished with two catches for 75 yards and a score.
Despite Ryan Bates and Connor McGovern departing early for the NFL, one of Penn State's strength on offense this fall will be the big boys up front. Will Fries, William Gonzales and Michal Menet all return and have combined for 61 career starts.
Special teams will be better with Penn State returning arguably the best punter in the league in Blake Gillikin, who averaged nearly 44 yards per boot last season. Sophomore kicker Jake Pinegar was money on kicks inside the 40, but struggled on long field goals. He has worked this entire off-season improving his leg strength and his accuracy.
The Nittany Lions are loaded on defense, with play makers at every level of a unit that finished fourth in the Big Ten in points allowed last season. Defensive end Yetur Gross-Matos is a beast on the edge, who finished second in the conference with 20 tackles for loss and defensive tackle Robert Windsor added 7.5 sacks.
Micah Parsons, Cam Brown and Jan Johnson help form one the best trio of linebackers in the league. Parsons is the team's leading returning tackler and Brown and Johnson combined for 135 stops last year. The defense finished No. 1 in the Big Ten with 47 sacks last season and it's very possible the unit could improve on that number this fall.
The secondary lost All-Big Ten corner Amani Oruwariye, but return talented ball hawks in Garrett Taylor, Tariq Castro Fields, John Reid and Jonathan Sutherland. The quartet combined for 165 tackles, five interceptions and Penn State finished No. 2 in the Big Ten in pass defense.
"We are a brotherhood before anything else and we always compete against each other to get each other better," Sutherland said. "We encourage each other and understand that it's all a process."
A process Franklin hopes to have figured out in time for fall camp. Penn State opens up the 2019 season against Idaho at Beaver Stadium.