Matt Campbell pleased with his team after concluding spring ball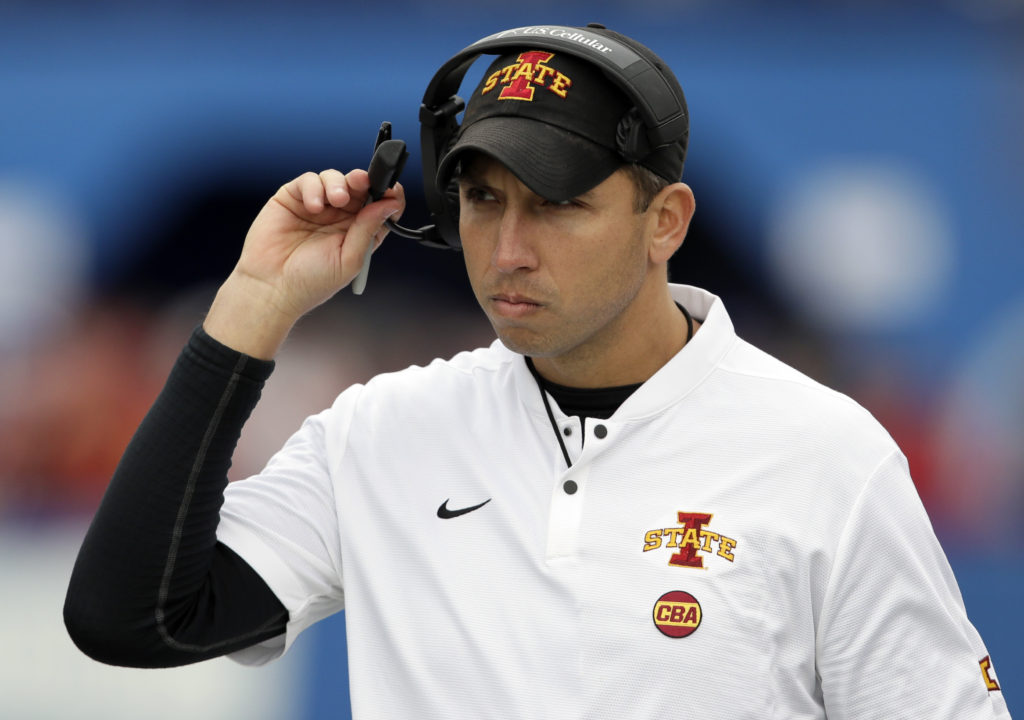 AMES, Ia. — For the first time in 17 years Iowa State is coming off 16 wins over the last two seasons and return a bevy of players with experience on both sides of the ball.
Campbell just wrapped up his fourth spring with the Cyclones and is extremely excited about their potential this fall in the Big 12.
"I really feel like we had a great spring, there's competition across the board and we've had more guys push the needle to become the best they could possibly be," Campbell said.
One of those players is a rising star at quarterback in Brock Purdy. The Cyclones lost three of their first four games to start last season before Purdy was inserted into the starting lineup by game five. Iowa State wound up winning seven of its' last nine games and Purdy threw for 2,250 yards, 16 touchdowns and seven interceptions during that span.
Campbell is pleased with his young signal-caller's progression over the spring and feels Purdy is poised for a breakout season in 2019.
"He's special and it's really fun to watch great quarterbacks start to take ownership in their craft," he said. "I feel Brock has that intangible and work ethic because he shows up when it matters most and he has the ability to see the field, that elite vision."
Purdy has worked all spring finding new targets to throw to after 1,000-yard receiver Hakeem Butler left early for the NFL. Still, the Cyclones return receivers Deshaunte Jones and Tariq Milton, who combined for 77 catches last season and tight end Charlie Kolar hauled in three touchdown receptions and earned All-Big 12 honors.
The area of concern for the offense has been the Cyclones' rushing-attack. Iowa State finished last in the Big 12 in rush yards per game and yards per carry, plus Campbell must find a replacement for back-to-back 1,000-yard rusher David Montgomery. The 39-year old coach likes the situation in his running back room and believes his players are ready to step up to the challenge.
Running backs Kene Nwangwu and Sheldon Croney Jr. have been battling for carries throughout the spring. Nwangwu is the team's leading returning rusher, who also earned All-Big 12 honors as a return man and Croney Jr. had just one rushing score last season.
"So many of those guys have real playing experience and those are guys like Kene, who's finally healthy and I think Sheldon had a great spring," Campbell said. "Those guys are veteran guys and I trust those guys."
For the first time under Campbell the Cyclones will boast a veteran offensive line who'll open up holes for the running backs to burst through. Julian Good-Jones, Josh Knipfel and Bryce Meeker will all be seniors and have combined for 84 career starts. There's depth among that unit and other underclassmen with starting experience.
"I really feel like that group by the midpoint of the season last year til the end of the season was tremendous for us," Campbell said. "The growth that group made in the off-season in January and February, we're bigger, we're stronger, we look like what a real offensive line looks like and that part is exciting."
Campbell feels the unit was able to impose their will in the Alamo Bowl against Washington State and that they'll bring a lot of leadership to the table this fall.
Iowa State returns several starters to a defense that finished No. 1 in the Big 12 in points allowed and against the run. There's play-makers at every level of the defense led by JaQuan Bailey and Ray Lima, who earned All-Big 12 honors last season.
The secondary finished No. 2 in the league against the pass and return Big 12 Defensive Newcomer of the Year in safety Greg Eisworth. The Big 12 is all about high-flying offenses with very little emphasis on defense. However, the Cyclones have stability on that side of the ball which brings instant credibility to the team.
"I love to have a two-deep on that defense to where all those guys can play," Campbell said. "I think that's an area we certainly feel confident going into the fall."
The Cyclones return both their kicker and punter. Corey Dunn averaged 40 yards per boot and Connor Assalley was consistent on kicks inside the 40-yard line. Assalley has been working on strengthening his leg and improving his accuracy on long kicks all spring.
The schedule sets up nicely for the Cyclones with four of their first five games at home. Campbell has gone 11-7 in conference play the last two seasons and hopes his team can take that next step in getting to the program's first-ever Big 12 Championship Game this fall.
"I think we got great player ownership right now, there's guys that understand what sacrifices you have to make from this endpoint to get to the finality of starting fall camp," he said. "If there's one area I'm really excited about it's the player-driven leadership that's in our football program right now and giving them reigns to take this football team."
Iowa State opens up the 2019 season against Northern Iowa at Jack Trice Stadium on August 31st.