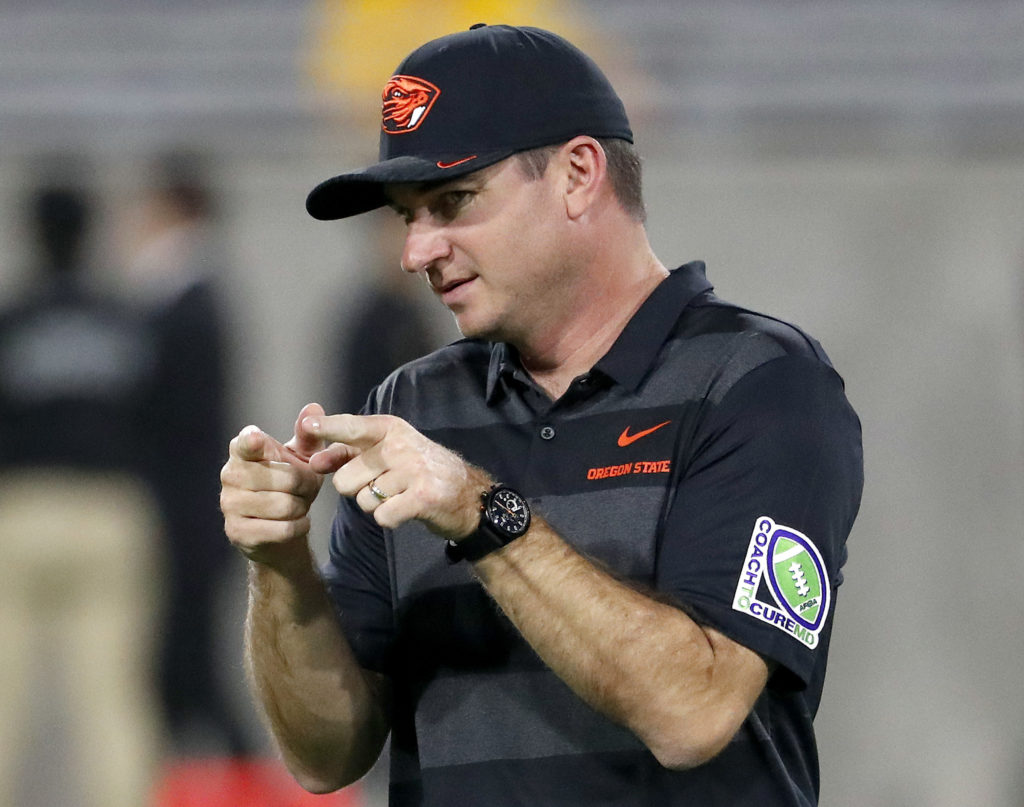 Expectations are always higher in year two and it's the perfect time to see the direction a program is headed.
Several talented players return, while others must be replaced. Spring ball is the perfect time for coaches to iron out wrinkles and get their team physically and mentally stronger. What can these Power 5 coaches do for an encore?
Scott Frost, Nebraska: The first half of last season was a disaster, with the program's first-ever 0-6 start. However, the Huskers finished the year strong, winning four of their last six games. Frost kept the momentum going and lured in a touted recruiting class with several players already on campus participating in spring ball. Judging from his track record at Central Florida, year two in Frost's system pays dividends. Having a talented true sophomore quarterback in Adrian Martinez, who's already getting some early Heisman love doesn't hurt either. However, keeping Martinez healthy will be key for the offense. Slot receiver J.D. Spielman is very explosive and the roster has speed and talent at the skill positions. Frost has his players and his system on board and put and end to the Cali-braska movement under Mike Riley. The defense probably has the most to prove as a unit. The Blackshirts can't have another year of giving up the big plays on third downs. Nebraska was also penalty-plagued and turnover-prone last season. Being clutch on special teams, protecting the ball and remaining mentally tough will go a long way for Frost and the Huskers. The home slate features seven games, including clashes with Ohio State in September and Wisconsin and Iowa in November. There will be more anticipation this time around and Husker fans are expecting Frost to deliver. Mark it down, Nebraska will join the 900-win club and the program's record-sellout streak will amass 375 games by the end of the season.
Dan Mullen, Florida: Year one was pretty solid for Mullen. The Gators lost to three SEC East foes for a second-straight year, but won 10 games and finished the season on a four-game win streak. Quarterback Feleipe Franks was on fire during that span and threw for 862 yards, eight touchdowns and no interceptions. Franks is back and will be leading a Gators' offense that averaged 45 points per game over their last four wins. Senior running back Lamical Perine is also back and should get the bulk of the carries this fall, after rushing for 826 yards and seven touchdowns. The Gators' defense has always been very talented and they load up in the speed state. A light bulb came on late last season and the unit was dominant over the last three games. The Gators have a ton of momentum on that side of the ball and look to finish where they left off. Florida's schedule is no slouch, opening up against Miami and having to play Auburn and LSU in back-to-back weeks. Still, the Gators should enter October undefeated and be one of the top teams in the SEC at that point. At this point Georgia is the only team that stands in Florida's way in the East. The Swamp is still one of the most feared venues in the league and the Gators don't have to leave the state in five out of the first six games.
Willie Taggart, Florida State: Taggart's first year in Tallahassee was a complete nightmare for Florida State fans. The Seminoles suffered their first losing season since 1976 and failed to become bowl eligible. Taggart also dismissed starting quarterback Deondre Francois, but lured in Wisconsin graduate transfer Alex Hornibrook. The Seminoles went right back to work after the end of 2018 and are out to prove last season was a fluke. Spring ball will be intense and the quarterback battle between Hornibrook and James Blackman will be a topic of discussion around campus from now until fall camp. Cam Akers is great back for either signal caller to hand the ball off to. He should reach the 1,000-yard mark at some point in the season. The offensive line play was porous last year and needs the most work. Florida State won't go far without an attacking defense. Unlike last season's opener, Taggart will need to have his team firing on all cylinders ready to make a statement. It will be challenging this time around, considering Florida State opens up with a neutral site game against Boise State. The Broncos are infamous for beating big name Power 5 programs and will treat the opener as their Super Bowl. Having to travel to Virginia, Clemson and Florida will also be challenging. 2019 will be a make or break season for Taggart. With the way he changes jobs it's hard to put a forecast on year two. Still, it'll be a surprise if the Seminoles aren't a lot better on both sides of the ball. Nine wins this fall should keep his job safe.
Chip Kelly, UCLA: Kelly returned to the Pac-12 with a ton of hype last season and Jim Mora didn't leave the cupboard bare. However, after the team's first 0-5 start since 1943, it became obvious that Kelly was in the early stages of a major rebuilding project. A 3-9 campaign, followed by a lackluster recruiting class hasn't helped his cause either. Still, UCLA's offense improved drastically during its' last three games of the season. Kelly also beat cross-town rival USC. If Kelly has his boys playing with that same intensity this fall, UCLA will make a splash in the South division. Kelly should have a lot of pieces put in the right place for year two. The players will begin to show promise in his system. The early schedule is daunting, opening up against an experienced Cincinnati team that won 11 games last season and Oklahoma in the Rose Bowl in week three. The Bruins' first four opponents all had winning seasons last year and the team's first two conference games are on the road. Kelly is going to need a leader to emerge out of spring ball from the quarterback position. Kelly has one of the best running backs in the Pac-12 in Joshua Kelley. He passed up on the NFL Draft and will be looking for another solid year after rushing for nearly 1,300 yards last season and 12 touchdowns. Kelley also caught 27 balls out of the backfield and will take a lot of heat off of Kelly's signal-caller. UCLA's defense was horrible against the run last season, allowing nearly 200 yards a game on the ground to go along with 31 rushing scores. That side of the ball will be a huge emphasis during spring ball and will go a long way with how the 2019 season plays out for UCLA.
Jimbo Fisher, Texas A&M: The $75 million dollar man came to College Station and finished with a solid 9-4 campaign. Texas A&M lost two of its' first four games, but that was to the likes of Clemson and Alabama. The team was stronger mentally under Fisher than they were under Sumlin and didn't crumble at the end of the year. With the development of Kellen Mond the Aggies were a completely different team late last season and finished the year on a four-game win streak. Texas A&M averaged 45 points per game during that span, including a 74-72 shootout with LSU. Mond stepped up and threw for 855 yards, 12 touchdowns and two interceptions in the Aggies last four games. Fisher always does well with his quarterbacks and Mond could potentially be in for a monster year this fall. Fisher definitely better have his squad ready for some grown man football because the schedule is arguably the nation's toughest. Texas A&M plays Clemson, Georgia and LSU on the road. Not to mention Auburn and Alabama will visit Kyle Field. Replacing 1,700-yard rusher Trayveon Williams and big-play tight end Jace Sternberger will be a priority throughout the spring. The two accounted for 29 touchdowns last year. Great quarterbacks make others around them better and Mond is dangerous with his legs, keeping plays alive and moving the chains. Texas A&M fans are expecting big things this fall, which means the team has to become a true contender in the SEC West. Fisher has always been a great recruiter and knows SEC football. It'll be a complete shocker if he's not up for the task.
Joe Moorhead, Mississippi State: Moorhead inherited a Bulldog team that had the best defense in the SEC last season, including a couple of potential first-rounders up front. Nick Fitzgerald experience and leadership was also key to Mississippi State's recent success. The program had a great five-year run, going 42-23. However, several key individuals behind an 8-5 team are now gone and Moorhead must find replacements. The 2019 season is going to be challenging for Moorhead. Still, the schedule sets up nice for Mississippi State to get its' new quarterback and defense tuned up for conference play. Having Kansas State on the non-conference slate and opening SEC play against Kentucky is favorable. Not to mention LSU and Alabama comes to Starksville. Dan Mullen didn't leave the cupboard bare and Moorhead has had two-straight Top 25 recruiting classes. The Bulldogs may take a step back this fall, but should be able to compete in a loaded SEC West Division. With Fitzgerald's dual-threat ability no longer available, Moorhead will need to establish more of a passing presence in order to keep defenses honest. After all, Moorhead calls the plays and will still put an emphasis on the run. Spring ball will be key in finding the heir to Fitzgerald, but there's no replacing last year's defensive line, period.
Chad Morris, Arkansas: The Razorbacks are coming off their first two-win season since 1952 and it was the first time the team suffered 10 losses in one year. It was an awful time to be an Arkansas fan and the team had zero wins against Power 5 competition. As a matter of fact, Arkansas hasn't beaten a Power 5 team since October of 2017. Morris' offense was abysmal in the last three games and ended 2018 on a sour note after getting shutout by Missouri. The team is currently on a 11-game conference losing streak. However, the schedule this fall is very favorable for the Razorbacks with three of the first four games at home against non-Power 5 teams. Morris will need much better play from the quarterback position. Last season's starters Ty Storey and Cole Kelly transferred to Western Kentucky and Southeastern Louisiana. Both signal-callers combined for 16 touchdown passes and 15 interceptions last year so the Razorbacks won't be missing much production. Fortunately, Morris received a gift this off season when SMU graduate transfer Ben Hicks enrolled in the program. Morris and Hicks have history together and it may be a match made in heaven for the Razorbacks. Texas A&M graduate transfer Nick Starkel also enrolled. If Arkansas can get some consistency from either of those two and put points on the board, the team will have shot at becoming bowl eligible by the end of the season. The Razorbacks' defense can't get any worse than last year, so the unit has nowhere to go but up.
Kevin Sumlin, Arizona: Year one with Arizona was Sumlin's worst as a Power 5 head coach. The team suffered a 5-7 campaign, capped off by a one-point loss to in-state rival Arizona State that cost Arizona bowl-eligibility. Quarterback Khalil Tate watched his rushing production decline tremendously and the offense struggled early on. Tate did become a more effective thrower under Sumlin, but he didn't get to showcase his skills as an elite runner. Still, the Wildcats' offense played on another level in the final four games of the season, and scored 40 points or more in three of those clashes. The potential is there to have a solid season with the experience and production on offense. Tate is one of the best rushing quarterbacks in the Power 5 and Sumlin needs to unleash him. The rushing attack should be solid with J.J. Taylor returning, after rushing for 1,434 yards last season. Arizona's defense must improve in a major way. It helps that one of the best linebackers in the league returns in Colin Schooner. He had 119 tackles, including 21.5 for loss, 3.5 sacks and two interceptions last season. The Pac-12 South will be up for grabs this fall and the perfect opportunity for Arizona to be contenders in the division. The Wildcats started off last season 0-2, so going undefeated in non-conference play will be key. Hawaii and Northern Arizona are very winnable games and the clash with Texas Tech will be an intriguing matchup. Sumlin has a great track record in year two, but he hasn't finished with a winning conference record since 2012. Teams from the Pac-12 play nine conference games and winning five can be challenging. Arizona has some momentum and Sumlin should be feeling optimistic about this fall.
Mario Cristobal, Oregon: Cristobal had his first full season with Ducks and got nine wins. Oregon won four of its' final five games and Cristobal lured in a Top-10 recruiting class, which was the Pac-12's best. The Ducks received another gift when Justin Herbert passed up on the NFL to return for his senior season. He'll be a legitimate Heisman candidate this fall and C.J. Verdell is a returning 1,000-yard rusher. Oregon's offense should be lethal even without deep threat Dillon Mitchell. Oregon's defense was stingy against the run last season, but Jalen Jelks and Justin Hollins left the building. Cristobal also parted ways with Defensive Coordinator Jim Leavitt. Still, Troy Dye will lead the defensive front seven this fall. He's the teams' leading returning tackler and one of the best linebackers in the Pac-12. The schedule will be challenging, opening up in Arlington against Auburn and playing Stanford, Washington and USC on the road. This is the perfect time for Oregon to take back control of the Pac-12 North with Washington and Washington State rebuilding. Stanford will be contenders also and stands in Oregon's way. The Ducks are primed for a double-digit win season and hopes to bring some stability back to a conference that's been left out of the College Football Playoff for two-straight years. Expectations are high in Eugene for this fall and it'll be interesting to see how high Oregon's ceiling really is.
 Jeremy Pruitt, Tennessee: The Volunteers are in a major rebuilding process, plain and simple. A 5-7 season that concluded with two lopsided losses to East division foes didn't sit well with Tennessee fans. Pruitt is bringing in more talent and has the Volunteers headed in the right direction. Pruitt lured in a highly-touted recruiting class and has a talented quarterback in Jarrett Guarantano to lead the offense in year two. Guarantano threw for 715 yards, six touchdowns and an interception in the last four games he played in. Pruitt needs to put talented players around Guarantano to see improvement. Scoring 22 points per game won't win a team many games unless they have an elite defense. The Volunteers don't, but should be better. Pruitt is a defensive-minded coach and has a lot of experience in the SEC. There needed to be a culture change in Rocky Top. Neyland Stadium is the second largest venue in the SEC and needs the aura back to become intimidating again. Now that spring ball has begun players can solidify their positions along the depth chart. Tennessee has to find a better rushing attack to stay afloat in the East. Kentucky, Vanderbilt and Missouri are rebuilding and Tennessee has the perfect chance to pull itself out of the SEC cellar. The first three games are at home before the SEC opener at Florida. With the favorable home slate there's no reason why Pruitt can't carve out at least seven to eight wins.
Jonathan Smith, Oregon State: Smith's first season leading his alma mater was very brutal, but the Beavers increased their win total and won a conference game. Oregon State ended the season on a four-game losing streak and their offense limped to the finish line. The Beavers' offense improved but their defense regressed, allowing 45.7 points per game. Oregon State couldn't stop the run and got mauled for nearly 282 yards per game on the ground and 37 rushing touchdowns. The defense gave up 52 or more points four times last season. As spring ball approaches the front seven needs tinkering and can't get any worse. Smith is a former signal-caller and his quarterbacks were good at protecting the ball, but needed more production. Jake Luton should be able to improve on his 10 touchdown passes and Nebraska transfer Tristan Gebbia will compete for snaps. The backfield will be legit with true sophomore running back Jermar Jefferson back after rushing for 1,380 yards and 12 touchdowns last year. The schedule is durable enough to carve out more than two wins. Oregon State hasn't been bowl eligible since 2013 and it might be asking too much in year two for Smith to lead the Beavers to post-season play.
Matt Luke, Ole Miss: Luke's first year on the job started out well with the Rebels winning five of their first seven games. However, Ole Miss crumbled down the stretch, losing its' final five games of the season. The Rebels had a potent passing attack in 2018, but quarterback Jordan Ta'amu, receivers A.J. Brown, DK Metcalf and DeMarkus Lodge have carried their talents to the NFL. That's replacing 176 receptions, 2,766 yards and 15 touchdowns. Luke has a lot of things to figure out during spring ball and on the offensive side of the ball. The Rebels' defense must also improve after allowing 36 points per game last season. Linebacker Mohamed Sanogo is the team's leading returning tackler, who had 112 stops last season. The Rebels' defensive line must get more penetration in opponents' backfield and get after the quarterback. The defense only had 22 total sacks and that type of production won't get it done in a loaded SEC West. The bowl ban has been lifted off of the program, and after two years worth of sanctions Ole Miss can finally compete again in the post season, if eligible. The schedule sets up nice for the Rebels with three of the first four games at home. Ole Miss could potentially be 4-0 heading into Tuscaloosa to face Alabama. However, it's up to Luke to pick up the pieces and build a winning culture on the Grove.
Herm Edwards, Arizona State: Everyone was questioning Edwards hiring, but after the Sun Devils won four of their last six games the fans are excited for year two. Edwards is looking to build on his 7-6 campaign in a division filled with parity. For starters, Edwards must find a replacement for quarterback Manny Wilkins, who threw for 6,295 yards, 40 touchdowns and 14 interceptions the last two seasons. 1,000-yard receiver N'Keal Harry and his 73 catches are also gone. However, Eno Benjamin is probably the best running back in the league and returns after rushing for 1,642 yards and 18 total touchdowns last season. Benjamin is a vital piece for Edwards to build his offense around. Arizona State's defense played better last season, but still gave up a ton of points. Key pieces to the unit returns, including three of the top four leading tacklers. The Sun Devils' defense will need to carry the team early on while Edwards fill all the voids left on offense. The schedule sets up nicely with the first two games at home before traveling to East Lansing to face Michigan State. Arizona State also gets Colorado, Washington State, USC, Oregon and Arizona at home. Edwards should be able to carve out another seven wins with that favorable schedule. If the offense comes around faster than expected, nine wins might not be out of the question.