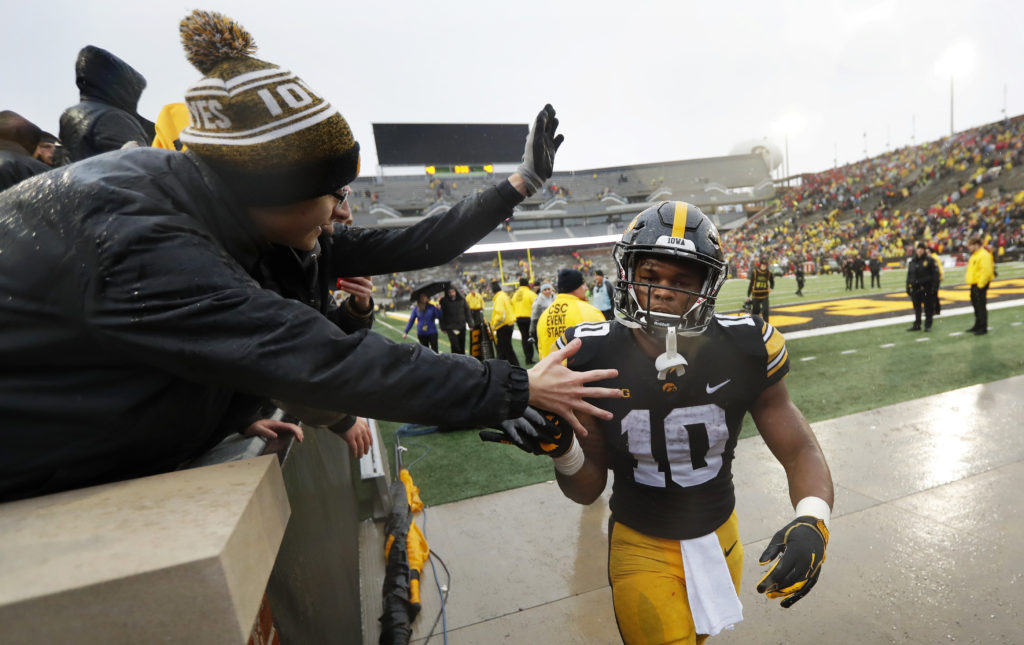 IOWA CITY, Ia. — He was a late bloomer last year and rushed for nearly 300 yards over Iowa's final two games of the regular season.
Nothing happened overnight for the junior college transfer, but Sargent became Iowa's starter by game 10 and showed potential of being a breakout player. The Florida native's journey to being the Hawkeyes' leading returning rusher was a learning process that took dedication and discipline.
Becoming one with the playbook and adjusting to the speed of Power 5 football made him more comfortable in the Hawkeyes' scheme. Iowa is currently midway through spring ball and there's no clear cut No. 1 running back for Brian Ferentz's offense.
Still, Sargent continues to keep pushing, hoping all of his hard work will pay off in the end. He's no stranger to earning his spot and dealt with these types of scenarios in high school and at the juco level.
"With me, I love competition so I'm going in everyday not thinking about starting, second or third string," Sargent said. "I'm just going in working day in and day out, competing with my teammates."
The Hawkeyes are a three-headed monster at the running back position with Toren Young and Ivor Kelly-Martin battling with Sargent for carries. The trio combined for 1,723 yards and 16 touchdowns last season. With his experience and production Sargent feels he's becoming a leader in the locker room.
The five-foot-nine, 212-pounder isn't a vocal leader by any means and prefers to lead by example on and off the field. Practices have been intense throughout spring ball and Sargent believes it's only going to make the running backs stronger as a unit.
"We come to practice with the mentality of treating it as if it was a game," he said. "Off-season is about getting stronger in the weight room, getting faster on the field and conditioning a lot, which I felt I needed."
Iowa's offensive line returns three starters from last season, including All-Big Ten tackle Alaric Jackson. Tristan Wirfs, Cole Banwart and Jackson combined for 31 starts in 2018 and are expected to open holes for Sargent and co. to burst through.
Iowa increased its' rushing production from 139.2 yards per game in 2017 to 148.4 in 2018. The Hawkeyes were successful with their balanced attack and averaged 31 points per game. Playing keep away from the opposing team's offense was another strength of the team and Iowa finished third in the Big Ten in time of possession.
"Right now we know we're not in season form, but we're just focusing on the A, B, C's of the game and trying to improve each day on the fundamentals and techniques," said Banwart. "I don't think we're going to change anything from what we saw last year."
The good news is that Iowa returns one of the best signal callers in the league in Nate Stanley. The bad news is Stanley will have to find new targets to throw to this fall. Wide receiver Nick Easley and projected NFL first round tight ends T.J. Hockenson and Noah Fant combined for 140 catches, 1,774 yards and 18 touchdowns last season.
Iowa looks to remain balanced on offense and needs an effective rushing attack to keep opposing defenses from keying in on Stanley. The running backs will be expected to increase their rushing production, be more efficient in pass protection and catch balls out of the backfield more often.
"We should be able to throw and run the ball," Sargent said. "I feel like it's our job to take some of the pressure off the quarterback and once we do that it'll open up new things."
The Hawkeyes haven't had a 1,000-yard rusher since Akrum Wadley in 2017. In hindsight it looks as if it's going to be a running backs-by-committee approach. Running Backs Coach Derrick Foster is in his second spring with the team and wants more explosive plays out of his backs this fall.
"I've spent some time watching each run with each back separately, just to kind of see where their odds were at," Foster said. "I think we've been able to identify the mistakes so I'm trying to train these guys to look at certain things and ignore certain things."
With a couple of freshmen arriving on campus later on this summer Iowa's running back pool will be crowded with several players hoping to step up to the challenge and contribute. Foster wants the team's yards per carry to increase and believes the offensive line is capable of moving defenders off the block.
"I think our offensive line did a tremendous job last year," Foster said. "Our focus right now is to make sure that we're developing these guys, each and every one of them into the best of their abilities."
For Iowa to contend in the West Division the team will need to stick to the script of pounding the ball and hurting defenses with the play action over the top.
"One of our main goals is establishing that run game," said Kelly-Martin. "We're going to be putting the ball on the ground whether we get yards or not and we're going to keep on the gas with that."
The regular season is still a few months away and in the meantime the Hawkeyes are focusing on improving on the field and in the weight and film room. With the turf being replaced at Kinnick Stadium Iowa will not have an official spring game this year, but will continue practice leading up to the finale on April 26.