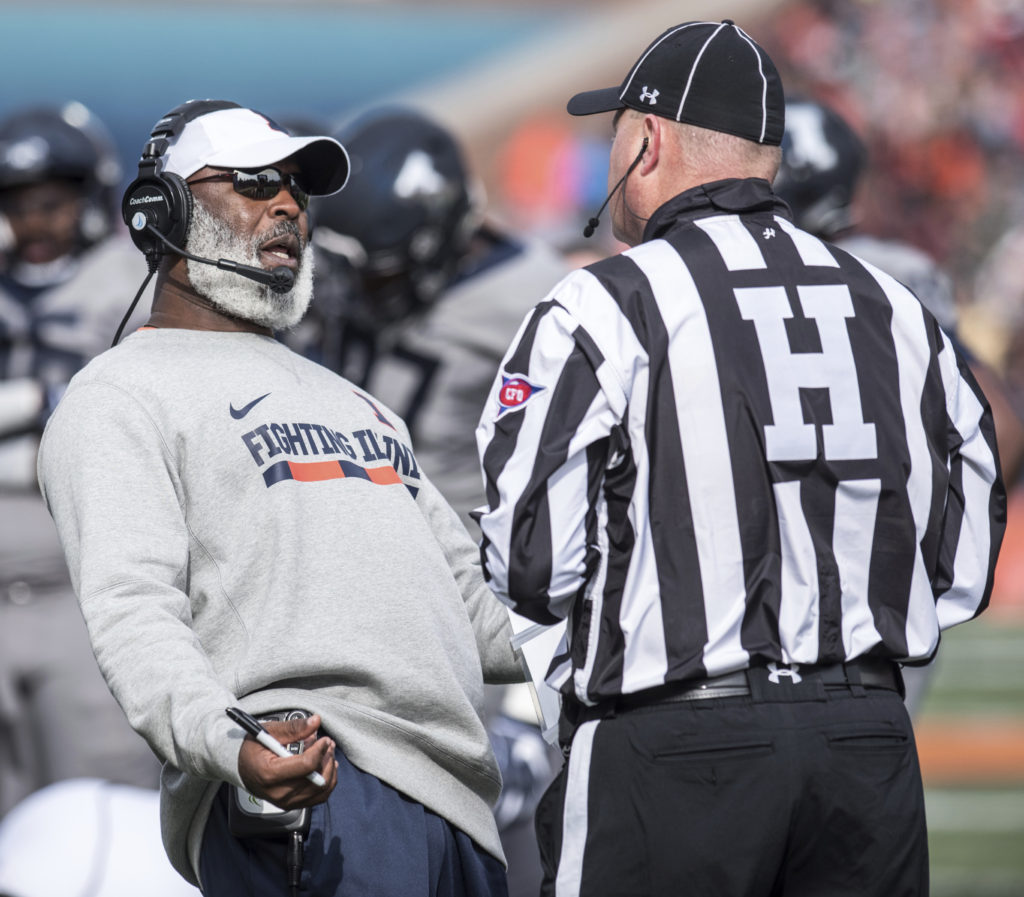 These coaches are on the brink of wearing out their welcome with their respective schools and need a breakout season this fall to keep their critics at bay.
Only time will tell, but the grumbling from the fan bases have increased and they are running out of patience. Game by game everyone will watch these teams with their arms crossed. If these coaches fail to deliver something special, time will run out on them.
No one ever said it was going to be easy, so the lofty expectations shouldn't come as a surprise to any of these coaches. Despite recent failure, success is only a play call away and it'll be interesting to see how everything unfolds.
Justin Fuente, Virginia Tech: There has been a glaring trend with the Hokies during Fuente's three years in Blacksburg. Virginia Tech went from winning 10 games in year one, to nine games in year two and just six games in year three. That's an alarming decline in the win column. Virginia Tech is fresh off its' first losing season since 1992. It remains to be seen if Fuente won with Frank Beamer's players, because he's currently not succeeding with his own. Virginia Tech hasn't had a 1,000-yard rusher since Travon McMillan in 2015. Even long-time Defensive Coordinator Bud Foster seems to have lost his touch. The Hokies' defense allowed 31 points per game last season, which was the highest the unit has allowed since Foster been at the helms. The team currently has no identity. During Beamer's glory years, Virginia Tech played lights out on defense and special teams. Fuente has finished with three Top-25 recruiting classes, but his players aren't playing up to their potential. Quarterback Josh Jackson announced he's transferring to Maryland but the Hokies' offense should be in good hands with Ryan Willis. Willis filled in nicely for Jackson after he fractured his left fibula in the loss at Old Dominion and threw for 2,716 yards and 24 touchdowns last season. Although Fuente is 3-0 against in-state rival Virginia, he has gone 8-10 in his last 18 games with Virginia Tech. He will need to make drastic improvements and win at least nine games this fall to retain his job for 2020.
Lovie Smith, Illinois: The Fighting Illini hasn't had a winning season since 2011 and last bowl appearance was in 2014. This fall will be Smith's fourth season with Illinois and he has yet to get his team to a bowl game. Going 9-27 thus far hasn't been pretty, but Illinois showed some improvement in 2018. Still, six of the team's seven conference losses was by at least 19 points. Illinois' defense surrendered 63 points to Maryland, Iowa and Penn State. Two of those blowout losses were at home, including a shutout by the Hawkeyes. Teams in the Big 10 West are constantly improving and the Fighting Illini has yet to sniff the Top-50 with recruiting in Smith's three-year tenure. It was a surprise to see Smith retained after a 4-8 campaign last year. As a matter of fact his contract was extended for two more years. It would've cost the school 12 million for Smith's buyout. Smith will be expected to get the Fighting Illini to a bowl game this fall. That could be a tough hill to climb for a coach who has yet to reach five wins in a season with Illinois. It's hard to imagine the program enduring an eight-straight losing season without making changes in the coaching staff. Smith has to get the Fighting Illini over the hump, period.
Clay Helton, USC: The Trojans were a hot mess on both sides of the ball last year and suffered their first losing season since 2000. However, USC Athletic Director Lynn Swann stuck behind Helton and showed support for the ebattled coach. The Coliseum has been pretty much vacant for USC's games and the Trojans lost their last three home games. USC even lost to a three-win UCLA team. Helton got rid of Tee Martin and wants a potent passing-attack on offense. So he lured in Graham Harrell to install the infamous Air-Raid. Anything to help the Trojans improve, because they were abysmal on offense last season. It may take a change in culture also. Everyone will need to get up to speed with learning the new scheme because Helton won't survive another losing season. Recruiting has taken a hit, which is mind-boggling at a place like USC. The Trojans just signed their lowest rated class in years. With the caliber of athletes the program lures in annually, there's no reason why Helton can't win 10 games. They were very young last year, but had a roster full of talent. The pressure will be on Helton to win big this upcoming season and Trojans fans are expecting him to deliver. The Pac-12 South is up for grabs this season and USC has to seize in on the opportunity. Helton will need to win at least nine games and the Trojans must contend for the South Division this fall if he has any hopes of being retained for 2020.
Derek Mason, Vanderbilt: The Commodores finally reached a bowl game last year, but failed to finish the season with with a winning record for the fifth-straight year under Mason. Vanderbilt hasn't had a winning season since 2013, which was James Franklin's last year. Franklin definitely raised the bar for the program, but it's kind of unfair to expect the same success from Mason. After all, Franklin was offensive-minded and Mason knows defense. Vanderbilt's offense will definitely be in rebuild mode, having to replace record-setting quarterback Kyle Shurmur, 1,000-yard rusher Ke'Shawn Vaughn and three starters along the offensive line. The Commodores did win three of their last four conference games and averaged 36.7 points per game in that span. Mason has beat Tennessee three-straight years, but struggles to compete with SEC East heavyweights Georgia and Florida. Tennessee is upgrading its talent level, South Carolina should be improved and Kentucky has been solid under Mark Stoops. This leaves Vanderbilt with very little margin for error. The program has been an SEC bottom-feeder for decades, but Vanderbilt is what keeps the academics in the conference above water. Is it asking too much for the Commodores to be a bowl-eligible team every year? Mason got his boys to the post season twice in the last four years, but for him to retain his job in 2020 he must finish the year with a winning record.
Chris Ash, Rutgers: The Scarlet Knights were expected to take a step forward in 2018, especially with it being Ash's third year on the job. However, Rutgers regressed and finished 1-11 for the first time since 2002. The Scarlet Knights have gone winless in Big 10 play two of the last three years under Ash. Rutgers even lost by 21 points to Illinois at home last season. The program is arguably the worst in the Big 10. The Scarlet Knights' offense was the worst in the league. The unit scored over 17 points once all of last season, which was in the season-opener against a Sun Belt team. Ash is 7-29 in his three-year tenure entering this fall. Recruiting remains an issue as other Big 10 programs continue to lure New Jersey talent away from Rutgers. It just goes to show how amazing of a job Greg Schiano did when he was coaching the team a decade ago. Ash is possibly in over his head, but his team will have to be bowl-eligible by the end of the regular season or he'll be out of a job. That's asking a lot in a very competitive Big 10 East. Michigan, Ohio State and Penn State are still the teams to beat. With Urban Meyer gone, the division will be up for grabs. Michigan State is struggling, Maryland has a new coach and Indiana is still trying to breakthrough with Tom Allen, so the opportunity for Ash to get Rutgers to the next level is now.
Willie Taggart, Florida State: Taggart's first year in Tallahassee was a complete nightmare. The program suffered its' first losing season since 1976 and the Seminoles' offense looked liked a unit out of sync. Taggart recently dismissed starting quarterback Deondre Francois from the team. Florida State has failed to land a signal caller in the last two recruiting cycles. The team has no depth at quarterback behind James Blackman and that'll be crucial for Taggarts' make-or-break second season. The defense will also need some major improvements after allowing 31 points per game last year. The program currently has no momentum and Taggart's 2019 recruiting class wasn't highly touted like all the others the Seminoles' fan base have grown accustomed to. The Doak will have to become a house of pain to visitors before the Seminoles can become elite again. All of the pressure Taggart is enduring may seem a bit unfair because its' only his second year, but he knew the expectations of this blue blood program when he took the job. The ACC Atlantic has become Clemson and everybody else and there's a lot of parity in the division. Taggart won't be retained for 2020 if Florida State doesn't win nine games this fall.