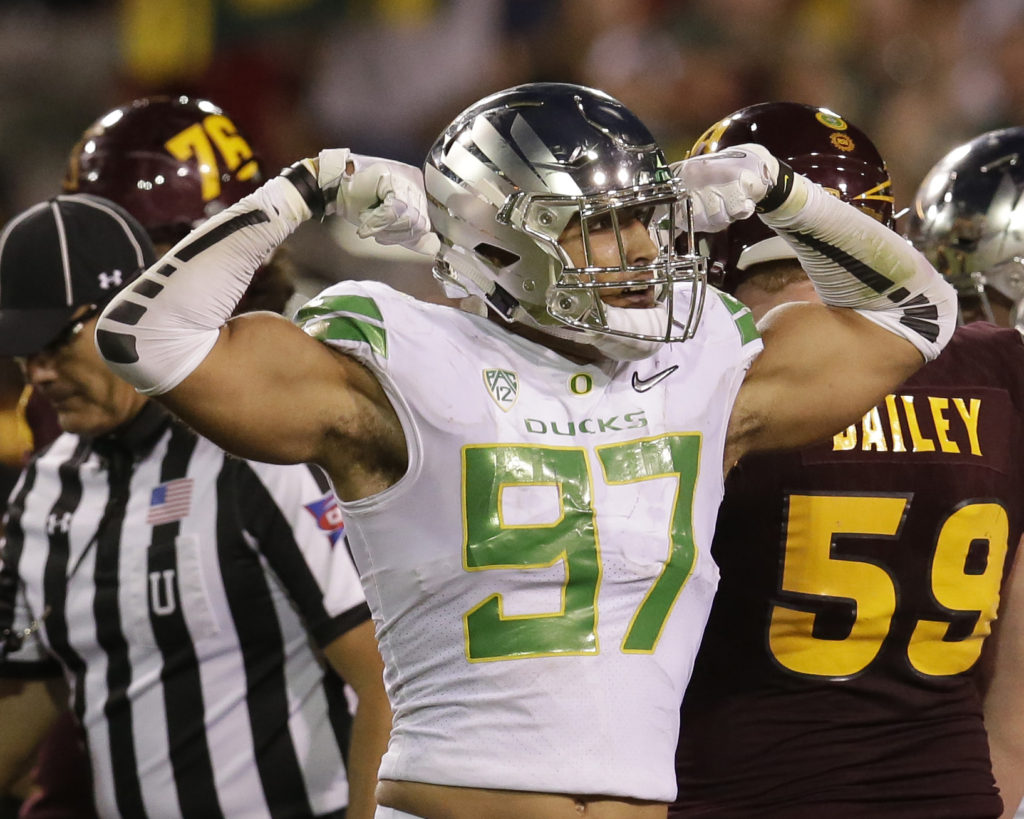 The star defensive end played under three different coaches during his collegiate career at Oregon and persevered through each transition.
Jelks was a first-hand witness to the program's highs and lows over the past five years. He watched Marcus Mariota become the school's first-ever Heisman Trophy winner in 2014 and the Ducks clinched a berth in the College Football Playoff and played for a National Championship.
He was also apart of Oregon's 4-8 campaign and Mark Helfrich's ousting in 2016. Willie Taggart's tenure lasted only a year in 2017 and Nike U was again without a leader in football. However, Mario Cristobal took over the program last season and is bringing back stability to the head coach position.
Jelks learned valuable lessons from all three coaches and his teammates rallied behind each other and stuck together when the program was in a time of peril.
"The biggest thing for us was to stay disciplined regardless of the situation and to always keep our teammates in mind," Jelks said. "Regardless of what coach was around, we were still a team, still a brotherhood, and I feel like that made us stronger."
Although Oregon went through three different head coaches in Jelks' first four years, Defensive Coordinator Jim Leavitt remained a consistent staple with the team through it all. Jelks was a three-star prospect when he arrived on campus, but Leavitt helped the six-foot-six, 245-pounder elevate his play on the field each year.
Jelks earned All Pac-12 honors his junior and senior season and finished his career with 15 sacks and 29.5 tackles for loss. He recently participated in the Senior Bowl, received an invite to the NFL Combine later on this month and continues to remain in contact with Leavitt.
"He's a great guy and text me the other day when he was hanging out with Justin Hollins down in the Shrine Bowl," Jelks said. "It's kind of crazy to see the transition and Coach Leavitt has been heavily involved with the NFL regardless of the situations."
Jelks believes Oregon is in great hands with Cristobal at the helms and that the Ducks are on the rise. The team is coming off a nine-win campaign that included a bowl win, quarterback Justin Hebert will be back for his senior season and Cristobal secured a Top-10 class for his first-full recruiting cycle.
"The program is a stepping stone from being great and Cristobal changed everyone's work ethic and attitude to be a great player on and off the field," he said. "Everybody's GPA been higher and he has a great recruiting class that's about to come in and put in work for him."
Oregon will likely be the favorite to win the Pac-12 in 2019 and Jelks wishes he had another season of eligibility. He'll cherish his college days and will never forget his time in Eugene with his teammates.
"I'll miss being with my brothers on the field, grinding them hard days in fall camp and not knowing what season is going to lie ahead," Jelks said. "Just trying to do as much as you can while you can and pushing yourself to be the best player you can be so it translates on the field."
The Arizona native will be a valuable asset at the next level along the edges or at outside linebacker. Any NFL franchise that drafts Jelks will be getting an intelligent individual, with great leadership, experience and production. He'll set the tone from day one and will learn everyday on the job.