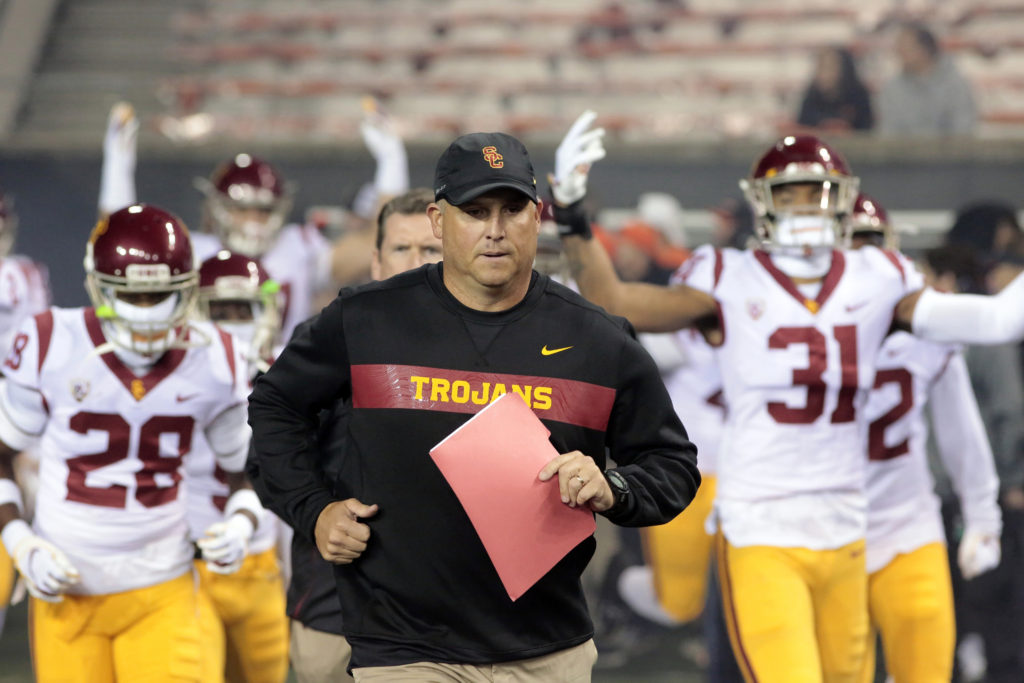 He was able to retain his job, but had to part ways with Tee Martin and the Kliff Kingsbury experiment as the Trojans' Offensive Coordinator lasted just a second.
However, Graham Harrell was a nice consolation prize after Kingsbury's unexpected departure. After all, Harrell and Kingsbury both learned their craft and played quarterback under Mike Leach. So the schemes and philosophies should be similar.
The Trojans had one of their worst seasons offensively in recent memory and averaged a mere 26.1 points per game. USC finished in the bottom half of the Pac-12 in nearly every major offensive category.
Meanwhile Leach just led Washington State to its' first-ever 11-win season and his offense led the Pac-12 in scoring and averaged 37.5 points per game. His system is thriving in the Pac-12 the way it did in the Big 12. So it makes a bunch of sense why Helton wanted Harrell's services.
Harrell's a Leach protege', who led the Red Raiders' to an 11-1 regular season in 2008 and their offense averaged 40 points per game during that span. He knows what it takes to be successful and what it's like to win at a big level.
Harrell also has learned a few x's and o's from Oklahoma State's Mike Gundy and Houston's Dana Holgorsen, two of the brightest offensive minds in today's game. Coaching under Leach at Washington State the past couple of years has really helped Harrell's cause as the Cougars broke numerous offensive Pac-12 records.
Just imagine if he could get that Air Raid system rolling at USC with all of those blue-chippers. It could be beautiful to watch. Defense was also a problem for the Trojans last season, but the offense was clearly a liability. USC's offense averaged 35 points per game in its' five wins, but just 19.7 in the seven losses.
Changes had to made throughout the offensive staff. Helton didn't secure a top recruiting class for the Early Signing Period, but bringing Harrell along could lure some prospects away from other schools by February signing day.
Spring ball will be vital for the program as USC transitions from a pro-style to an Air-Raid attack on offense. Quarterback J.T. Daniels will have to get familiar with taking nearly all of his snaps out of the shotgun formation instead of under center. The receivers will need to get more involved also.
Scoring only three points on Stanford, 14 on Texas, 14 on California and 17 on Notre Dame won't get it done in the fall. Still, Helton bringing in Harrell was a smart move for the Trojans and the team will be an intriguing bunch to watch once the Pac-12 meat-grinding schedule comes around.