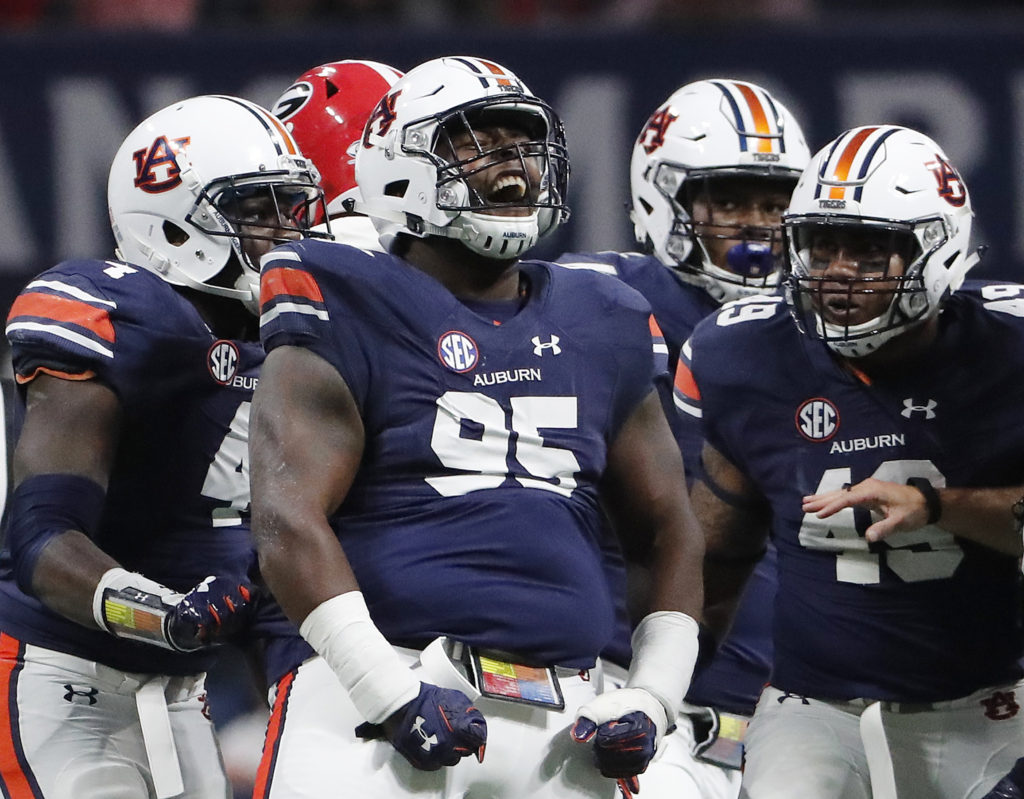 The defensive tackle was a four-year starter on a unit that allowed just 18.2 points per game over the last three seasons.
Although Auburn lost 14 games over that span, its' defense remained a consistent bunch and Russell was a natural at clogging up the middle.
During Russell's collegiate career at Auburn the team won 33 games, played for an SEC Championship and beat rival Alabama. The Georgia native earned All-SEC honors in 2018 and enjoyed his time on the Plains, finishing with 154 total tackles.
"It was great, I started nearly 50 games," Russell said. "It was one of the greatest times I had in my life and I thank Auburn for that."
Playing for Malzahn with his gimmick-type of schemes seemed unorthodox to the six-foot-three, 320-pounder at first, but Russell adapted.
"It was different," he said. "I love Coach Malzahn though man, he's one of those people who is straightforward, let's you know what he's thinking and I appreciate that from him."
The Tigers' defense allowed only nine touchdowns on the ground last season and was one of the best units in the SEC at getting to the quarterback with 38 sacks. Auburn capped off an 8-5 season with a 49-point win over Purdue in the Music City Bowl and that margin of victory silenced some of Malzahn's critics.
The coach followed up that feat with a Top-15 recruiting class for the signing period. Auburn is in need of a signal-caller after Jarrett Stidham declared for the NFL Draft and Malzahn is rumored to be one of the front-runners to land quarterback Deondre Francois after he was dismissed from Florida State.
Russell was apart of four of Malzahn's six years of leading the program and credits the coach with preparing him for the next level. He recently participated in the Senior Bowl and received an invite to the NFL Combine later this month along with four other teammates.
Russell believes Malzahn's no nonsense approach is the reason why the coaches' players get opportunities to showcase their talents to the scouts.
"He always gives you a clear-cut path to how you can be successful with your football career," Russell said.
Auburn has a juice of momentum heading into the fall and will get the rare opportunity of opening up the season away from the Jungle for a second-straight year. College Football fanatics will get to see another SEC vs. Pac-12 clash when Auburn squares off against Oregon in Dallas.