Demarcus Christmas on adjusting from Jimbo Fisher to Willie Taggart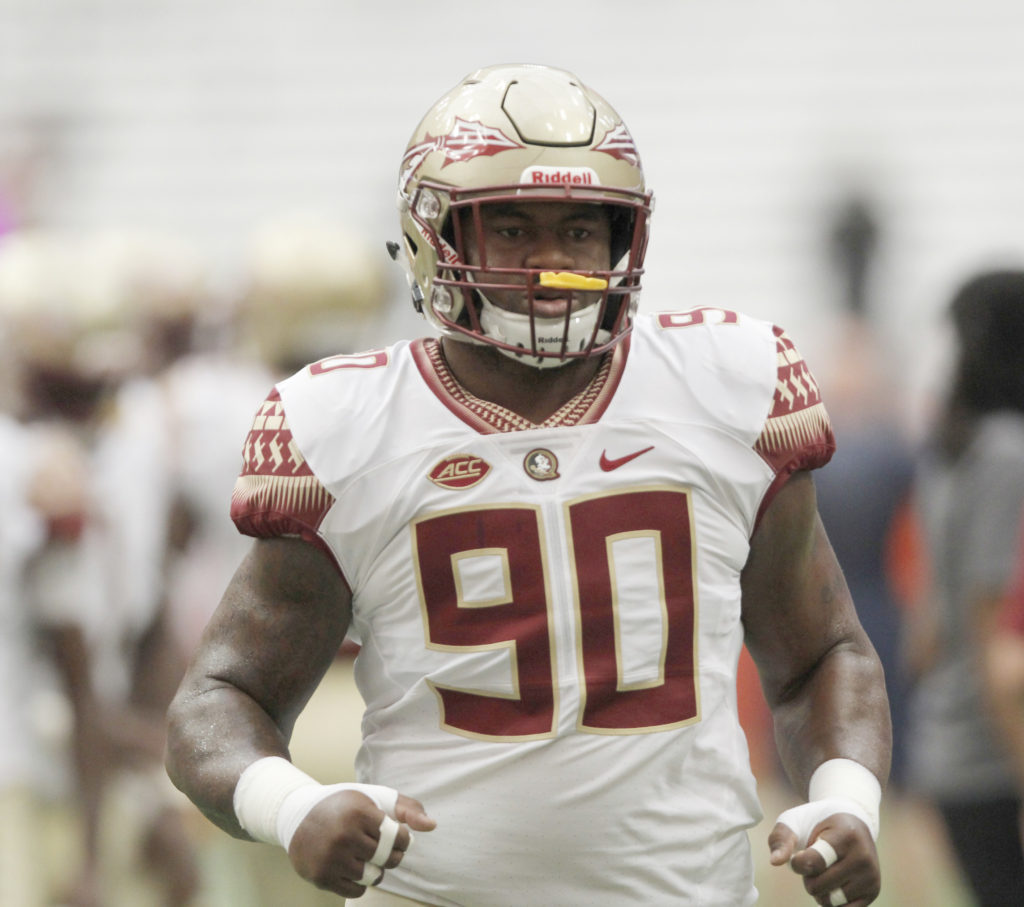 He was the anchor up front for the Seminoles' defensive line the past three seasons, earned All-ACC honors in 2018 and recently participated in the Senior Bowl.
Christmas played under Fisher and Taggart during his collegiate career. Adjusting from one scheme to another was a rough transition for the Florida native and the rest of team throughout last season. The Seminoles' first losing campaign since 1976 was a tough pill to swallow for the Florida State fan base.
The team struggled mightily on both sides of the ball. Florida State's offense has gone through some rough patches over the years, however its' defense has always remained a consistent bunch up until last season.
The Seminoles' defense went from allowing 21.2 points per game in 2017 to 31.5 in 2018. The unit also went from allowing 331.1 total yards per game two years ago to 416.3 last season.
"We ran two different defenses, with Coach Jimbo it was more of a read defense and with Coach Taggart it was less read and go attack," Christmas said. "It was really just about learning, having to learn a new playbook kind of had us using old techniques."
The six-foot-four, 305-pounder admits it was't easy adjusting to everything. Christmas didn't have as much production as his junior year and generated eight less tackles with no sacks his senior season.
"I thrived under both systems, although my numbers wasn't as high this year," he said. "With the scheme, putting in my old playbook and the techniques of it, and then trying to install the new was kind of slowing me down, because I was so used to reading."
Christmas feels Taggart has the program headed in the right direction and the losing season won't go down in vain.
"The guys are motivated off of that season and use it as adversity," he said. "Now it's time to show up."
The College Football world was delivered a shocker when Taggart dismissed starting quarterback Deondre Francois from the team for domestic violence accusations. Still, Florida State should be in good hands with James Blackman. After all, the young signal-caller has already thrown for 2,740 yards and 25 touchdowns in his short career.
Florida State will definitely need better offensive line play in the fall to keep Blackman upright. The Seminoles built a winning tradition by having great quarterbacks, receivers and a tenacious defense. Florida State will establish itself back in the upper echelon of College Football when that happens.
Taggart's first-full recruiting cycle will be complete Wednesday and will feature a Top-15 class for February's Signing Period. That'll bring some momentum to the program. The players will be expected to perform better after a year of experience in Taggart's system.
"When I was down there I talked to a couple of them and they was ready to go," Christmas said. "Their work ethic, they already started their off-season."