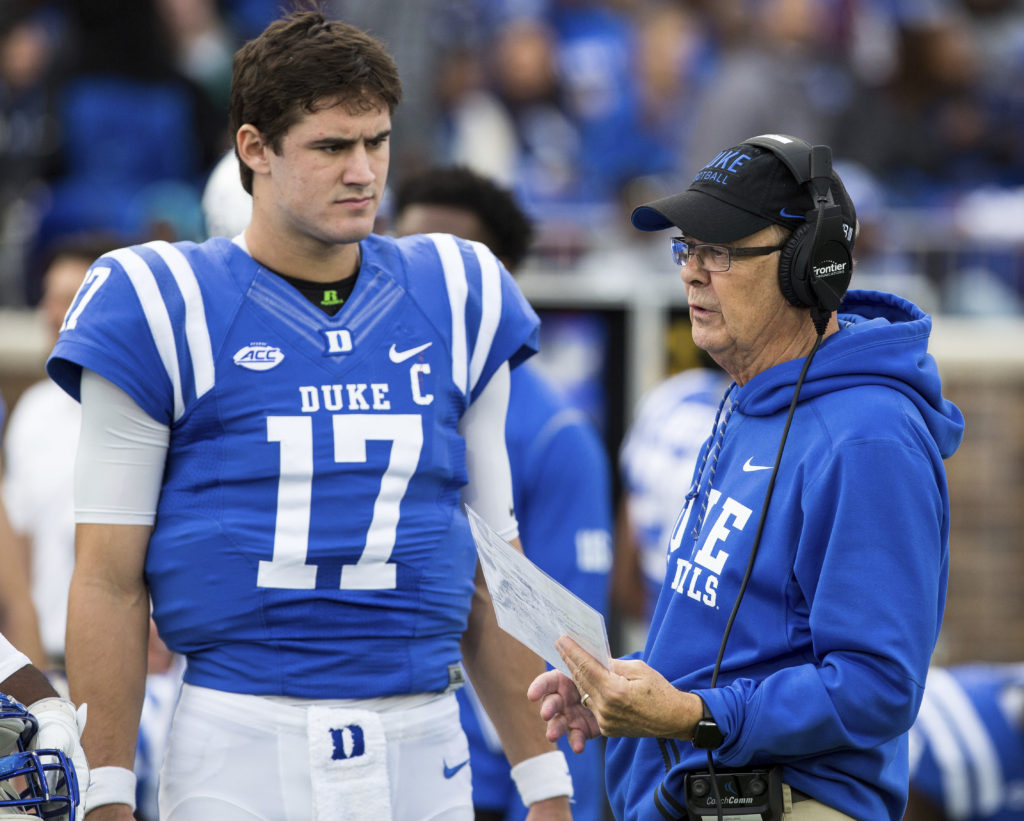 The 64-year old coach groomed the collegiate careers of two-time Super Bowl winning quarterbacks Peyton and Eli Manning.
Four other signal-callers coached by Cutcliffe has gone on to play in the NFL, including Erik Ainge, Heath Shuler, Thaddeus Lewis and Sean Renfree. That shouldn't come as a surprise to anyone. After all, Cutcliffe is a quarterback guru, who hasn't lost his touch with crafting signal-callers. Daniel Jones being named Most Valuable Player of the Senior Bowl a week ago solidifies that.
Cutcliffe is a master of x's and o's and his knowledge of the game prepares his players for the next level. He was a vital piece of Tennessee's two SEC Championships and National Title in the 90's.
The Alabama native is also the Dean of the ACC, having coached at Duke for over a decade. The Blue Devils are a basketball powerhouse first and foremost, however Cutcliffe has gone 52-39 over the last seven seasons with the football program.
The Blue Devils have won their last three bowl games and has posted winning seasons in five of the last six years. Cutcliffe has established a winning culture at a program that been the ACC's laughing stock for decades. His players continue to be positive student athletes and are also successful in the classroom.
Duke rarely sniffs the Top-40 in recruiting, however Cutcliffe continues to do more with less as he carves out winning seasons in a league filled with parity. He takes under-the-radar athletes out of high school and turns them into All-ACC caliber players by the time they end their collegiate careers.
Don't think Cutcliffe wasn't at the top of Phillip Fulmer's list when he became Tennessee's Athletic Director in 2017 and was looking for a Head Coach to lead the Volunteers. Still, Cutcliffe stayed put and remains committed to Duke. He's No. 3 on the school's list of all-time winningest coaches.
He has a career record of 111-101 over 17-plus years and hasn't showed any signs of slowing down. Duke had middle of the pack numbers last year on both sides of the ball, but finished with an eight-win campaign. Duke has also gone a jaw-dropping 7-1 in non-conference play the last two seasons and will likely be a bowl-eligible team in 2019.
As long as Cutcliffe remains on the sidelines, Duke will have credibility in ACC football.