Gardner Minshew out to prove he's not a system quarterback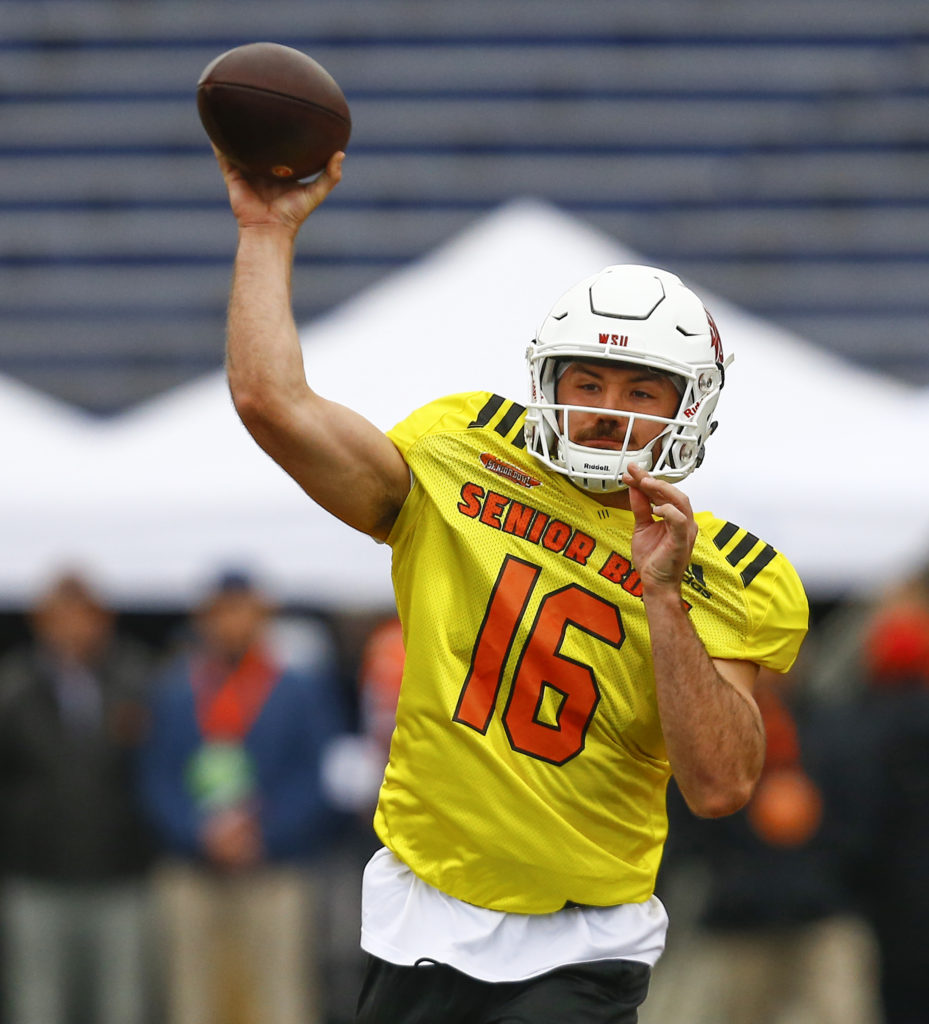 MOBILE, Ala.— He was the Pac-12's Offensive Player of the Year, threw for nearly 4,800 yards and 38 touchdowns last season at Washington State.
2018 was Minshew's only year with the program and he led the Cougars to their first 11-win season in school history. He took the torch from Luke Faulk, created his own legacy and had a better year than former Washington State legend Ryan Leaf had in 1997.
"It was so much fun, probably one of the things I'm most proud of with my football career," Minshew said.
Learning and operating under offensive guru Mike Leach has its' perks when you're his signal-caller. After all, Leach is one of the originators of the Air-Raid passing-attack we all see in today's game.
Current NFL quarterbacks Baker Mayfield, Patrick Mahomes and Jared Goff all learned their craft and eventually thrived in offensive systems similar to Leach's. It's very unique, quarterback-friendly and the key to the units' success is the play of the big boys up front.
"We (Washington State) had one of the best offensive lines, we only gave up 13 sacks," Minshew said. "For a team that throws it more than anybody in the country it shows we have the best sack rate, so I had a lot of help."
There's no doubt Minshew had an incredible senior year with the Cougars. However, the questions surrounding the 22-year old during preparation for the Senior Bowl this week is whether or not he's a product of the system or a bonafide competitor and can adapt swiftly to new playbooks.
Minshew transitioned smoothly from a balanced-attack on offense at East Carolina under Scottie Montgomery to a pass-happy scheme under Leach. The six-foot-two, 219-pounder became a sponge under Leach's guidance and soaked up a lot of knowledge.
"It was awesome playing under him (Leach), because he put so much trust and belief in me," Minshew said. "He taught me to be myself, not take myself too seriously and to go out and win at everything I do."
Although Minshew took most of his snaps out of the shotgun formation instead of behind center, he had a lot of freedom and was able to make checks at the line of scrimmage.
"This offense prepares you in different ways than most and puts a lot of responsibility on the quarterback," he said. "I think it'll prepare me well."
Minshew is one of several high-profile quarterback prospects participating in this year's Senior Bowl and all are hoping to impress the scouts. Arm strength, accuracy and a great football IQ is a must in the NFL and Minshew believes he contains all three.
Competition seems to bring out the best in players and it'll be interesting to see how Minshew responds with being surrounded by other great signal callers with the same ambition and goals.
Unlike his fellow quarterbacks, Minshew has his own swagger after going retro and bringing back the Burt Reynold's 1970's mustache. He rocked it throughout the season, created a trend and will carry that trademark with him into the NFL.
"I'm pretty much stuck with it now," Minshew said. "It's a lot of fun and it allows me to play loose."
There's no need for Minshew to switch up anything now. If it ain't broke than don't try to fix it, and Minshew will bring his work ethic with him wherever he goes. Times like these can be stressful on student athletes as they prepare themselves for the next level in their career.
Still, Minshew is in all hands on deck mode as expected and after being on the west coast for a year, the Mississippi native is enjoying his return back down south where his roots are.
"It's good to be back down in the south, it's home for me and will continue to be home for me," Minshew said. "I got a bunch of people coming down to the game that I normally don't get to see so I'm very excited about that."
Enjoy everything Mr. Minshew and let your game speak for itself.